5 Questions To Ask A Wedding Photographer
Are you planning your dream wedding? One crucial aspect that you want to consider is choosing the right wedding photographer. After all, your wedding photos will be cherished memories for years.
To ensure you find the perfect photographer to capture your special day just as you envision it, here are five essential questions to ask a wedding photographer.
Ask About Their Experience and Expertise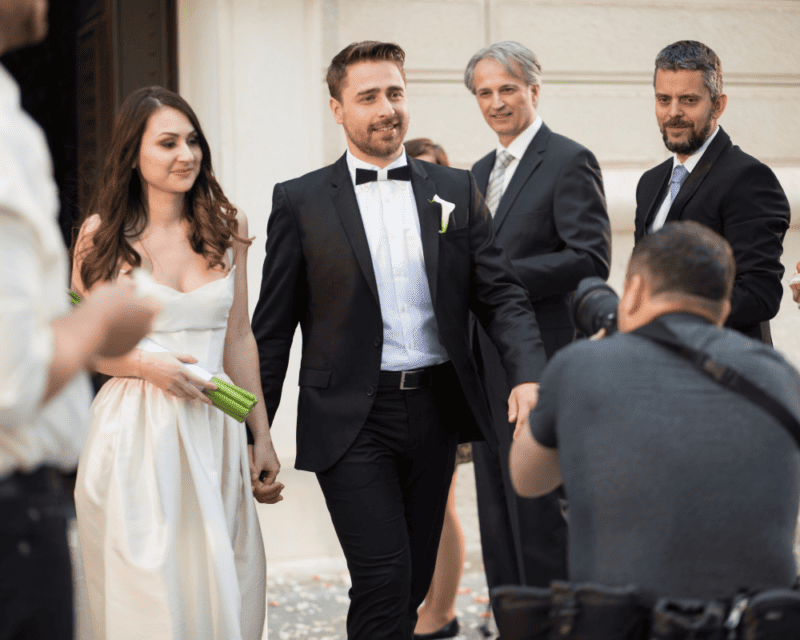 You should inquire about the photographer's expertise and experience in capturing weddings. Ask how long they've been working as a wedding photographer and how many weddings they've shot. For example, some photographers may be wedding-specific, whereas photographers like From Glasgow To Galway tackle a variety of occasions.
It's important to know if they specialise in weddings or have experience in other types of photography. A seasoned wedding photographer will be able to anticipate key moments, understand lighting challenges, and have the ability to capture emotions beautifully. They should also be familiar with different wedding venues and settings so they can adapt their techniques accordingly.
Additionally, ask for samples of their previous work. Look for consistency in their style and quality across different weddings. Do their photos tell a story? Are they able to capture both candid moments and posed shots?
Reviewing their portfolio will give you an idea of what to expect from them on your big day. Feel free to ask for references from past clients, too. Speaking with couples who've worked with the photographer can provide valuable insights into their professionalism, communication skills, and ability to deliver on expectations.
By asking these questions about the photographer's expertise and experience, you can ensure that you're hiring someone skilled at capturing the most important moments of your special day.
Gauge Their Portfolio and Style
Imagine flipping through a stunning collection of breathtaking images that perfectly capture the essence and style you envision for your dream wedding day. When choosing a wedding photographer, reviewing their portfolio and understanding their unique style is crucial.

Here are four questions to ask a wedding photographer to help you assess their work:

1. Can I see examples of full wedding albums?
It's important to look at a few standout photos and get an idea of how the photographer captures the entire event. Seeing complete albums will give you a sense of their storytelling abilities and consistency throughout the day.

2. What's your photography style?
Every photographer has their artistic approach, from traditional and classic poses to photojournalistic, candid shots or dramatic fine art compositions. Make sure their style aligns with your vision for capturing your special moments.

3. Do you have experience shooting weddings in similar settings or themes?
For example, if you're having an outdoor beach wedding, it would be beneficial to have experience shooting in natural light or handling challenging lighting conditions. Similarly, if you're going for a rustic-themed wedding, it would be helpful if they have previous experience capturing that specific aesthetic.

4. Do you use any specific editing techniques or post-production processes?
The editing process can significantly impact the final look of your photos. Some photographers may apply certain filters or retouching techniques that enhance colours or create a vintage feel. Discussing this aspect will help ensure that their editing style matches your preferences.
By asking these questions about the photographer's portfolio and style, you'll gain valuable insights into whether they can deliver the visual narrative you desire for your big day.
Discuss Availability and Pricing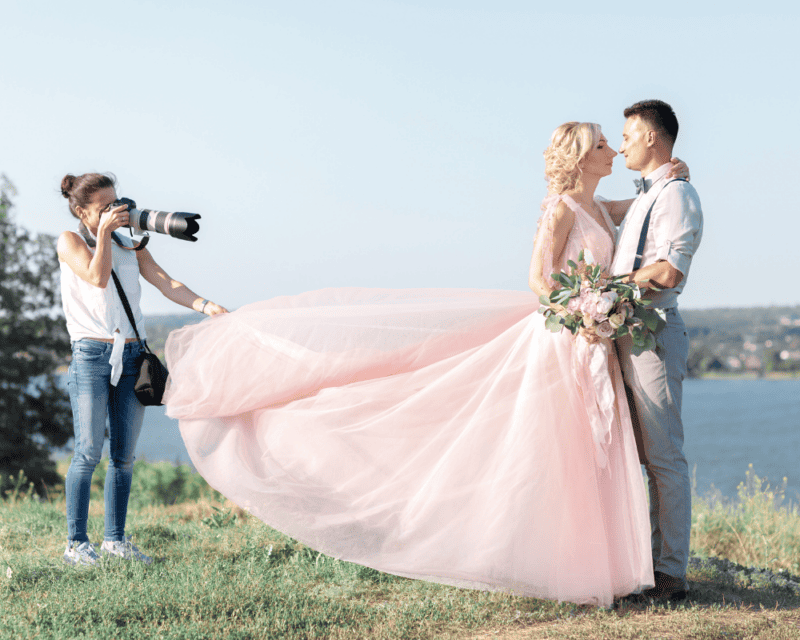 When looking for the perfect person to capture your special day, it's essential to consider their availability and pricing options.
Start by asking the photographer if they're available on your wedding date. Many photographers book weddings well in advance, so checking their availability as soon as possible is important.
Additionally, find out if they have any other events scheduled on that day or weekend, as this could impact their ability to focus on your wedding fully.
Next, inquire about their pricing structure and what's included in their packages. It's important to clearly understand what you'll be paying for and what services are included. Ask if they offer different packages based on the length of coverage or additional add-ons such as engagement shoots or albums. Additionally, discuss any potential extra fees such as travel expenses or overtime charges.
By discussing availability and pricing upfront with a wedding photographer, you can ensure they fit your budget and timeline well.
Be bold, ask questions, and clarify any uncertainties before deciding.
Remember, capturing your special day is an investment, so choose someone who fits within your budget and aligns with your vision for the perfect wedding photos.
Secure A Backup Plan and Equipment
To ensure peace of mind on your special day, knowing that your chosen photographer has a solid backup plan in case of unforeseen circumstances or equipment failures is crucial.
Ask the photographer about their contingency plan if they cannot attend the wedding due to an emergency or illness. It's important to know if they have a network of other photographers they can rely on to step in and cover the event.
Also, find out if they have backup equipment readily available in case any technical issues arise. A professional photographer should always have spare cameras, lenses, and lighting equipment on hand to ensure that nothing interrupts capturing those precious moments.
Inquire about their experience with different types of photography equipment and ask how frequently they update their gear. Technology constantly evolves, so you want a photographer up-to-date with the latest tools and techniques.
Knowing that your photographer has a backup plan and invests in top-notch equipment will give you confidence that they are prepared for any situation during your wedding day. Feel free to ask for examples of past weddings where their backup plan was put into action or stories of how they handled unexpected challenges.
These insights will help you gauge their professionalism and ability to handle any potential hiccups seamlessly, ensuring stunning photographs from start to finish.
Negotiate Contract and Terms
Ensure you carefully review the contract and terms your chosen photographer offers to ensure both parties understand expectations and responsibilities. The contract should outline important details such as the date, time, and location of the wedding and the specific services that will be provided. It is crucial to clearly understand what's included in the package and any additional costs that may arise.
Additionally, clarify cancellation policies, payment schedules, and any potential penalties for late payments or changes to the agreed-upon schedule. You can avoid misunderstandings or surprises by thoroughly reviewing the contract and discussing any concerns or questions with your photographer beforehand.
In addition to reviewing the contract, discussing other terms with your wedding photographer is important. For example, ask about their policy on copyright ownership of the photos taken during your wedding day. Some photographers may retain full rights to all images, while others may offer limited usage rights for personal use only. It's essential to understand these terms to know how to use and share your wedding photos after the event.
Furthermore, discuss any specific requests or preferences you have regarding editing styles or special effects. Communicating clearly about these details upfront will help ensure you receive photos aligning with your vision and expectations for your special day.
Conclusion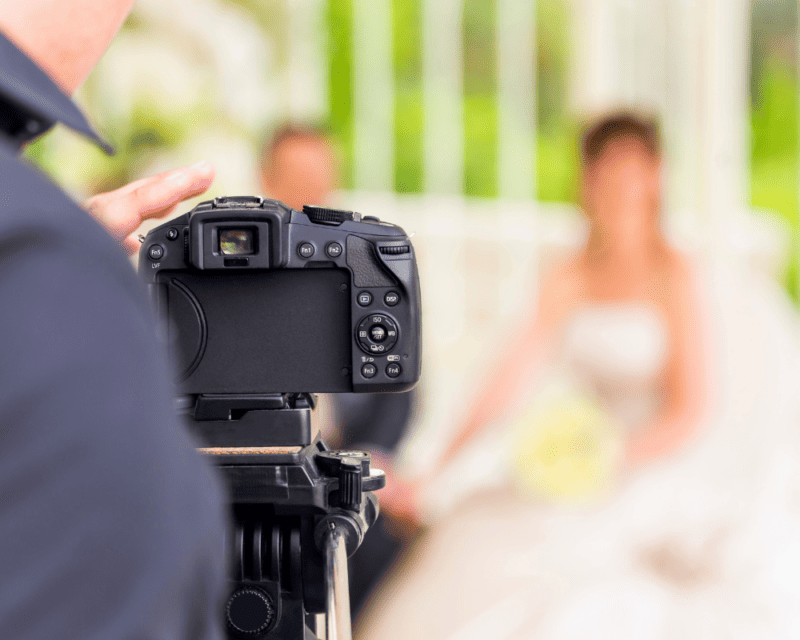 In conclusion, when choosing questions to ask a wedding photographer, it's important to ask the right questions to ensure they fit your special day perfectly.
By asking these five key questions, you can confidently choose a wedding photographer with the necessary skills and understanding of your unique vision for your special day. Remember, communication is key in ensuring everything goes smoothly on one of the most important days of your life. So don't be afraid to ask those important questions!