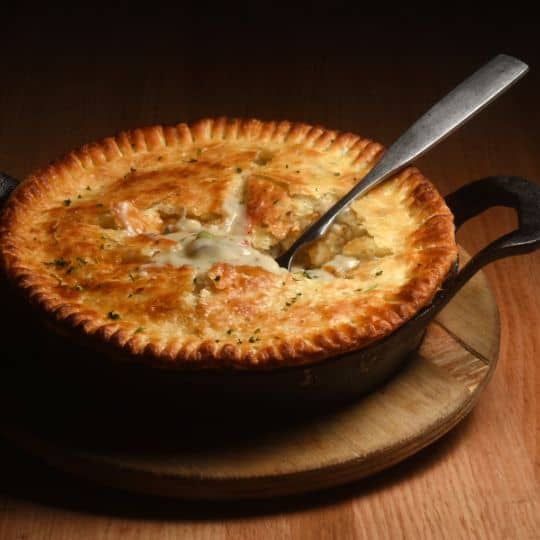 4 Delectable Dinner Recipes To Transition From Summer To Fall
As summer gives way to fall, the bright salads we loved when it was sunny and hot exit stage left, and comforting stews make their entrance. One of the ways to truly embrace the change in seasons is to look to more seasonally appropriate recipes to reinvigorate and rethink your weekly menu.

But this doesn't have to happen all at once! Let's talk about some delicious, easy-to-make dinner recipes that strike the perfect balance between the fresh, zingy flavours of summer and the warm, comforting essence of autumn.
1. Warm Roasted Root Vegetable Salad
You know that refreshing berry salad you've been munching all summer? It's time to give it an autumn twist by opting for a warmer, cooked salad featuring seasonal roast vegetables and a vinaigrette so good you won't miss your summer salads for an instant.
Ingredients
Root vegetables (carrots, beets, parsnips): 1 lb, diced
Arugula
Olive oil: 2 tbsp
Salt and pepper: to taste
Honey
Red wine vinegar
Juice of one lemon
Fresh thyme
Instructions
1. Toss the diced root vegetables with olive oil, salt, pepper, and thyme.
2. Place them in some trusty ceramic cookware, and spread them out so they roast rather than steam.
3. Roast at 400°F until tender and golden brown … oh, the smell!
4. While you're waiting, mix up a vinaigrette with some additional olive oil, a heavy splash of red wine vinegar, the juice of one lemon, and a squeeze of honey. Add salt and pepper to taste.
5. Spread your roasted vegetables over a bed of arugula, and drizzle your vinaigrette all over for a seasonal take on a salad that will blow your mind.
2. Hearty Lemony Chicken Pot Pie
Goodbye, summer grill nights. Hello, warm and inviting chicken pot pie. Bring a bright, sunny kick of lemon into your pot pie rather than the usual, cosier flavours for a twist on a classic that still feels appropriate for those unexpectedly warm autumn days.
Ingredients
Chicken breasts: 4
Lemons: 2, zested and juiced
Puff pastry: 1 sheet
Frozen mixed vegetables: 1 cup
Cream of chicken soup: 1 can
Salt, pepper, and garlic powder: to taste
Instructions
1. Marinate the chicken in lemon zest and juice, then grill until cooked. Feel the summer vibes!
2. Dice the cooked chicken and mix it with frozen vegetables and cream of chicken soup.
3. Roll out the puff pastry into a ceramic pie dish and fill it with the chicken mixture.
4. Bake at 375°F until the crust is golden brown and flaky … Comfort in a dish!
The ceramic pie dish is your trusty companion here, giving that puff pastry the perfect environment to turn into a golden, flaky wonder. Grab a fork, and let's dig into fall!
3. Creamy Tomato Soup With a Fresh Twist
Summer isn't soup season unless we're talking about gazpacho — a chilled tomato soup that's as delicious as it is refreshing. As we transition into fall, borrow some of the flavours of gazpacho by topping your tomato soup with a fresh pico de gallo-like salsa rather than heavy cream or cheese.
Ingredients
Fresh tomatoes: 2 lbs, chopped
Onion: 1, chopped
Garlic: 3 cloves, minced
Bell Pepper, red or green: 1 chopped
Chicken or vegetable broth: 2 cups
Salt and pepper to taste
Half a dozen cherry tomatoes
Fresh basil
1 lemon
Instructions
1. Sauté the onion, pepper, and garlic in a ceramic pot until soft.
2. Add the tomatoes, broth, salt, and pepper.
3. Simmer until tomatoes are tender.
4. Blend until smooth, return to the pot, and cook until it reaches your desired consistency.
5. While you wait, slice the cherry tomatoes in half and toss them in olive oil and a squeeze of lemon juice. Mix in the fresh basil.
5. Serve your soup in individual bowls and top with a heaped spoonful of fresh, zingy salsa.
4. Baked Seafood Casserole
Summer's seared seafood skewers were fabulous, weren't they? It's time to channel that sear into a cosier maritime option with a baked seafood casserole that speaks the language of fall.
Ingredients
Tuna in olive oil
Butter: 4 tbsp
Flour: 4 tbsp
Milk: 2 cups
Cheddar cheese: 1 cup, grated
Orzo: 8 oz, cooked
Spring onions
Lemon
Salt, pepper: to taste
Instructions
1. Melt butter in a ceramic skillet, then add flour to make a roux.
2. Gradually add milk, whisking until thickened.
3. Stir in the cheese, salt, pepper, orzo, and tin until it's creamy and mixed through.
4. Transfer to a ceramic casserole dish and bake at 350°F until bubbly.
5. Top with a handful of chopped spring onions and a heavy squeeze of lemon to give your cosy fall casserole a fresh summer zing that seamlessly blends the seasons.
Tasty Transitions
As we bid farewell to those long summer evenings, let's embrace the crackling fires and the comforting meals that await us. Let's fill our kitchens with the scents of cinnamon, nutmeg, and freshly roasted vegetables and let our taste buds dance to the rhythm of the changing leaves.
There's a whole world of flavours out there waiting to be discovered, tasted, and celebrated, no matter the season. When you find the perfect middle ground between fall and summer, you're bound to discover new ways to prepare your favourite foods that will carry you from season to season with ease.