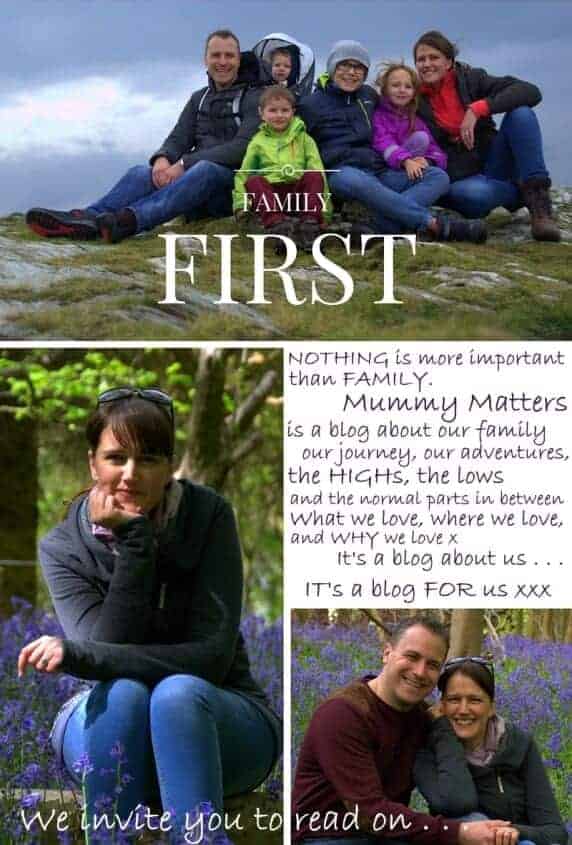 Meet the Family
Sabina

Well, I'm the main writer behind Mummy Matters though of course, the rest of the family get roped in from time to time to do their bit too. So here's a little bit more about me . . .
How do you describe yourself without sounding like you're writing some sort of dating ad? I'm an earthy person, I love all things family, nature and spiritual stuff (think Feng Shui, crystals, reiki . . . that kind of thing). All I ever wanted for as long as I can remember was to be a Mum when the time was right and I feel blessed to have my beautiful family.
I think people would describe me as friendly (I hope), helpful and loyal but you never can be too sure so . . .
Aside from my family, my biggest passions are photography, getting outdoors walking and camping, dancing around in my kitchen to all kinds of music and dreaming of one day owning a campervan!!
Simon

Simon and I were best friends for just over two years before we 'gave it a go'. It lasted all of two weeks before I panicked and put on the brakes and then another two weeks before I had a word with myself and said sod it!! We are still best friends 16 years later.
In Simon's younger days he played Hockey in the National Leagues but retired to help me keep our family in check so nowadays you will find him either in the gym or out on his mountain bike. By exercising regularly he is still able to eat all those cakes and biscuits at work that he thinks I don't know about.
Will

Will is Simon's son from his first marriage, whom I love as my own. He has a wicked sense of humour and we do love to gang up on Simon for mutual entertainment. When he is not helping me to annoy his Dad, he can usually be found glued to his Xbox or entertaining his younger siblings (which is flipping amazing at). Will has grown to be a very fine young man who will make us all very proud.
Lillie

Just one year into marriage we celebrated the birth of our daughter Lillie in 2008, who is a beautiful, caring and independent young girl who loves unicorns, rainbows and things that sparkle. Lillie loves swimming, cycling and yoga when I remember to get up in time to do it with her.
Ollie

In 2010 we welcomed Ollie into the world, a very happy and content little boy who has grown to idolise his big brother Will and is a very kind, caring and thoughtful young boy. He loves all things Marvel, DC Comics and Star Wars, what he doesn't know isn't worth knowing.
Albie

In 2013 we said a very happy 'hello' to Albie who was not hanging around in the birthing stakes and hasn't really slowed down ever since. This boy is a loving bundle of cheeky energy and giggles who gives the best hugs and tells us 1000 times a day that he loves us. He is the original transport 'geek' as I tenderly call him, he loves all plains, trains and automobiles – oh and he's got an eye for the ladies too!!
Bramble

In September 2017 we welcomed this fur ball into the family. Bramble is a Working Cocker Spaniel who didn't quite cut the mustard as a gamekeeper's dog, mainly because he is frightened of loud bangs and is beautiful but doesn't have a lot going on between the ears. Bramble has slotted into the family a treat, the children adore him and I sometimes think Simon thinks he is another baby. Bramble isn't overly impressed at spending his days with me since I tend to work and ignore him apart from the two walks a day but he does like to huff and puff to show me his annoyance!
That's all folks . . .
So now you have met us why not dive into the Mummy Matters blog and read what we have all been up to lately.