Oooh hasn't it been gorgeous having all this sunshine, even on those really hot days I have tried my hardest not to moan about it as us Brits often can. I feel so much better when the sun shines and this week I have loved being able to dive into my summer wardrobe, unfortunately that in itself brought about new problems I didn't really fit into the clothes that I was hoping to wear but a Knight in Shining Armour appeared to save the day.
I was contacted by Fresh Produce which was co-founded and is still run by Mary Ellen Veron, a mom entrepreneur. They predominantly produce clothing in the USA although you will find it sold in over 500 speciality retailers across the US and the Caribbean and they ship worldwide. Fresh Produce wanted to know if I would like to review an item of their clothing and I chose this very clever Augustine Convertible Dress. When it comes to holidays it's good to find items which have different ways to wear them because it helps you to save space in your suitcase for all the shopping you do whilst you're out there *ahem* on your weight allowance.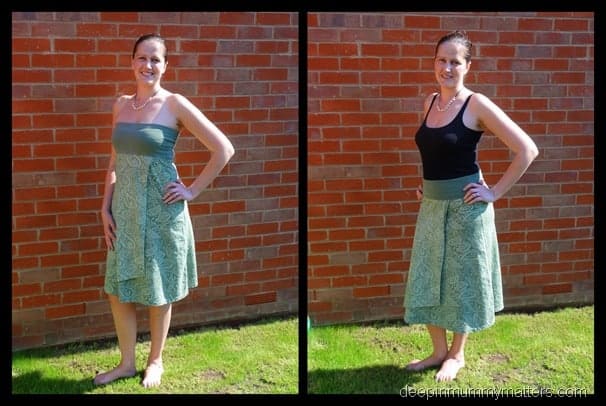 The dress arrived very quickly and the first thing I noticed was the outstanding quality of the fabric, there is nothing I hate more than seeing women in skirts and dresses that are totally see-through when standing outside, you may as well walk around in your underwear all day and not bother with the rest. This dress is thin enough to be cool but thick enough to keep the essentials covered.
Personally I like it best as a dress because I think it looks quite slimming on me as a dress but it is also very comfortable as a skirt, particularly as the folded over waistband also acts as a support band for my rather cuddly tummy! I wouldn't normally wear a vest tucked in like this but I wanted you to be able to see the top and I didn't want to let my tummy loose on you, that just wouldn't be fair!
The colour is perfect for me, this is quite a staple colour in my wardrobe but if you fancy something brighter or different then there are others to choose from as well as lots more lovely summer clothes in the range which are perfect for your summer wardrobe.
At $51.75 (approx £33) I think this is a really good price for what is essentially two items of clothing rolled into one!
DISCLAIMER: I was sent the Augustine Convertible Dress for the purpose of this post, all words, photographs of me and opinions are my own and may not be copied without my permission.