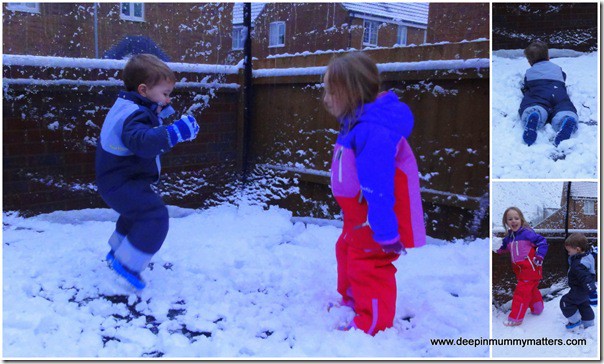 We had snow much fun in our KoziKidz gear!!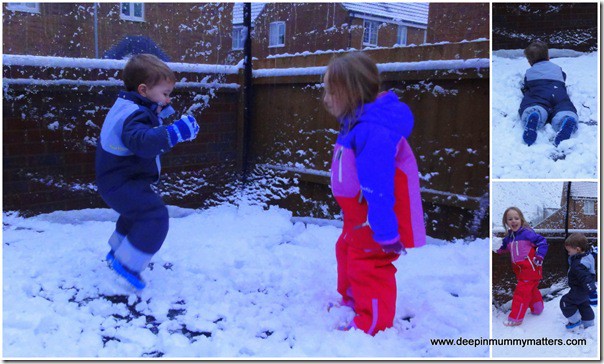 I think the majority of the UK received a covering of snow today, we didn't get loads but we had enough that the tiddlers were overly excited and eager to get out in it after school. One thing I used to hate about playing outside in the snow when I was a child was how quickly I became really cold. Today I didn't have to worry about that with the tiddlers because they had been sent some cool outdoor clothing from Kozi Kidz and they really put it to the test.
Kozi Kidz is a Swedish company which designs outdoor clothing with children in mind. Being a child is all about having fun so why let the weather spoil that fun when you can wear Kozi Kidz and be protected from the elements. Their ranges are available for children aged 6 months to 10 years.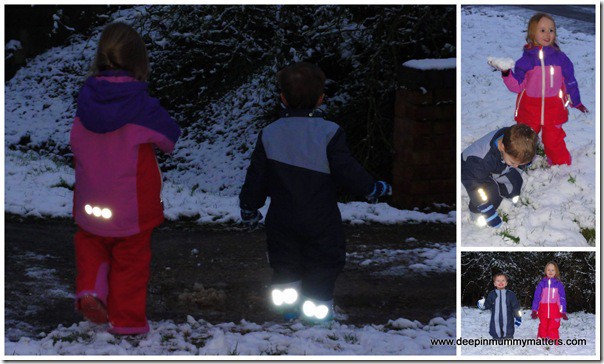 After seeing some of the fun we have when we go puddle jumping (albeit getting rather wet) we were sent the Whistler Winter Jacket and Salopettes in cerise/pink/purple for Little Bean which made her very happy since they had ALL her favourite colours on them!! Beanie Boy was sent the Snowflake Baby Snowsuit.
First impressions were really good, the clothing is waterproof and well padded. I like the reflective strips, spots and zipper tabs, it's reassuring to know that your little ones will be seen when out and about. Both Little Bean's jacket and Beanie Boy's suit have detachable hoods which is good for my tiddlers because although they like their hoods up when it's raining, they get easily annoyed with hoods the rest of the time so I can take them off and keep them in my bag for emergencies.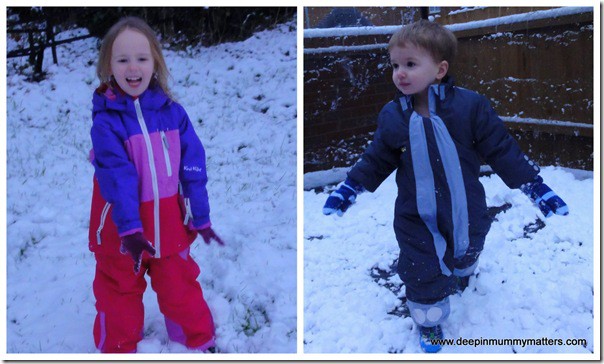 What really impressed me was how well their outfits stood up to the weather, as you can see from the pictures above the tiddlers had lots of fun on the trampoline and even though Beanie Boy fell over countless times, his suit wasn't wet at all. We later went out for a walk and they had set to work on throwing snow balls and jumping in snowy, muddy puddles. Initially I worried about how wet and dirty their suits would get but was completely surprised when we got home to find that not only were they still dry but they showed no signs of dirt either.
I asked them both repeatedly if they were warm enough and wanted to go home, there was none of the usual moaning when they get wet and cold and they insisted that they just wanted to carry on playing. In the end we were out and about for over an hour and only had to return home because I got too cold. I wish I was small enough to wear Kozi Kidz too!
The only problem that we had was with Beanie Boy's suit, he doesn't like his jackets zipped all the way up and this one zips up really high so I had to tuck it back down the front. Unfortunately, this left the zip exposed which scratched his face and left him sore-faced. Next time I will make sure that he wears a scarf instead.
DISCLAIMER: We were sent the above outdoor clothing for the purpose of this review. I was not instructed what to write, all words, opinions and images are my own and may not be copied without my permission.