Dyson Small Ball Multi Floor DC40 Upright Vacuum Cleaner
Being introduced to Dyson vacuum cleaners through my blog has revolutionised cleaning in our household. Prior to Dyson, we had only ever bought small cylinder vacuum cleaners which we felt were doing a good job. Then we used Dyson and we haven't looked back, each time we vacuum the carpets they aren't just cleaned, they are given a new lease of life.
Dyson Small Ball DC40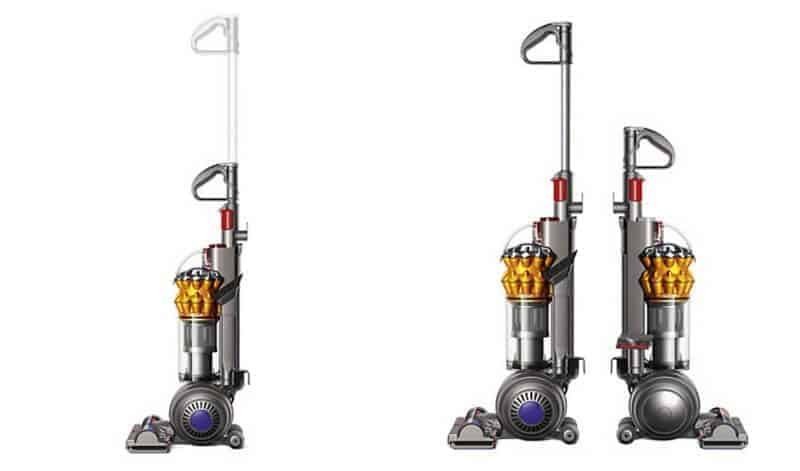 The new Dyson small ball features the powerful Dyson suction, yet is 50% quieter and ultra-lightweight
For the past couple of years, we have been very happy using our Dyson Cordless Animal DC59 to clean the kitchen, stairs, cars, ceilings and for a 'quick fix' anywhere around the house and the Dyson DC41 Cinetic Big Ball for a deep clean around the house. Well now we have a new beauty to put to the test and I have to admit, I'm a little bit in love. Not only is the DC40 Small Ball a magnificent vacuum cleaner, but it also takes up a lot less space in my utility room so I can reclaim some space in an already crowded room.
Dyson Small Ball features
Powerful Dyson suction with ultra-lightweight construction (only 5.5kg)
50% quieter – great for sound sensitive threenagers!
Longer hose and ball technology for easy steering around corners and hard to reach places
30% more storage space thanks to the retractable wand when compared with a regular full-size Dyson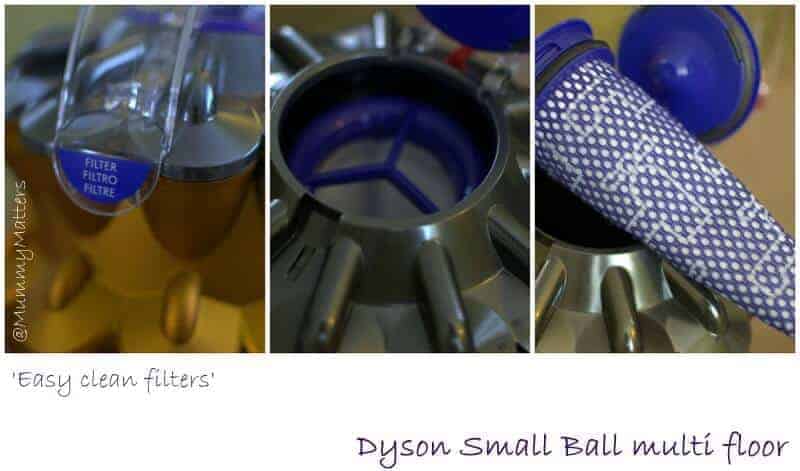 What I love about the Dyson Small Ball
Size Matters
For starters, I love the size and weight of the DC40. Despite living in a big house, the designers really didn't think through storage space and so our utility room is a bit of a squeeze for storing the larger vacuum cleaner and as much as I have loved my Dyson Big Ball, I have not loved stubbing my toe on when stumbling into the utility room.
With the Dyson Small Ball boasting 30% more storage space than a regular full-size Dyson I am able to tuck it away neatly behind the door under our coat rack thanks to the retractable wand and when it comes to vacuuming the house, it's a breeze because it is so light and easy to manoeuvre thanks to the latest ball technology making it easy to steer around corners and the longer hose to reach difficult places.
Easy to Empty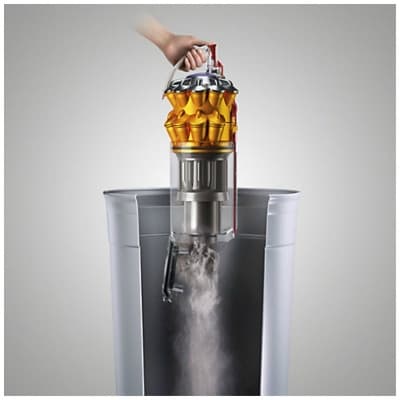 You would think that having had years of changing dirty nappies that I wouldn't be bothered by a bit of dirt but you would be very wrong. I'm a very sensory person and certain things really gross me out (sorry for the teen slang). I HATE emptying the vacuum cleaner, it seriously turns my stomach plus I have a dust allergy so it's guaranteed to set me off sneezing if I get too close. With the Dyson Small Ball, I am able to empty the bin with the single button cyclone release, just one click and the bin lifts away from the vacuum cleaner and another click at arm's length over an open dustbin and all the dirt is gone.
Effortless Performance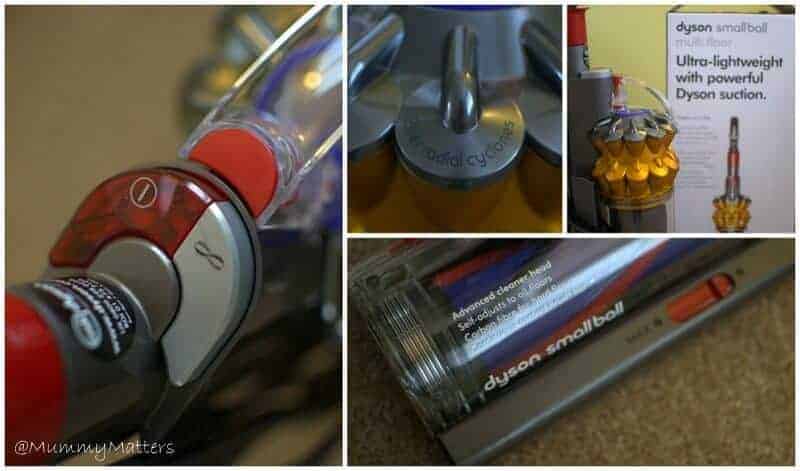 One of the major selling points of Dyson Vacuum Cleaners has always been their performance. Before owning a Dyson I always thought it was just a marketing blurb but the proof is in the pudding with these beauties and you can see it each time you vacuum. There's no denying the power when you see just how much dirt has been lifted from your floors and carpets. The Dyson Small Ball has 19 cyclones spread over 2 tiers working together to increase airflow and capture even the tiniest microscopic dirt in the bin.
Multi-Floor
Regular readers will know that last summer we had the dining room and kitchen knocked together and a high-shine floor instead of carpet in the dining area. This year we are planning to take the tiled floor through to the hallway too. That still leaves carpets in the playroom and lounge on the ground floor as well as the stairs, landing and bedrooms upstairs. Switching the vacuum from floor to floor is simple by way of the cleaner head which adjusts to different floor types with ease. In addition to the nylon bristles on the brush bar, the Dyson Small Ball has a row of anti-static carbon filaments to easily pick up tiny dust particles from hard floor surfaces.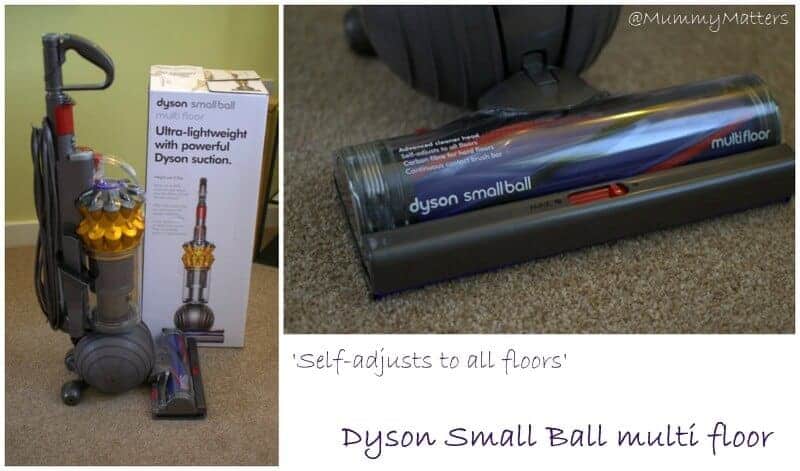 Since the Dyson Small Ball arrived in our house I have been much more inclined to give the house a quick 'whip around' each day because I know it's not going to be a back-breaker of a chore and the house feels so much better for it. It's no surprise that Dyson makes the best stick vacuum cleaner for pet hair.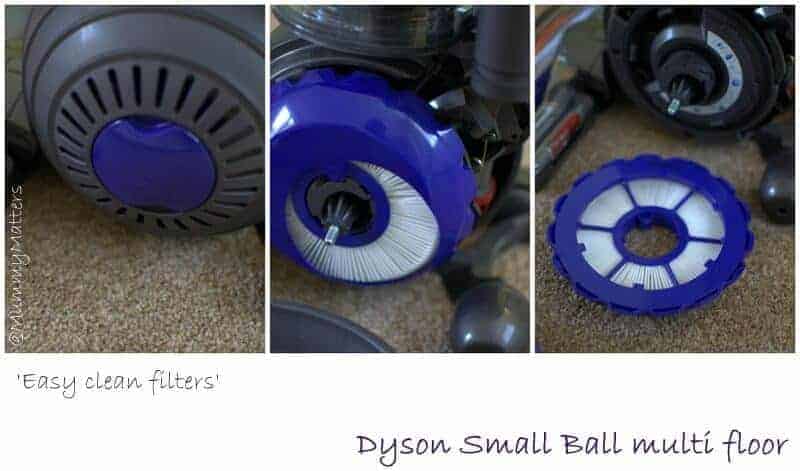 Long Power Cable
When our house was built they neglected to put power sockets on the upstairs landing, initially we didn't see that this would be a problem . . . until we came to vacuum for the first time and said: "where do we plug this in?". It was a nightmare each time we vacuumed because we would have to plug it into each bedroom and then clean outside the rooms as best as we could until we ran out of cord. Obviously when we were given the Cordless Dyson life became much easier but there are times we need something a little 'more'. The Dyson Small Ball cable is 45% longer which enables me to plug it in at the bottom of the stairs and vacuum all the way around the house without having to move the plug (providing I put it over the bannisters, not around them). This has been revolutionary for us!!
5 Year Guarantee
It's a fact of life, things break but with Dyson, you are covered for up to 5 years on Parts and Labour should your Upright or Cylinder cleaner break down. Now that's worth having.
RRP £370
DISCLAIMER: We were given the Dyson Small Ball DC40 free of charge in exchange for our honest opinion. All words, images, videos and opinions are my own and may not be copied without my permission.