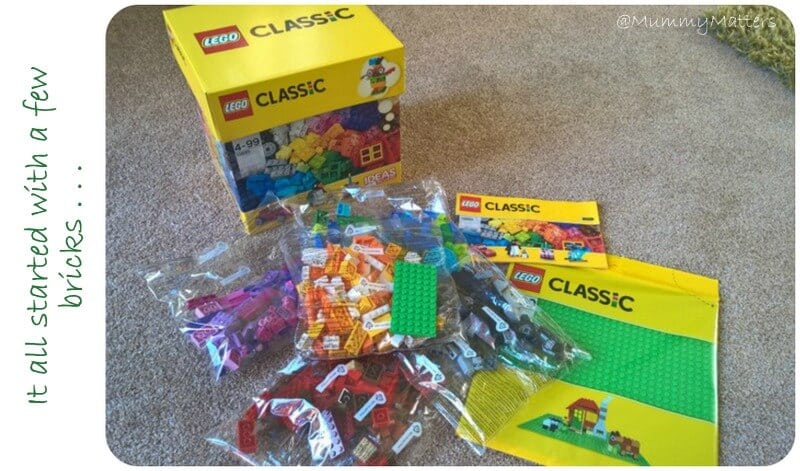 Building our Lego Dream Home
'Do you want to play with Lego' that was basically all that I read between the lines of the email asking if we wanted to take part in the Ocean Finance Lego Dream House competition. I didn't need to know anything more than that, despite having loads of Lego in our house I never get to play with it because it belongs to the Beans so I loved the idea of a Lego project we could all work on together without following any plans, just our own imagination.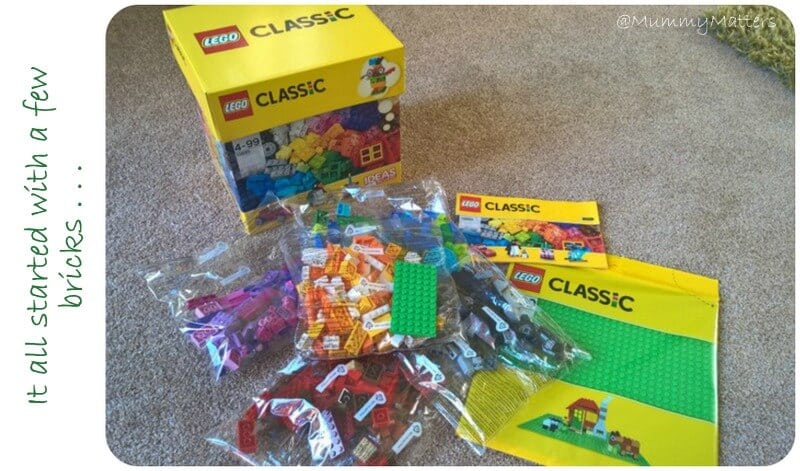 Very often on a Sunday morning we can all be found relaxing in the lounge watching re-runs of Grand Designs (UK and Australia) so the Beans also have a keen interest in homes. We decided that we wanted a 'green' home, not the colour green, but energy efficient since Little Bean is an active member of the Eco Club at school and had lots of great ideas. Our theory is that it isn't just better for the environment but the less we had to spend to power our dream home, the more money we would have to enjoy life.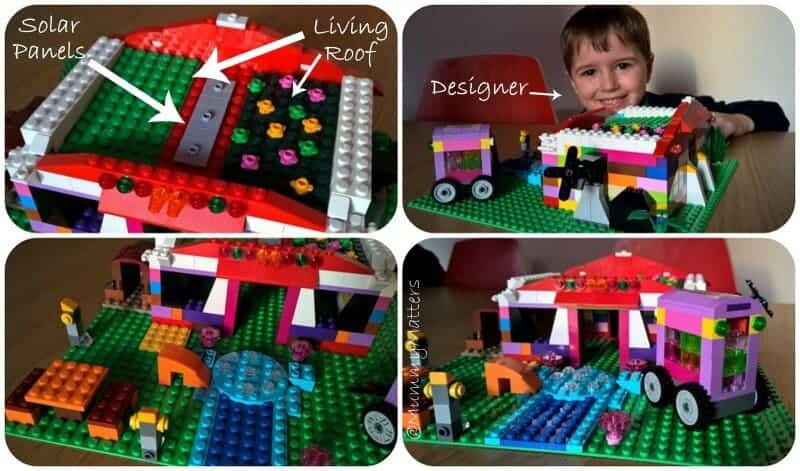 Our house is very colourful to reflect all of our different personalities coming together, we even have coloured glass brick windows at the front to allow the colours to flood in and bring energy to the home. The back windows to the house are specially designed to be wider at the top to welcome the outdoors in and to give a feeling of sharing the outdoors even when we have to be indoors. We are very much an outdoors family so most of our 'dream' aspects feature on the outside space. Top of the Beans' list was a swimming pool . . .but not just any swimming pool, they had very specific needs; a Jacuzzi splash pool with a slide straight into it and an infinity pool to practice their swimming.
Beanie Boy wanted an outdoor table because we always love to eat 'al fresco' in the Summer months and Daddy added the solar powered lights to allow us to stay outdoors as darkness falls. Little Bean suggested we add a Wind Turbine to the side of the house with a battery pack to store up all the power for the house. We also added a living roof to insulate and add aesthetic beauty.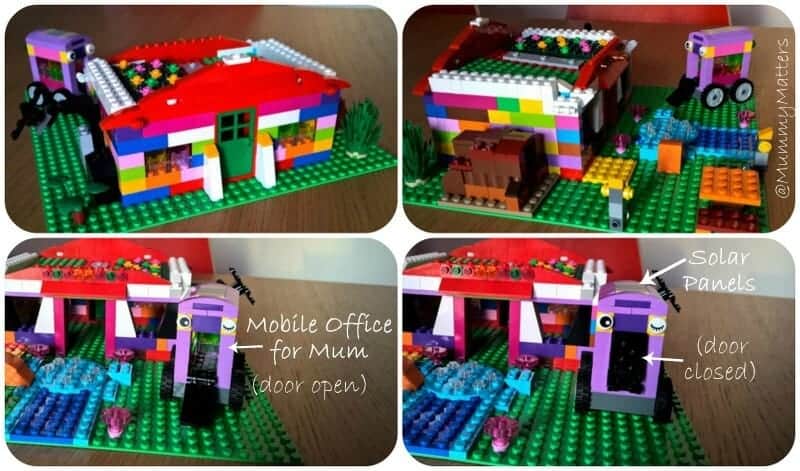 Little Bean designed a moveable outdoor office for me to work from so that I could enjoy the sunshine, watch them play and feel a part of it all when they are out in the sunshine and I need to work. I loved that she put it on wheels so that I can move it to the best position for sunshine and view. To fit with our 'green' theme, she also added solar panels to power my office and a special door which doubles up as the ramp to get in to save on materials and be more cost efficient. It also has the pretty colour glass brick windows and back wall to give me lots of energising light. Finally she added 'eyes' to the front of the office which act as cameras to be able to see all that is going on outside.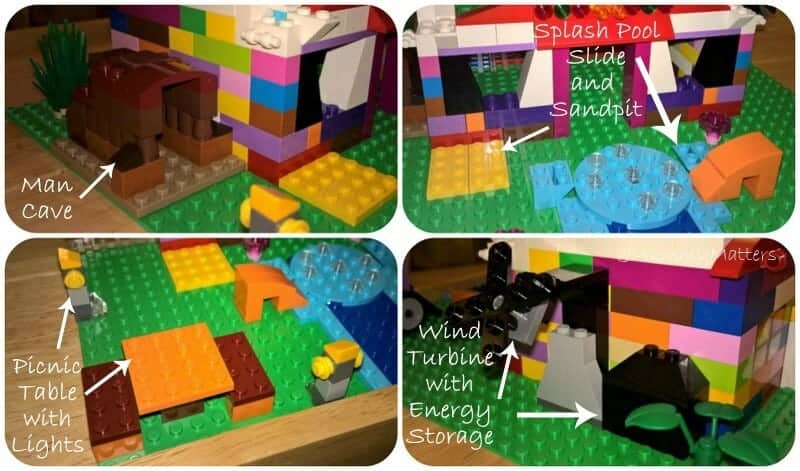 Beanie Boy didn't want Daddy to feel left out so he and Daddy created a 'man cave' on the side of the house where they could retreat to do 'boy stuff'.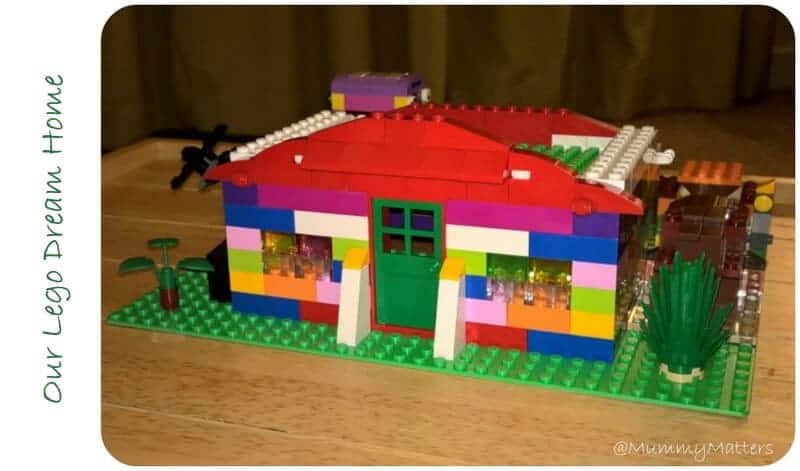 Finally, I am very much into 'Feng Shui' for the home so I added the red roof and scrolls to the front to added the 'Chinese' styling. In Feng Shui you need to invite the luck and good fortune to your home with a welcoming and grand front door. We did this by adding solar lights on large white pillars to frame the door and keep it illuminated at night so it is always a welcoming sight and planted large plants to soften the corners and to allow our luck to 'grow'.
We all agreed, this project was soooooo much fun, we may just have to get another Classic box of Lego to see what else we can design together! To experience more fun with your kids, check out these cool lego toys from My Kid Needs That.
DISCLAIMER: We were sent the above pictured Classic Lego Box and Baseplate to enable us to enter this Blogger Competition. This is our entry to the Ocean Finance Spring Dream Homes Project. All words, images and opinions are my own and may not be copied without my permission.