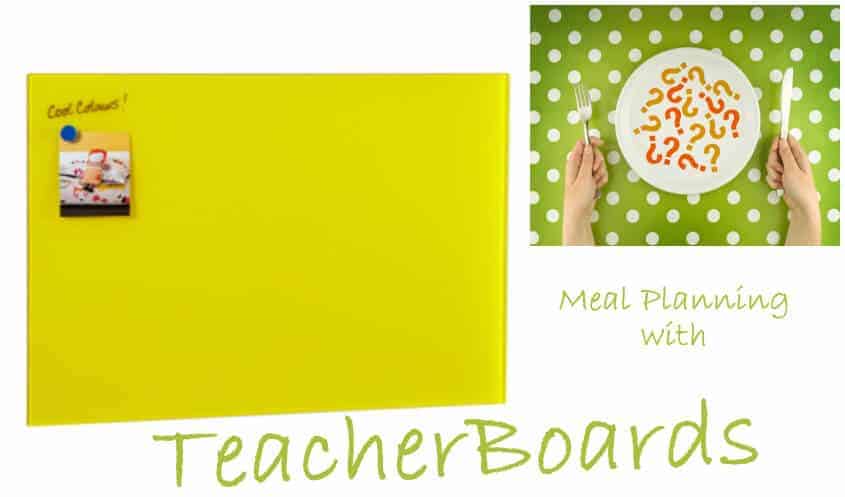 Top Tips to organise a large family
In the days before little people called me 'Mummy' the word which I was most proud to type on my CV was 'organised' because I prided myself on how ship-shape I kept my working life. My desk was always tidy, I never missed a deadline and I got tasks done quickly and efficiently. The one thing that I was particularly good at was devising systems to keep everything running smoothly, if we ever encountered a problem I would put a system in place to ensure it didn't happen again.
Fast forward to the present day and I'm only just starting to feel like I can think about using the word 'organised' to describe myself once more as I seem to have been flying by the seat of my pants for the past nearly 8 years. Sure there are days that I manage to convince the world and my family that everything is running smoothly but honestly, I've felt more like I've been swirling around like a spinning top and if things got done well, it was merely a fluke.
Now I'm starting to take back control and so far I think it seems to be working so I'm going to share a few tips with you on how to organise a large family, in the hope that you might be able to share a few tips back with me? How does that sound?
Tip #1 – Meal Planning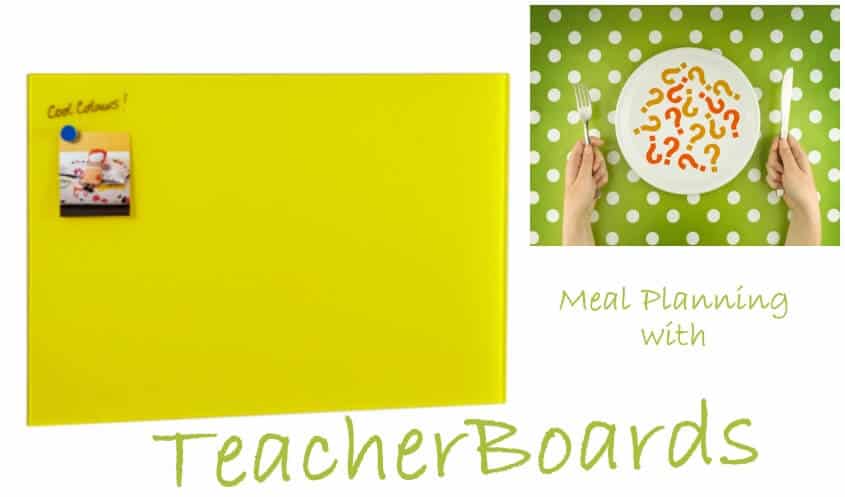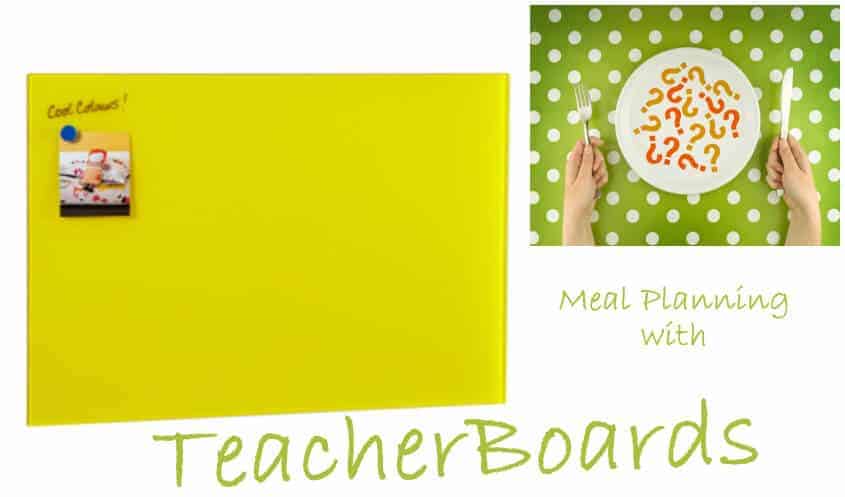 Pretty sure we have all been there at the end of a busy day at work (Hubby) or a busy day working from home, running around after/entertaining little people. It gets to 'that' time of day when we need to think about what everyone is having for tea, we open the fridge door and stare into the depths in the hope that someone will hand over fully prepared meals for the family?! Is that just me?
Since Hubby doesn't get home until just before the Beans' bedtimes I cook their meals around 5pm. For the past year I have been meal planning for them and they check the meal plan every morning so they know what they are having for tea. It saves me the earache of them all asking for something different, they have a whole day (or even week if they check early enough) to prepare themselves for a tea they might not like so much. I write the Meal Plan on a dry wipe board like these glass ones by Teacher boards which look modern and come in a range of colours and patterns so they can really fit with your décor.
Tip #2 – Mum's Diary from Mum's Office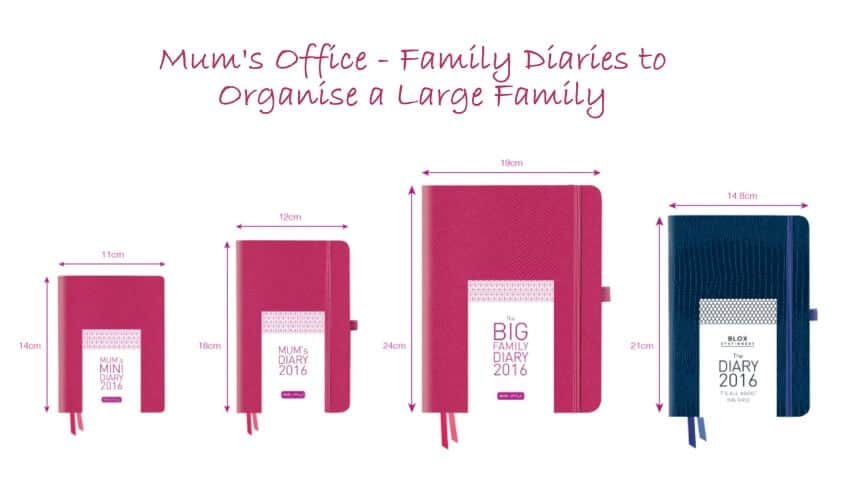 I know there will be a few exceptions but in most families I'm guessing the person in charge of the day to day running of the house and family will be Mum. That's why Mum's Office is the perfect place for busy Mums to find the right tools to help them keep the family running smoothly. Gone are the days of just having to remember whose birthday it is that month or when you need to be at the hairdressers. Once you become a Mum you're responsible for keeping the social calendar for everyone (and kids always seem to have a better social life than their parents – even the little ones). There's dentist appointments, after school clubs, breakfast clubs, birthday parties, school holidays and events. I have found my Mum's Office diary a priceless addition to organise a large family as it has space for everything. A separate page for each family member so that I have all their important information in one place and diary sections for everyone so you can see what's going on at a glance and whether anything clashes. The BIG Family School Year Diary is available to buy from March 2016.
Tip #3 – Simple As That – Free Organisational Printables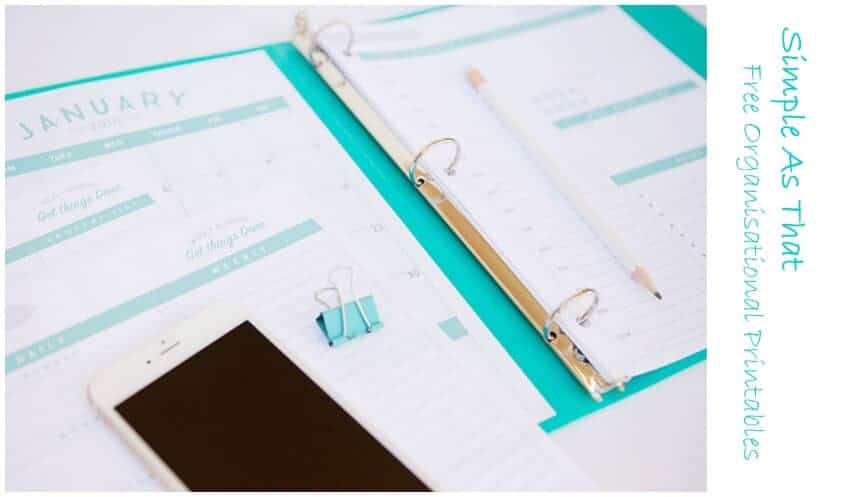 The larger our family has become, the harder I have found it to keep on top of all of the household jobs. We get through mountains of washing, which in turn creates mountains of ironing. There are beds to change, rooms to tidy, stacks of dirty pots for the dishwashers and endless 'things' to tidy away. I know what you're thinking . . . 'get the kids to tidy their own stuff and help with the chores'. Well, yes to a certain extent, they do but their standard isn't quite as high as mine so once they have done their bit, I do a little bit more.
Whilst searching online tips to organise a large family I found these great free printables from one of my favourite blogs, Simple As That. They are really doing their job of helping me and the family to get jobs done in a more logical fashion, everyone has their own chores to do and because it's written down on paper they can't argue, "I didn't know you wanted me to do it". I finally feel like we are starting to make some headway into getting our family home straight and having time for more fun as a family as a result. Now that's what I call winning!!