My Personal Styling Session with John Lewis #Qblogger
A few weeks ago I attended a special Personal Styling event at my local John Lewis in Queensgate Shopping Centre. At the Qblogger event we were introduced to Personal Stylist, Alison, who has been advising women how to dress for over 20 years. John Lewis take personal styling very seriously and send their stylists for extensive training at the London School of Style.
Queensgate Personal Styling
The Queensgate store currently has a team of 4 personal stylists. It is a completely free service (but must be booked in advance) with appointments available for one hour or two hours. It's also worth noting that the stylists do not work on a commission basis as you might think and there is no obligation to buy anything you are shown.
Great first impressions
I was so intrigued by the service that I decided to book in for my own appointment, so last Tuesday I popped along to meet up with Alison. From the moment that I walked in, I was impressed. I had only chatted with Alison for 10 minutes about myself during the Qblogger event but from that she had taken in my height, shape and noted my current style. Alison had already put together a rail of items which she thought would be suitable for me, all of which were the right size, styles and colour that I would choose for myself.
Knowing my style
Alison explained that everyone has their own 'style type' and described mine as Classic Natural which means that I like a smart and tidy look made up with soft fabrics because I like to 'feel' my clothes. This is exactly how I shop, I tend to stand back and look along a rail to see fabrics which catch my eye and then I will touch them to see if they feel soft and supple, if they feel tough then it's a no-go for me.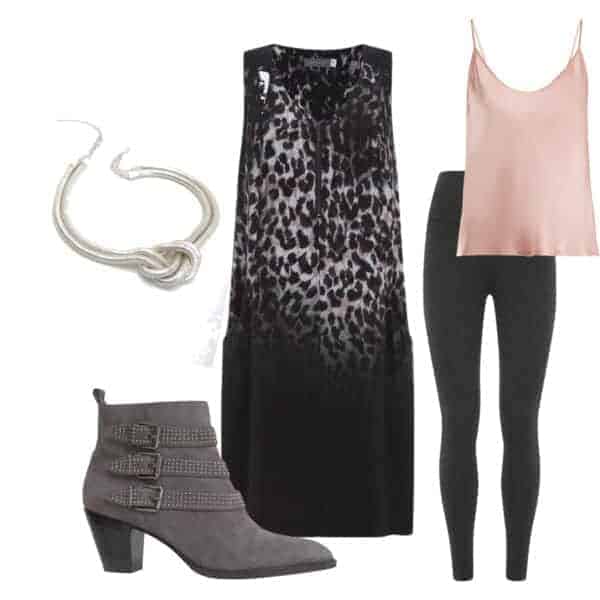 Looking along the rail of items which Alison had picked out for me, I was instantly drawn to the Mint Velvet Ellen Print Cocoon dress – this is something which I would pick out for myself. I am completely in love with dresses at the moment and I especially love dresses with pockets as they feel a little more casual. This can be worn alone on a hot Summer's day or layered with leggings and a vest top underneath or perhaps a long sleeve top on cool days.
Increasing my confidence
During my styling session I found Alison so easy to talk to, it was like spending time with a friend. I felt comfortable enough to tell her if I didn't like something or if there was an element of one garment that I preferred over others. That said, just from our conversations about how I tend to shop myself and my daily life routines, Alison was able to select items of clothing with ease.
I explained to Alison that I often find it difficult to find jeans which fit me well on the waist as a I have a rather 'curvy' bottom and a hollow back, I also have very long legs. A few minutes later, Alison returned with a pair of NYDJ Alina Uplift Legging Jeans which made me feel amazing! Initially I thought Alison had lost the plot when I saw 'size 8' on the tag but she was quick to point out they were US8, UK12 – I can't remember the last time I wore a pair of size 12 jeans.
My thoughts
I thoroughly enjoyed my Personal Styling session with Alison. I admitted at the start of our appointment that I often feel daunted when shopping in department stores such as John Lewis because I don't really know where to look. At this point Alison took me on a tour of the ladies department and explained each brand to me. I now know that I would find most items to suit me in Mint Velvet (already a favourite), Whistles, Jigsaw, French Connection, Kiin by John Lewis, White Stuff and Fat Face. I do like a spot of Ted Baker and Coast for occasion wear – if I can just have a few occasions to go to!!
In-store demonstrations
Alison and the Personal Styling team hold regular demonstrations on styling. Their most recent being how to create a capsule wardrobe and update each season. They also have a rail directly outside the Personal Styling suite where they pull together their favourite items which complement each other to give customers an idea of how to pull outfits together.
Personal Style Edit Online
If you don't have time to pop into your local John Lewis for a Personal Styling appointment then check out John Lewis Personal Style Edit online. Again, it's a free service, you just need to complete a series of questions about your body shape, height, weight, hair colour and eye colour then your results will be calculated. You will be shown items of clothing and outfits to suit your personal style type and then you can like, decline or mark them as favourites. The more you interact with it, the more it learns your style so it can 'shop smarter' for you.
Date for your diary
Fashion and Fizz Event
An informal fashion workshop; key pieces to refresh your spring wardrobe.
Thursday 10th May, 5.30pm for a 6pm start at John Lewis, Peterborough.
Tickets £5 to include a glass of fizz on arrival, workshop and opportunity to visit the Personal Styling Suite.
Tickets available at Thorpe Hall Reception or John Lewis Customer Support – 01733 225999
There will be a prize draw on the evening.
All event proceeds donated to Sue Ryder Thorpe Hall.
Facebook  |  Twitter