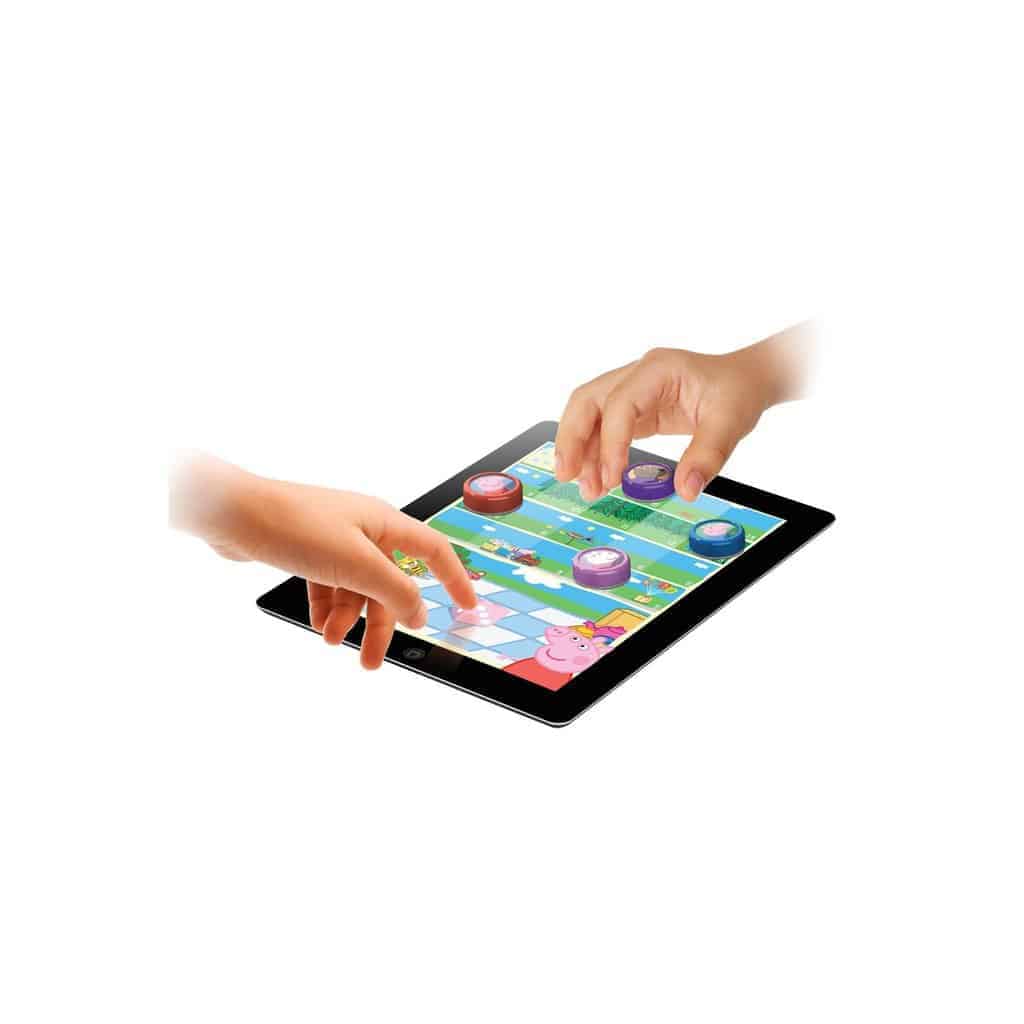 Technology for children is one of those things which, before becoming a parent myself, I always thought I would try to avoid for my children. I don't want them growing up too fast, I wanted them to enjoy their childhood and to get their amusement out of 'real' toys, not battery powered things which zap their brains but I have to admit it's been pretty hard to ignore some of the technology out there for children. Whilst there are the toys that are purely for fun and entertainment, there are also heaps of toys with great educational value. Here is a selection of both which might just make you the most popular Mum, Dad, Granny, Grandad, Auntie, Uncle or friend this Christmas . . .
Jumbo iPieces – Peppa Pig and Fireman Sam
The gamesmakers at Jumbo have come up with a great new way of having fun on the iPad by way of iPieces. There are numerous games to choose from for all ages/stages. We were sent Peppa Pig and Fireman Sam (two separate games) which are aimed at ages 4 and upwards. Little Bean has had no problems at all and to be honest I think dependant upon the child they would be ok for a 3 year old to play too. First you need to download the free App and then using the iPieces counters your iPad becomes an interactive board game which provides fun for 2-4 players.
This has been great fun for Little Bean, Daddy and I to play together and will definitely become a staple in our holiday packing as the iPad comes along anyway and the iPieces come in such a compact box it is so much better than lugging board games with you. We have used the iPieces on the train, on a bus and Little Bean and Curly have played it in the car so long journeys have been made less stressful too. As well as the main board game, there are mini games like Fly My Rocket, Muddy Me and Little Bean's favourite, Sing Along.
Other titles in the series include: Air Hockey, Pool, Snakes and Ladders, Fishing, Game of Goose and Ludo.
RRP £12.99 each
Suitable for ages 4+yrs
Available from Amazon
Leapfrog Tag Reader World Map
Little Bean has been using her Tag Reader for over a year now and it has become a well-used piece of kit at 'quiet time', especially since she has started at big school and is so keen to learn and read as much as she can. Using her Tag Reader she can read books by herself, play games and listen to stories AND it's the perfect size to fit in her travel bag when we go on holiday.
Her latest addition has been the Tag Reader World Map which is another great idea for feeding their thirst for knowledge. One of Little Bean's favourite games on the iPad has been Stack the Countries and she amazes me by how many of the countries shapes she is already starting to know. The Tag Reader World Map is taking that knowledge even further.
The World Map is a two sided activity board which can only be used with the Tag Reader pen. The world map has over 30 different activities to choose from to make learning fun. This is perfectly time for Little Bean because she is having 'passport days' at school where she attends different classes and learns about life in different countries. She comes home all fired up about the country she has visited and has been straight onto the World Map to see what else she can find out to tell the teacher and to demonstrate to me what she has learnt already.
The Tag Reader World Map is suitable for ages 4-8 and I think it will be well used in our family for a long time to come!!
RRP £16.99
Suitable for ages 4-8 years
Available from Amazon and John Lewis
Leapfrog Tag Reader Solar System
Just like the World Map, the Solar System Adventure Pack only works with the Tag Reader pen and has become a welcome addition to our family, although it has caused a few kerfuffles between Curly and Little Bean as they are both fascinated by the Solar System. It's a sad day when your 4 year old is better at recognising and naming planets than you are but that's the truth, she is like a sponge at the moment just soaking up information and this is when I love some of the technology that is available to her.
The Solar System Adventure Pack has a 3 foot pull out map which includes more than 40 activities and enables Little Bean to earn rewards for her efforts through LeapFrog Connect. Using the Tag Pen she has been learning about earth and the other planets in the solar system. She says her favourite is Saturn because it has 'pretty rings around it'. I am hoping one day to continue this thirst for knowledge with a visit to the London Observatory!!
You can learn all sorts of space facts and play games so that you don't even realise you are learning and just like all other LeapFrog products you can monitor your child's progress by plugging the Tag Reader into your computer and checking out what they have been doing on LeapFrog connect. It's interesting stuff!
RRP £16.99
Suitable for ages 4-8 years
Available from Amazon and Argos
Leapfrog Tag Junior
The only problem that we have found with the Tag Reader system is that Beanie Boy is so fascinated with it that he has a habit of hiding it away so that only he knows where it is. Imagine my delight when we were introduced to the Tag Junior and he now has his own little Tag Pen and has allowed Little Bean to keep hers!!
The Tag Junior is very appealing to little hands and perfectly shaped for them to hold as it is chunkier and less fiddly that the Tag Reader for older children. Tag Junior works with board books too so it is a little more robust for the least gentile member of our family. It works in the much the same way as the Tag Reader, rolling the Tag Junior across the page it reads the story out loud and has over 24 activities for your pre-schooler to have fun with.
Tag Junior can store up to 5 books so again it's a great companion for travelling and holidays rather than lugging around a case full of books. There are more than 24 books to choose from and each introduces a different pre-school skill. Books are priced at £7.49 each.
RRP £24.99
Suitable for ages 1-4 years
Available from Amazon and Toys R Us
Skylanders Giants Starter Pack
I really thought Skylanders was only really for Curly but I was proved completely wrong after we attended one of the launch events for Skylanders Giants recently and Little Bean got stuck right in there and happily played along without needing any assistance from me or Daddy (not that we would have known what to do anyway!!). Curly has been playing Skylanders since it was first released and has been super excited about the release of Skylanders Giants. As he says they are "even bigger and better than before".
As with the original Skylanders you use the Portal of Power to send your Skylanders Giants characters from this world into the virtual world and onto your screen so that you can join in the battle.
The really perfect thing about this game is that it is multi-platform and game play is stored in the figures themselves so although Curly has a Wii Console at our house, he can take his figures back to his Mum's and play on his Xbox and continue where he left off. And when he has had enough of playing the actual game (because that happens often – NOT!) he can continue his role play with the figures just as he would with any other toy figures. There are loads of different characters to collect which also makes it a great present for Christmas because the figures are so affordable that friends and relatives can buy them too or they can use their Christmas pennies to buy more and make their battles that bit more exciting.
RRP £52.00
Suitable for ages 7 and over.
Available from Amazon and Tesco
Leapfrog LeapPad2 – Disney Princess Limited Edition
We are big fans of LeapFrog in the Mummy Matters household, they bring fun and education into one place but shhhhh don't tell the children about the education bit!! So what could be better than a LeapPad? A LeapPad2 Disney Princess edition of course!! When you are the only little girl in a house full of boys it's great to be able to have all the girlie things and when it's emblazoned with pink and princesses you can feel pretty safe in the knowledge that your brothers will not be wanting to borrow it from you (well ok, Beanie Boy isn't fazed by Princesses but I'm hoping he will grow out of it!).
The LeapPad2 is the iPad for the littlies, it's a touch screen tablet on which Little Bean can play games, read books, take photos, make videos, doing drawing and listen to music. It has a larger memory than it's predecessor and it also has front and rear facing cameras "so it's just like your phone Mummy". She feels very grown up that she has one of these and Mummy feels happier knowing that it is protected in the lovely pink case which also has space for up to six games cartridges – now that's better than the playroom floor isn't it?!
As with other LeapFrog products I love that I am able to plug the LeapPad into my computer and check up on LeapFrog Connect to see what Little Bean has been doing and how her learning path is progressing.
The Disney Princess bundle also comes with 2 sheets of princess stickers and 7 princess wallpapers.
RRP £79.99
Suitable for ages 3-9 years
Available from Toys R Us