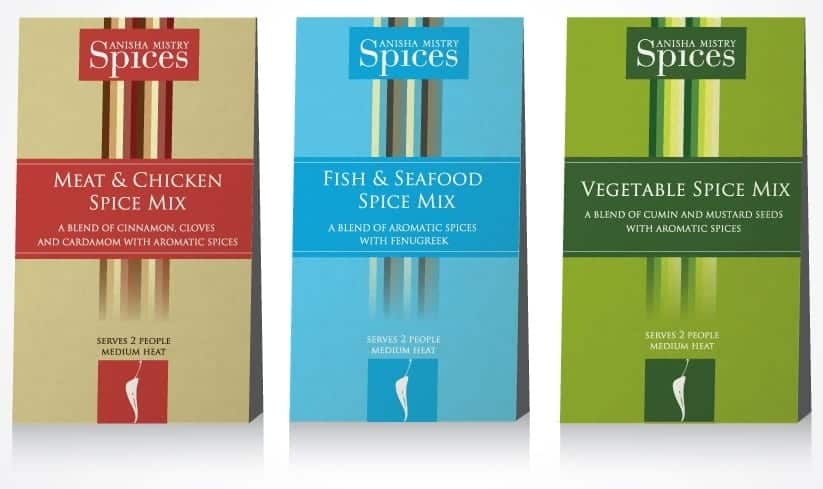 Want a bit of Spice in your life?
No this isn't a post about the Spice Girls!! If that's what you were searching for then I apologise now, this is a post for foodies and wannabe chefs. In those final weeks of pregnancy whilst I was impatiently waiting for Jelly Bean to make his grand entrance into the world I would frantically search the internet for ways to bring on labour (yes he was my third but a new discovery might have been made in the last couple of years!!) or when talking to people a common suggestion was to eat spicy foods. If you're not sure how spicy foods can bring on labour, without being too graphic, they stimulate the bowels which can trigger the uterus to have contractions and begin labour. I had tried it before and it didn't work so not being a big fan of spicy foods I decided not to try it again.
Hubby is the complete opposite to me, he LOVES spicy food, the spicier the better, so when I was asked if I would like to try a new range of spices from Anisha Mistry Spices I knew that he would want me to say yes. Anisha Mistry is a first generation British Indian now living in Spain. She was taught the art of blending spices by her Gujarati Grandmother and studied at Sheffield Hallam University gaining BSc (Hons) in Food Marketing Management. Anisha is a food columnist, recipe developer and has appeared in various media channels. Anisha wants to share how 'real' Indians cook so she set up her own business and product ranges which are simple to use and produce meals like you've never tasted before.
The spices come in three ranges; Vegetable Spice Mix, Meat & Chicken Spice Mix and Fish & Seafood Spice Mix.
Hubby isn't a fan of Fish so we gifted that one to good friends who commented that it was " . . . so easy to cook with, we followed the three simple steps on the pack and produced a dish which we are sure would be worthy of a winning Masterchef dish". Hubby quite fancies himself as a bit of a chef, he usually just throws the ingredients together and generally ends up with a pretty decent meal. When I asked him what he thought about the Anisha Mistry Spices he said "they are so simple to use, even you could cook with them" which to be honest I thought was a bit of a cheek, as I have said in the past I am 'Can cook, won't cook not can't cook!'. When it came to the flavour he said that the spices produced a mouth-tingling flavour that really added a new dimension to the meat. He said that it wasn't as hot as he was expecting it but in some ways that was better because it meant that his taste buds were still in tact and enabled him to enjoy his meal.
The spices aren't available on the high street just yet but they can be bought through her website and you can contact Anisha directly if you would like to know more.