Are you loving new Comfort Creations?
Ok so this is where my readers get a little insight into the weirdness of me! Hi, my name is Sabina Green, I am 38 years old and I love to smell laundry detergent when standing in close proximity to people. It always makes me smile, because let's face it, it's a whole lot better than standing next to someone who doesn't wash themselves or their clothes. I have always loved the smell of laundry detergents, perhaps it goes back to my days of stacking shelves in Davids Supermarket in Alford when I was a teenager? I always worked on the laundry aisle because it always smelled the nicest.
Well now that new Comfort Creations are gracing our aisles I have to say I'm loving them. Blended by perfume experts Firmench and International Flavors and Fragrances (IFF) Comfort have developed a luxurious and sophisticated range of fabric conditioner scents to tantalise your senses and keep your laundry smelling fresher for longer.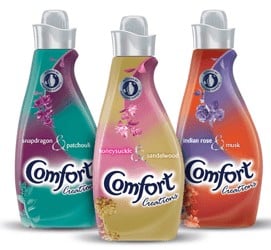 The exciting range includes 3 indulgent, new fragrances:
Honeysuckle & Sandalwood
A unique oriental creation which opens with a radiant top of citrus notes and frangipani before unveiling a rich and elegant floral heart of white flowers. Fruity facets combined with a mouth-watering blend of vanilla, brown sugar and amber provide an addictive signature.

Indian Rose & Musk
With top notes of citrus, peach, apple, pear and a woody background of sandalwood, patchouli, musk, balsamic and vanilla, the fragrance has been expertly blended around a natural rose accord for an extra sensorial and romantic experience.
Snapdragon & Patchouli*
A very sensual and sophisticated white floral signature fragrance with top notes of bergamot, mandarin and apple, Snapdragon and Patchouli is sure to give you an uplifting boost.
Each blend has been expertly developed by fragrance specialists and includes cutting edge technology to give a fragrance boost and 100% more longer lasting fragrance**.
I have been using Snapdragon and Patchouli which I love. It reminds me of my childhood Summers spent at the local Craft Market with incense burning and filling the air. Even Little Bean has commented that her clothes smell pretty "just as though I'm wearing perfume like you Mummy" so it definitely has her seal of approval. I have to be careful when trying out new laundry detergents as the Beans have quite sensitive skin but I'm pleased to say that they are all happy with new Comfort Creations.
Michelle Kimber, Brand Manager, Comfort says: "We are very excited to offer shoppers a fabric conditioner which has been blended by top international perfume experts. Each variant has an intriguing and fabulous fragrance twist, guaranteed to evoke your senses and leave your clothes smelling incredible."
Comfort Creations has an RRP £3.30 for 1.16L bottles (33 washes) and is available from all major supermarkets from May 2014.
For more information visit www.facebook.com/ComfortZoneUK
DISCLAIMER: I was sent a bottle of Comfort Creations for the purpose of this post. All opinions are my own and may not be copied without my permission.