Boy's Bedroom Mini Makeover with English Blinds
Most people plan their DIY projects during the Summer holidays when time and good weather is on their side. We, however, like to make things a little more complicated by doing our DIY projects in the run-up to Christmas!! As 2018 was drawing to a close, we piled the pressure on with not one, not two but three DIY projects around the home. The smallest, and perhaps the easiest of those projects was a mini-makeover for the boy's bedroom.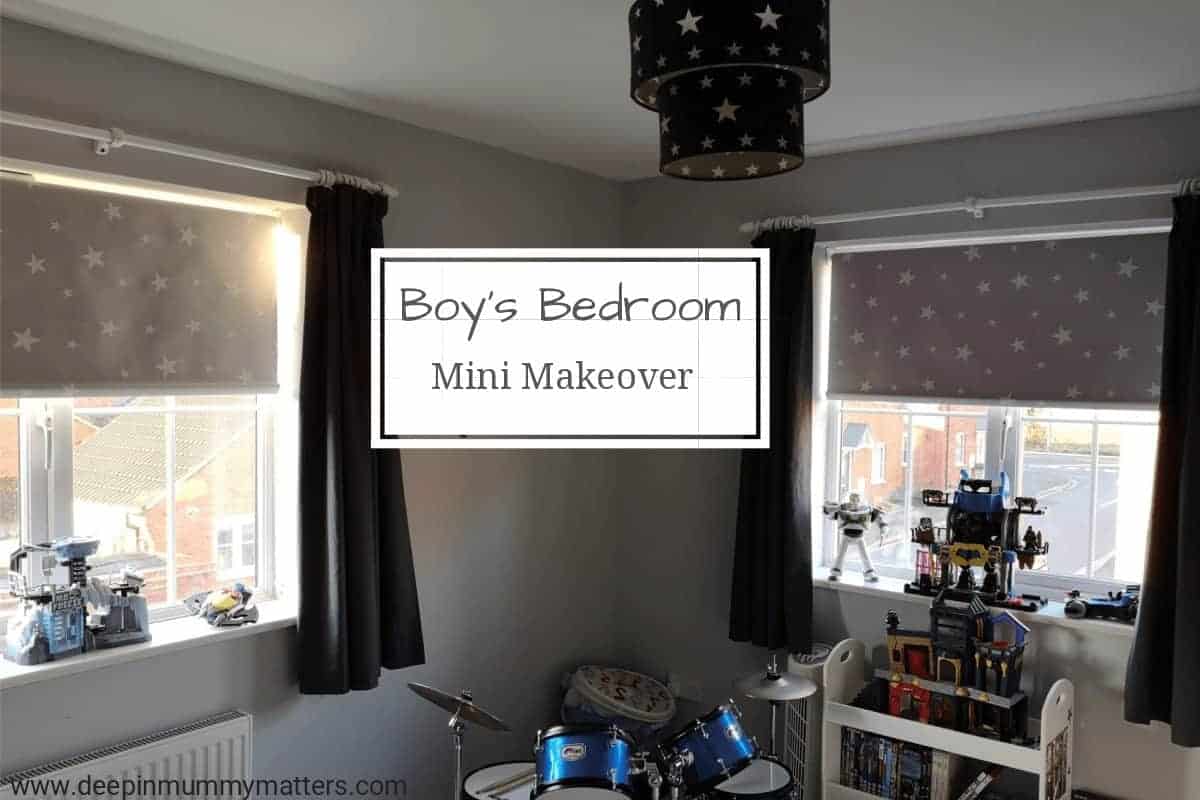 Starry Night Glow in the Dark Roller Blinds
When we first redecorated the boys' bedroom from their shared baby and toddler room to their 'big boys' room we re-purposed our old red kitchen blinds to save on cost. The colour worked well and the blinds were still in a really good condition after I gave them a good wash so the boys were happy. It was always our intention to upgrade them when we found what we were really looking for. A chance email in late October introduced me to English Blinds and their fabulous children's Starry Night Glow in the Dark roller blinds. They were perfect to finish off the boys' superhero bedroom especially since Stars featured on their lighting and bedding. The roller blinds are made to measure so you know they are going to fit perfectly and have a grey background with white stars during the day but by night, the stars glow once they have been charged up by the bedroom lights when the blinds are down. The boys LOVE their blinds and now insist on sleeping with their curtains open so they can see the gentle glow of the stars.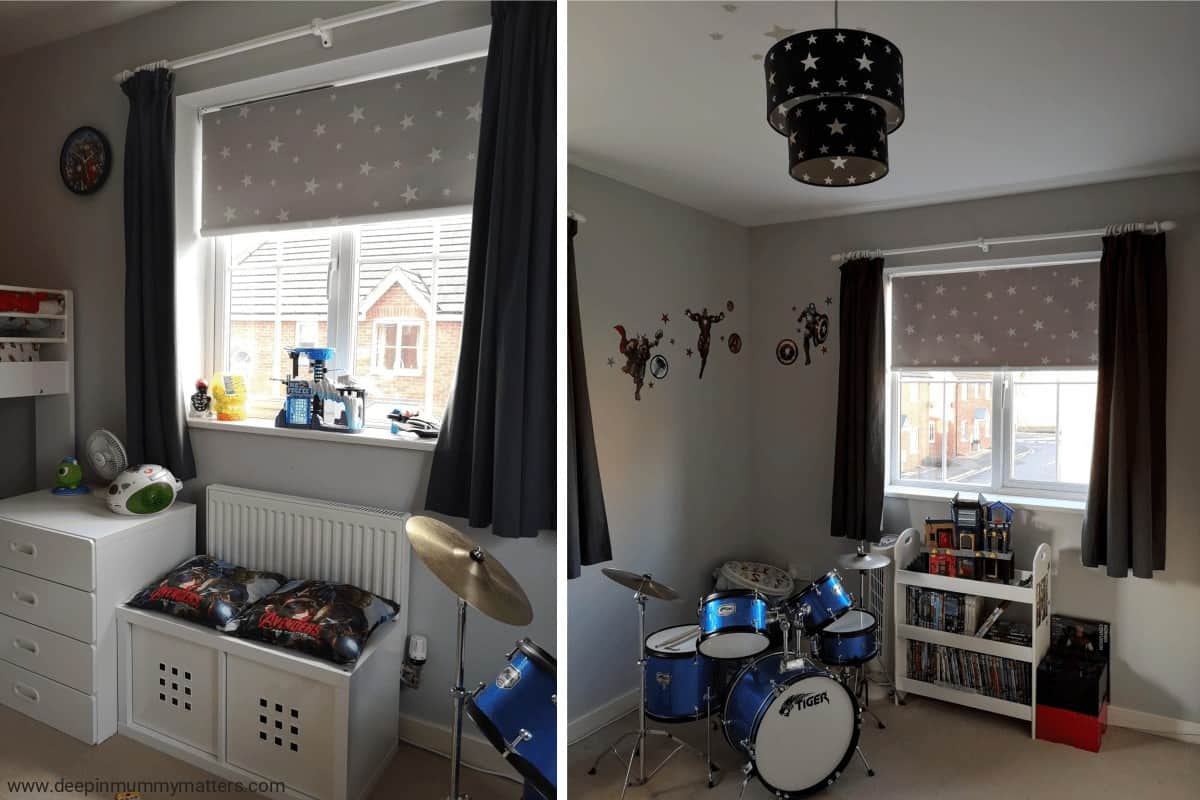 From a fitting perspective, Simon found these very simple to install. They came with easy-to-follow instructions and everything that you would need (bar the tools of course). Once the old blinds had been removed it took Simon less than 30 minutes to have both of the new ones installed. They operate via a beaded pull chain with a safety bracket to secure it to the wall.
Prices start from £32.62 and if you add SALES55 in the basket when you check out you will receive a 20% discount.
New Stuva Wardrobes and Drawers from Ikea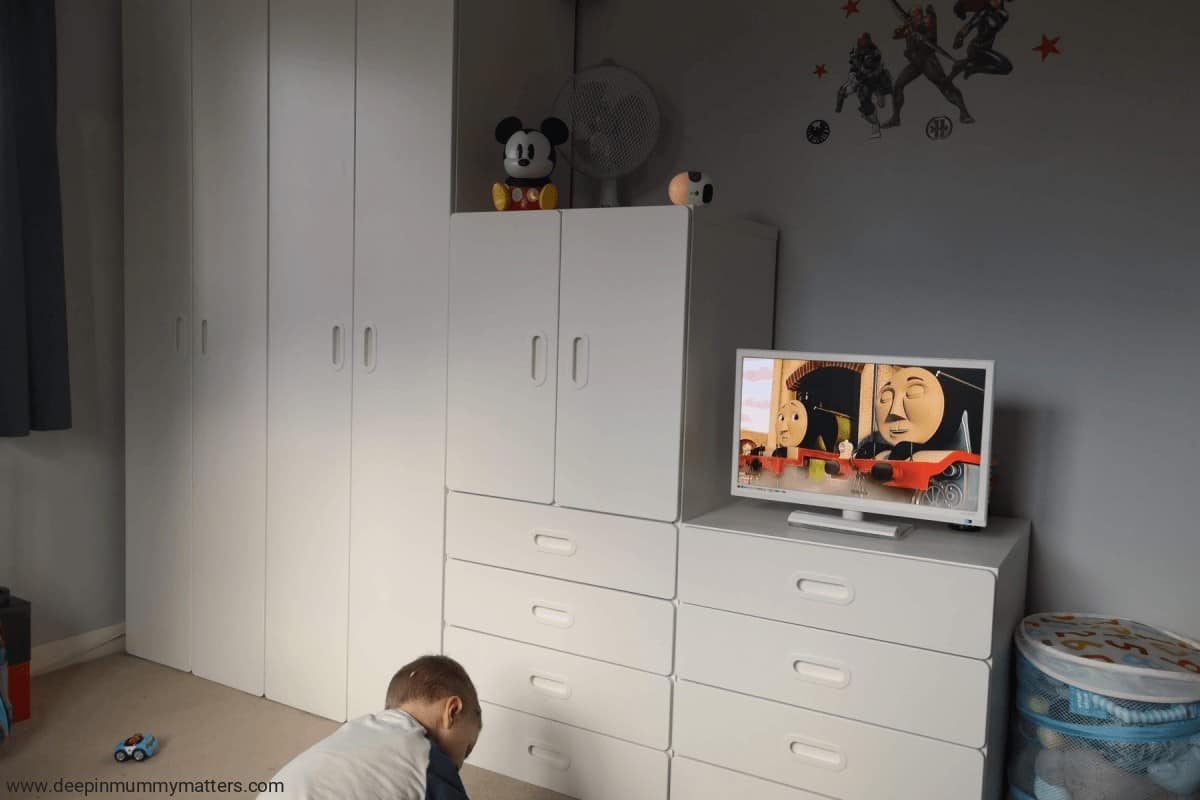 After three years of wear and tear, moving rooms and toddlers sticking things all over them, the boys' old wardrobes and drawers didn't have a lot of life left in them so we took a trip to Ikea and ordered them a selection of items from the Stuva range. We felt the boys needed a wardrobe each now rather than a shared wardrobe and these had the ability to create double hanging to give them more rail space as well as a shelf at the top to store 'stuff'. We chose a tall boy cupboard with drawers at the bottom so they had drawers for underwear, PJs, shorts and trousers as well as a cupboard to protect all their Lego creations.
On the opposite wall, they have a further small set of drawers which is purely to store toys, CDs and everything else that gets left on their floor for me to trip over. The final new addition was a small Kallax unit laid on its side with solid boxes to store Albie's train set and all the loose Lego bricks. We popped their Marvel cushions on the top to make this into a warm window seat for watching TV and snuggling next to the radiator.
The end result is a clean and spacious room with heaps of storage and plenty of play space on the floor which means Albie can now build his biggest and best train tracks all day long!
DISCLAIMER: We were provided with a discount code to purchase these blinds and share our honest opinion. We purchased the Ikea units ourselves. All words, images and opinions are my own and may not be copied without my permission.