5 Trending Kitchen Design and Layout Ideas That Promote Practicality 
If you need to remodel or design a freshly purchased house, you know how challenging this can be, not to mention time-consuming. For this reason, it is of the utmost importance to plan ahead of time and gather your thoughts, ideas, and preferred design and layout styles beforehand. This preparation will allow you to use the space available to its fullest potential to promote practicality while also highlighting its best features.
Indeed, all the rooms in your house are equally important, and it is necessary to have a space to relax, a spacious enough bedroom with a resting environment, a functional and nice bathroom, and so on. But probably the most used and the high point of the house – even if you don't usually cook – is the kitchen. This is where you prepare your meals, eat with your family and friends, learn how to cook, have dinner parties. The kitchen must be practical, useful, as well as beautifully designed. Even if you are not a passionate cook and you have a dining space or living room where you can gather all your loved ones, the kitchen still remains a focal point, given that this is where all the preparation happens.
This being said, it is of the utmost importance to design it correctly and think about layout ideas that promote practicality, support the seamless movement, and facilitate all the activities. All this can happen while still ensuring the design matches your preferences so that you can enjoy spending time in this room, however much this is.
Therefore, if you need to remodel your kitchen or you have recently moved into a new home, the following design and layout ideas may be able to help you create a practical and stunning kitchen:
1. If Possible, Add A Kitchen Island
Nothing says practicality more than a kitchen island. Not to mention that this feature can be incredibly stunning, and the entire kitchen space will be enhanced. Such an island is multifunctional – it can provide an additional seating area with more space for cooking or serving guests, and it offers you great movement around the kitchen.
The reason why a kitchen island is so multifunctional is not just because it offers the extra space needed to perform necessary activities without overcrowding the room, but it can also be used as a way to store essentials. You can even hide power outlets, making the use of small kitchen appliances much more accessible. Hence, a kitchen island can actually maximize the space use, adding extra value to it.
2. Great Flow Inspires the Layout
Because kitchens are the place where you are mostly on constant movement, going from one place to another, it is of the utmost importance you ensure great flow. This means not overcrowding the space with unnecessary furniture in an attempt to provide enough storage space. Instead, you can use specific hacks, such as the one with a kitchen island that can have hidden storage places installed.
Hence, it is crucial to prioritize form and function when designing your kitchen. By taking into consideration how vital creating great flow is, you can think about a layout that will create just that. Another effective method that allows seamless flow is an open floor plan, where your kitchen beautifully connects with the living or dining room.
This continuous transition can be made effortlessly by not delimiting the two rooms. And if you choose to separate them still, you can opt for sliding doors with large windows that will keep the impression of continuity between the two rooms.
3. Update Or Choose Trending Kitchen Cabinets
The pieces of furniture used in a kitchen are the cabinets. So, the design and appearance you choose can make or break the entire design and aesthetic of your kitchen. Outdated cabinets can create a tiring atmosphere given the lack of fresh addition to a room where you most likely spend a great deal of time.
For this reason, choose kitchen cabinets that are both high-quality and have trending fresh designs that align with your preferences. If you cannot decide on a kitchen unit, you could take a look at Kitchen Warehouse LTD and browse their comprehensive collection featuring all kinds of styles.
4. Don't Overlook the Backsplash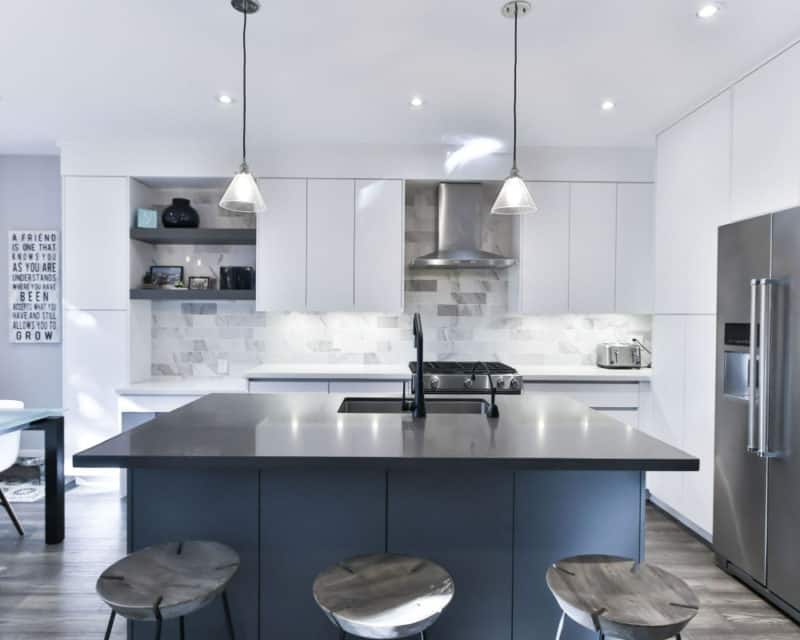 Installing a backsplash is a great and highly recommended decision both from a functional and design perspective. It usually goes behind the sink or cooker to protect against water splashing or inevitable grease splatter during cooking. So, as the name says, it is a functional splash prevention solution, being primarily a practical feature.
However, it has also become a common design choice, given it can become a focal point in the kitchen. Usually chosen in a contrasting colour or pattern to draw attention, a backsplash has become both functional and a stunning design style. Therefore, adding a backsplash for your kitchen will surely enhance the aesthetic and promote practicality.
5. Think About Flooring
As mentioned above, kitchens are prone to splashes from meal preparation on your counter or wall, hence the need for a backsplash. But this also applies to the floor. For this reason, thinking about the type of flooring to choose is a vital aspect when remodelling or designing a new kitchen.
You must take into consideration that grease or other liquids can end up on the floor, damaging it if the material is not durable enough to sustain these kinds of injuries from typical kitchen activities. Plus, you may also drop sharp objects, so choosing a highly durable and resistant flooring material is vital.
Tile is the most cost-effective option that also provides durability for a long time, and it is excellent for budget-conscious individuals. Another option could be the waterproof luxury vinyl plank that is highly practical and more and more popular. It looks like hardwood, but the material is more kitchen-appropriated, with no risk of damage due to spills and humidity.
Final Words
Your kitchen needs most of your attention when it comes to designing or remodelling it. You need to ensure that seamless movement is provided, practicality is offered by additional and hidden storage – especially in the case of small spaces – while also creating a beautiful trending kitchen.
All these elements must, undoubtedly, be in line with your preferences as well as facilitate all the activities you plan on doing in this room, so consistency is vital.