3 Favourite Camping Light Options
If you're looking at taking up camping this year after months of being stuck at home in Covid-19 lockdown there are some essential items of equipment which you will need. Unless you happen to have night-vision eyes you're definitely going to need a camping light. These are just some of the options available:
Coleman Duo Panel Light Lantern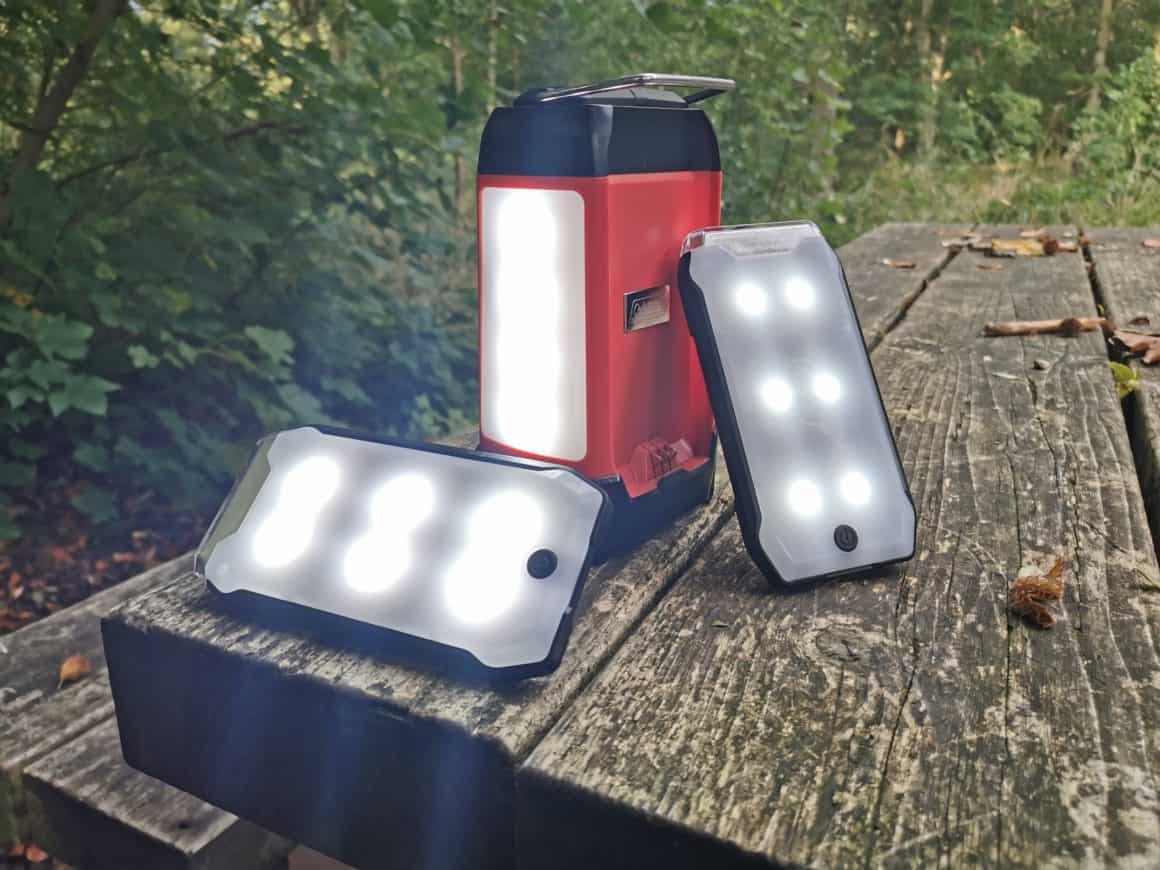 The Coleman Duo Panel Light Lantern is a versatile piece of camping equipment because it's more than just a lantern. With high and low lighting options the Coleman Duo can set the tone for the evening. Use on high-level lighting whilst preparing a meal and then turns the lights down low as you relax with a glass (or two) of wine.
The really cool thing about this camping light is that it has two removable light panels which can be used as a bright flashlight or as a broad panel light with main or flashing modes. Each panel light has a stand and a strong magnet on the reverse to attach them to something metal or be standalone.
It even has a USB port on the top so you can charge your mobile phone.
MPowerd Luci Colour Essence Inflatable Lantern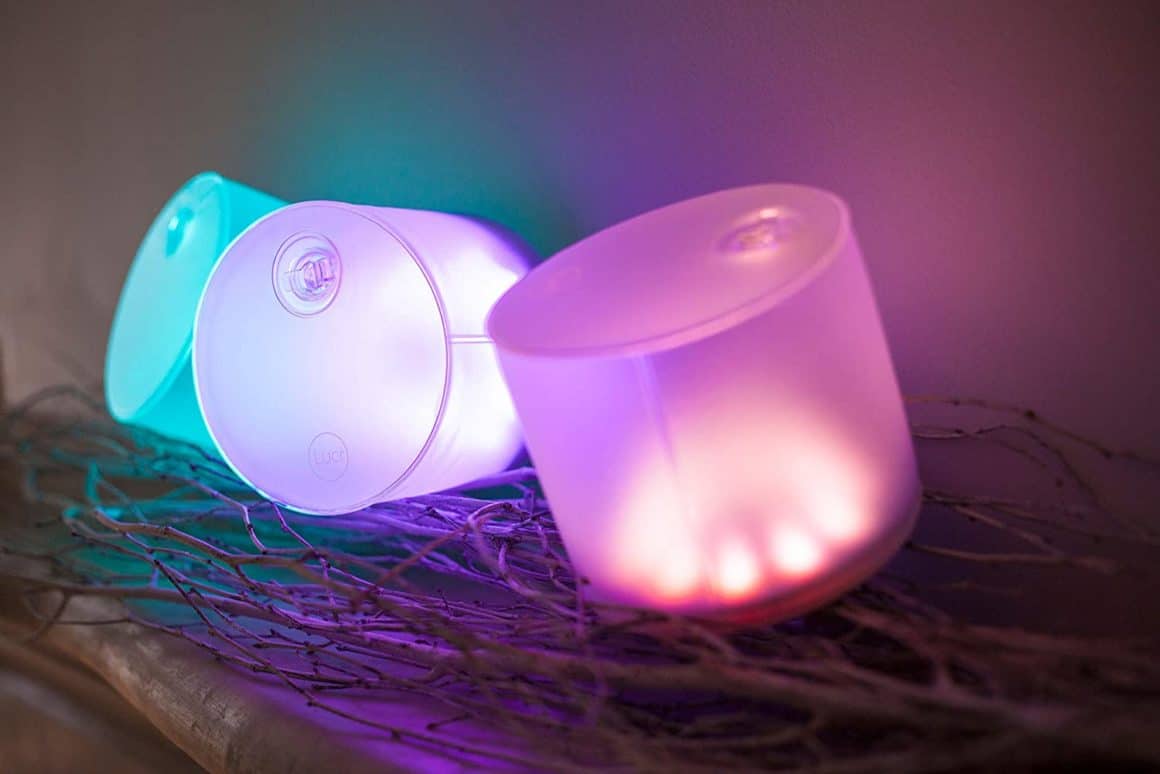 If you're short on space and don't have electric hook-up then the MPowerd Luci Lights are a great camping light option. These are solar-powered lights which are inflatable, so they fold flat when not in use and will provide up to 8 hours light on a single charge of direct sunlight of 7 hours. These pretty colourful lights will look fabulous on the campsite but if you want plain white lights, they are also available.
They are also waterproof so could be used in the bath, hot tub or even at a pool party.
Vango Sunbeam Flexi Light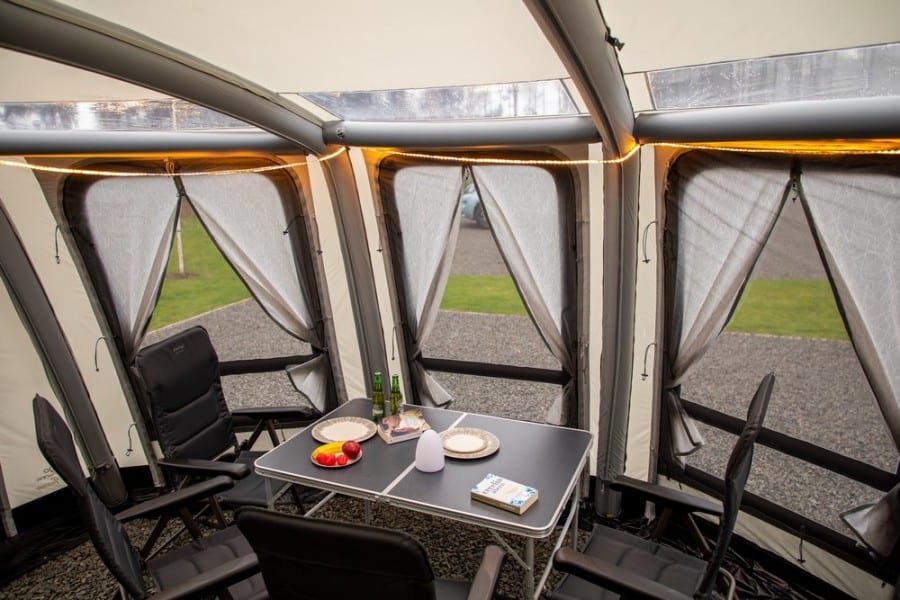 The Vango Sunbeam Flexi Light is exactly what it says, a flexible length of lighting which can be attached to the tent via special Sky Hooks. The Flexi Light is available in lengths of 2m, 4m or 6m. The 6m length shown here has 360 LED lights offering up to 3400 lumens.
The really clever thing about this camping light is that they come with a remote control so you can not only switch them on and off but also adjust to the required brightness depending on the mood.
Light Up Bunting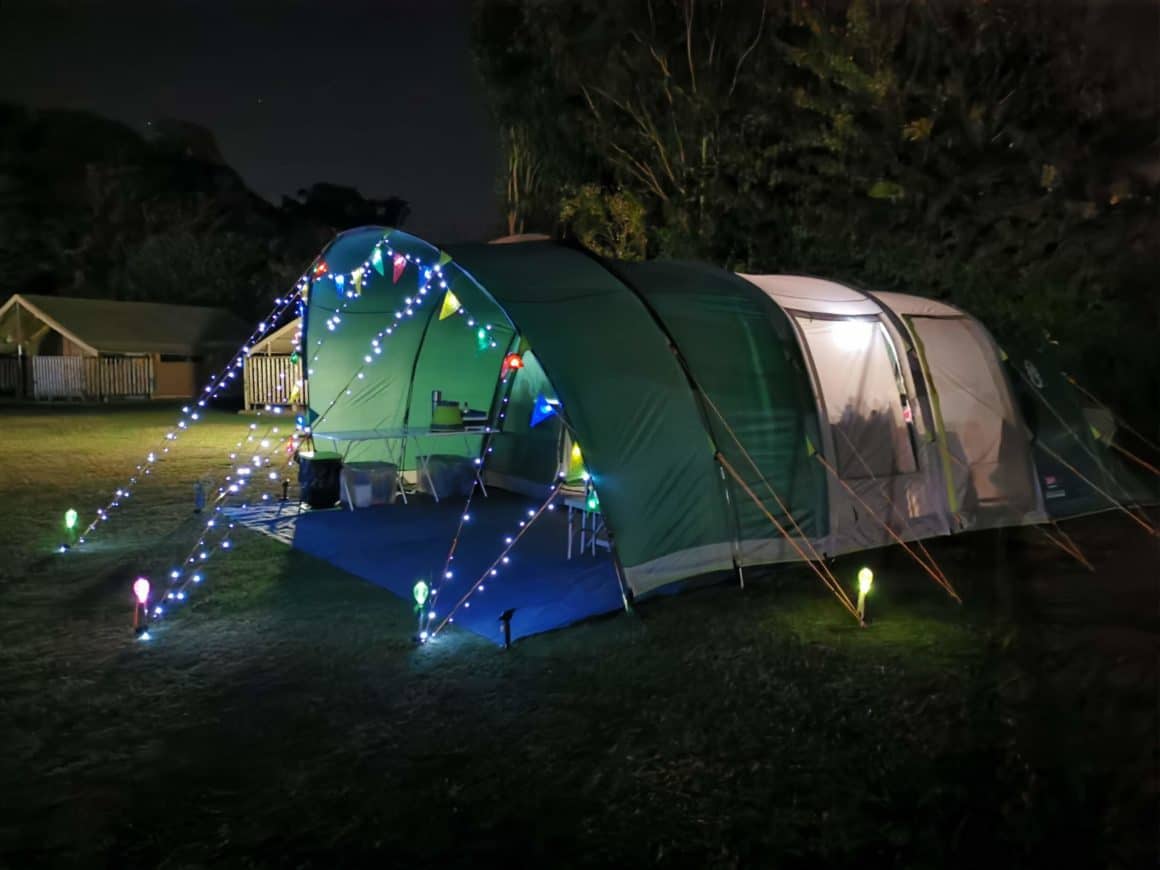 As you can see, we like to be able to see our tent in the dark (it saves people from tripping over the guys) and it helps us find our way back after visiting the toilets at night. We have used the Light Up Bunting for the last few years because they don't just look pretty when lit up at night but they also add colour to the tent during the day.
This camping light is battery operated, not solar but others may be available.
We also use small solar-powered light stakes (as seen above) which help to light up the front and back guys to prevent people from tripping on them. Generally, we just purchase these from Poundland or our local supermarket.