Tesco Brand Guarantee: Never pay more for your Branded Shop
If you haven't been into your local Tesco in the last couple of days then you probably won't have heard about their new Brand Guarantee which vows;
Customers will never pay more for their branded shop.
Many stores nowadays offer price matching but generally you are the one who has to do the legwork for it, either you need to prove that they are charging higher than elsewhere or you have to take in coupons and vouchers to get your shopping discounted. As of 12th October 2015 Tesco became the first UK supermarket to offer an immediate price match at the tills when comparing branded items against Asda, Morrisons and Sainsbury's.


Tesco previously offered Price Promise, which in itself was a great scheme. Whenever your branded shopping would have been cheaper elsewhere, you would receive a money-off voucher towards your next shop. The flaw in this of course, was remembering to take the money-off voucher with you! I used to make the mistake of putting them on the notice board at home so that I would see them but invariably my trips to the Supermarket are ad hoc and so I often left the vouchers at home until they had expired so I lost my savings.
New Research
Tesco carried our research which found that the Price Match vouchers were failing to meet customer's needs, meaning that UK customers were potentially missing out on hundreds of millions of pounds in savings each year.
Research showed:
Over a third (35%) of Britain's supermarket shoppers had never used a price matching scheme in-store.
80% of customers online hadn't used the price matching scheme!!!
48% shoppers said they hadn't used vouchers because they simply forgot (see I'm not alone).
16% said they would lose the vouchers before they could claim their savings.
Introducing Tesco Brand Guarantee
Now Tesco Brand Guarantee will take care of the saving for you, not only checking the shelf prices either. Brand Guarantee also checks competitors promotions including buy one get one free, two for £3 etc and will knock all money off the total bill at the till. To qualify for Brand Guarantee, customers must purchase a basket containing a minimum of 10 different products and at least one comparable branded product. Brand Guarantee is available in all of Tesco's larger stores and online. Brand Guarantee does not apply in ROI. *Online customers will receive money off their bill at point of delivery.
Matt Davies, Tesco UK and Ireland CEO said:
Shoppers tell us price matching vouchers are a pain and don't really help them. We all know it can be stressful and awkward when you have to rummage through your wallet to find a price match voucher.

That's why we're ensuring that with Brand Guarantee customers will never lose out on their branded shop by getting money off their bill at the till.

We're working hard to make the shopping trip that little bit easier for customers, with simple, affordable prices you can trust. Brand Guarantee is one more way we are taking the hassle out of a trip to the supermarket or an online shop.

The initiative has already been trialled in Northern Ireland over the last few weeks, with overwhelming positive feedback from both colleagues and customers."
Sarah Willingham, Personal Finance expert said:
Price matching has become far too complicated for shoppers. What they want is simplicity. We've all been there – you rush out of the house to do you shopping, you're trying to rememer your bags, your list, find your car keys. You get to the supermarket checkout only to realise you've left your voucher on the kitchen table. Worse still, you find a voucher in your wallet only to find it has expired and you've lost out. Instant money off at the checkout means no more hassle and a win for shoppers. Anything that adds value to the consumer with no extra effort required is a great thing."
Putting Tesco Brand Guarantee to the test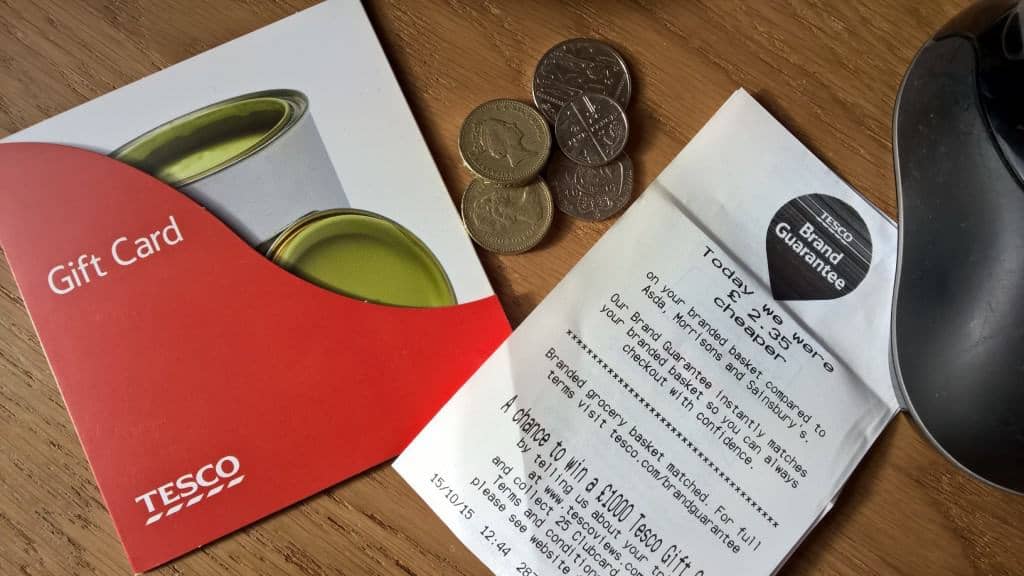 As a blogger who has worked with Tesco a number of times I was invited to try out Brand Guarantee for myself so this morning Jelly Bean and I popped into our local Tesco to stock up on a few essential Branded items; Heinz Tomato Ketchup, Ambrosia Custards, Innocent Coconut Water, Lactofree milk, Dettol Wipes and Cleaner, Finish Quantum Dishwasher tablets and much more besides. The key thing to remember here is the Brand Matching can only be done on Branded items so not 'own-label' goods.
Tesco Brand Guarantee Savings
Goods Total before savings £49.11
Less Multibuy savings £7.74
Total to pay £41.37
Today, my branded basket at Tesco saved me
£2.35
compared to Asda, Morrisons and Sainsbury's.
Walking around the supermarket I didn't have to worry about whether or not I could get the branded items cheaper elsewhere because I could be confident that Brand Guarantee was doing that for me.
DISCLAIMER: I was given a Tesco Giftcard in order to pay for my shopping in order to share my experience of Tesco Brand Guarantee. All words, images and opinions are my own and may not be copied without my permission.