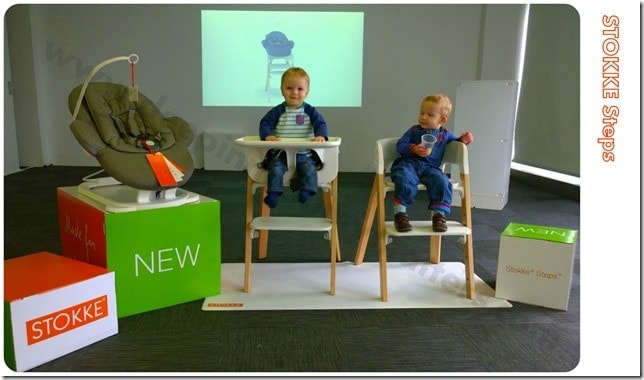 Stokke Steps – The new all-in-one seating system for your child
Last week the boys and I popped down to London on a very wet and windy day to see one of my favourite brands, Stokke. I had heard rumblings of a new High Chair and these rumblings were indeed right as we were getting to see the new Stokke Steps before it hit the shops.
Stokke Steps is the All-in-One seating system from birth and I love it, although I was initially worried that this meant we would be saying goodbye to the Tripp Trapp but don't panic it's not going anywhere.
Scandinavian company Stokke have designed the Steps as a modular system offering five stages of ergonomic seating so that it can see your child throughout the whole of their childhood.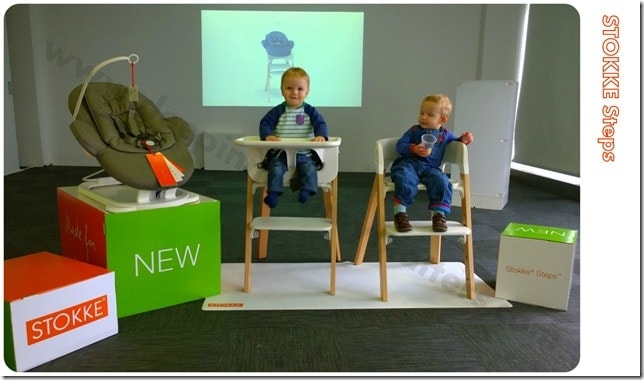 Stokke Steps Bouncer
First off there is the bouncer which looks sooo comfy I would like an adult version for myself. The bouncer features a unique cradling motion which mimics a mother's cradling motion so rather than bouncing up and down it moves backwards and forwards and up and down all in the same motion if that makes sense. The bouncer has adjustable seating positions to accommodate a growing baby and has a five-point safety harness so they can't roll or slide out. The detachable toy hanger is also great for keeping them entertained with a toy of your own choosing. The thing that I liked most about the Bouncer though is how it folds flat for storage. That has always been my one bugbears with nursery equipment; it's all so big that it takes up heaps of space even when the little person isn't around.

Stokke Steps Bouncer with Chair
The Bouncer can be used on the floor like any normal bouncer but it also attaches REALLY easily to the top of the Stokke Steps Chair turning it into the perfect solution for your baby to enjoy mealtimes with the family. This is also great for Mums who have had a c-section as it means they don't have to bend down to pick baby up from a bouncer on the floor.
Readers of my blog will know that I LOVED my Tripp Trapp with Newborn Set for Jelly Bean when he was born, it really helped to settle him after a feed and enabled him to sit at the table with the whole family for mealtimes right from the start but unfortunately once you lifted the newborn seat away from the Tripp Trapp it became redundant so I love that Stokke have made the Steps Bouncer dual usage – very clever thinking there!!
Stokke Steps Baby Set
Once baby is able to sit upright unaided they are ready for the Steps Baby set which transforms it into a flexible and comfortable highchair. The Baby Set attaches easily without the need for tools and the foot and backrests can be easily adjusted as baby grows.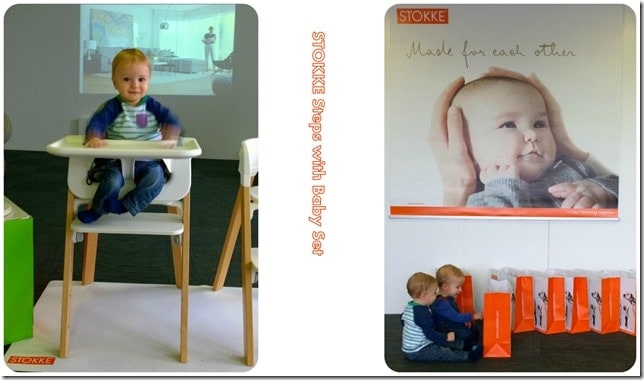 Stokke Steps Baby Set Tray
You can add a Tray to the chair if you do not have a dining table which the Steps Chair can be pulled up to. Using the Chair with a tray or pulled up to the dining table is great for encouraging self-feeding as your little one grows. The Tray has a smooth surface which is perfect for cleaning up after mealtimes because let's face it; babies aren't born with table manners!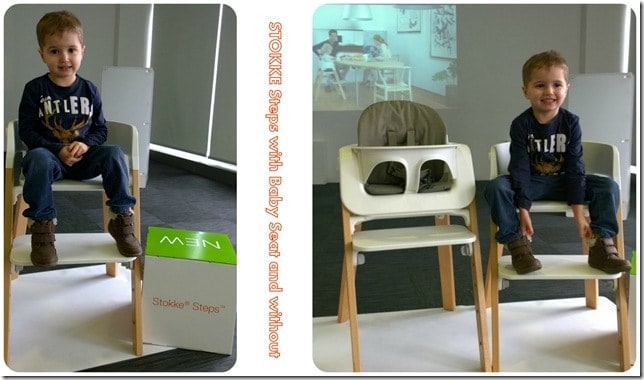 Stokke Steps Chair
Once your child can sit safely without the need for restraint then the Baby Set can be removed leaving the Stokke Steps Chair which has a curved back and sides to support the child when sitting at the table. The footrest can be adjusted to suit as the child grows and the generous seat size provids optimal ergonomics and comfort.
Currently the Stokke Steps Chair is available in two wood options; Natural or Walnut but knowing Stokke there will be a few colours launched in the future.
DISCLAIMER: My travel expenses were covered and I received a goody bag for attending this press launch. All words, images and opinions are my own and may not be copied without my permission.