Stemuderm Review: The Journey to Youthful Skin
Stemuderm is an organic cream that smooths out wrinkles and fine lines, delays the signs of ageing, and deeply moisturises the skin.
Introduction to Stemuderm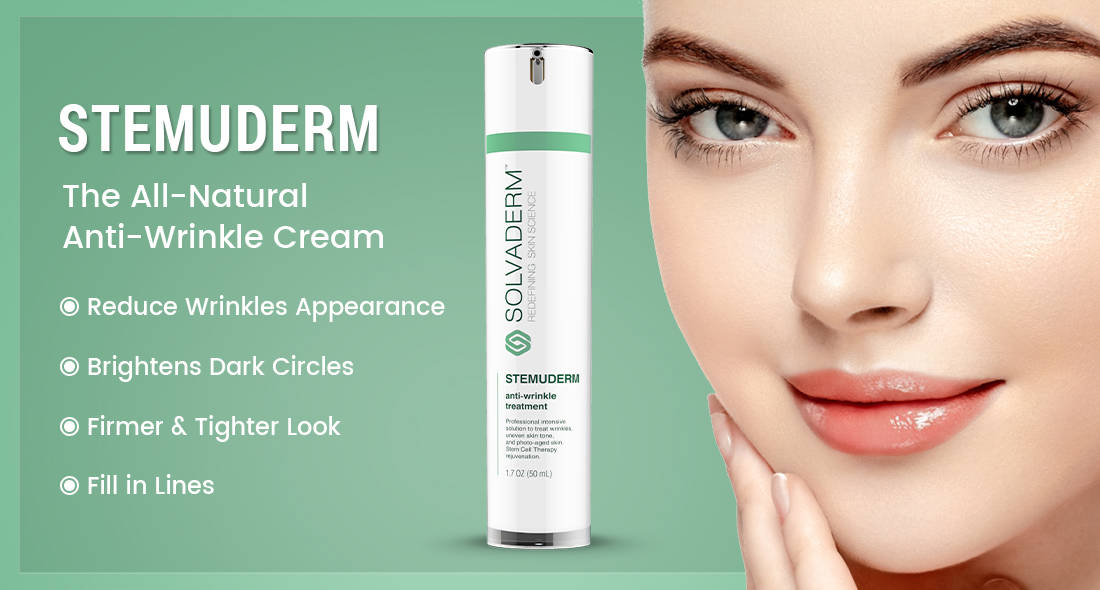 As we get older, the collagen in our skin diminishes, leading to signs of ageing on the face and neck. Some people find this bothersome, and they want to regain the youthful skin of their younger years. One option is mindfulness for healthy skin, which is a practice that can greatly enhance your appearance.
Another option is a good quality organic anti-ageing cream. Stemuderm is high in natural ingredients that replenish collagen and diminish wrinkles and other ageing features. Stemuderm is the best anti-wrinkle cream on the market.



Stemuderm Ingredients
Here are some of the primary active ingredients in Stemuderm:
Squalane – This substance can be derived from vegetable oils, from the liver of sharks, and fortunately also from several plants. It contains antioxidants that can repair damage to the skin barrier by killing free radicals (1). 
There's some evidence it can increase collagen production. A review in Advance Food Nutrition Research found that squalane has antioxidant, detoxifier, skin hydrating, and emollient properties.
Acetyl Glutamyl Heptapeptide-1 – This is a peptide that slows down the contractions in the muscles of the face, which decreases the chance of wrinkles and lines forming from constant movement. It's very effective at lessening the depth of wrinkles, particularly around the eyes and forehead (2).
Jojoba Seed Oil – This oil is derived from the seeds of a plant called Simmondsia Chinensis. It has potent anti-inflammatory properties which can lessen swelling and help repair skin damage. Jojoba is effective at treating wounds, skin infections, and the signs of ageing.
A review published in G Ital Dermatol Venereol looked at the role of jojoba in dermatology and found it to have many useful skin-ageing and other properties.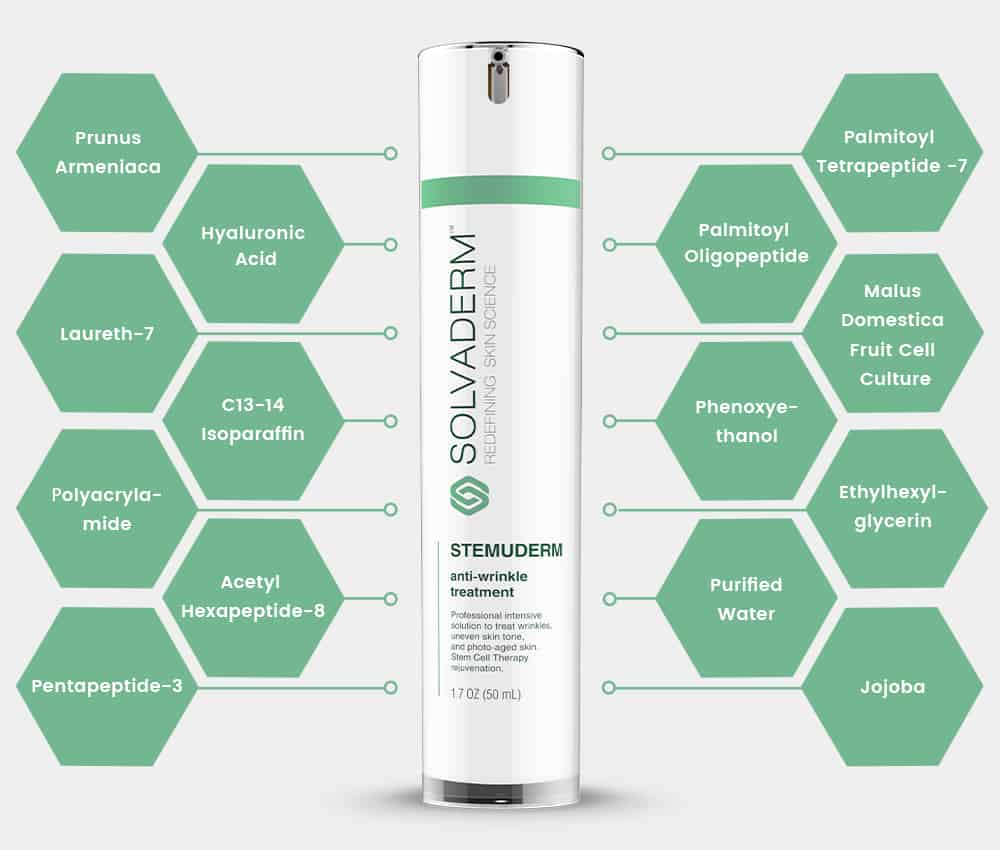 Hyaluronic Acid – This substance exists throughout the tissue in the body. It's considered to be an important molecule in skin ageing because it draws a tremendous amount of moisture. This hydration is trapped under the skin, giving it more volume. It can smooth out wrinkles and lines. In addition, the hydration moisturizes the skin (3).
Apricot Kernel Oil – This is derived from the kernels of the Prunus Armeniaca (apricot) plant. It contains protein, fatty acids, fibre, and carbohydrates. It's a rich oil that contains a lot of Vitamins E and A. This means it's high in antioxidants, which help repair the skin barrier. It's good for all skin types, as it doesn't irritate (4).
What Are the Features of Stemuderm?
Stemuderm contains potent natural ingredients that penetrate deep into the skin to repair damage and improve the skin's immunity. The cream makes the skin firmer and more elastic, smoothing out wrinkles, fine lines, and other signs of ageing. It can also get rid of oily skin.
This product also hydrates the skin, providing it with moisture and fighting off dryness. In addition, it contains peptides that condition the muscles in the face to have less movement which helps diminish the chance of developing wrinkles and fine lines.
The Biology of Stemuderm
This product contains several peptides, which increase the amount of collagen in the skin. Peptides make the skin firmer and more elastic and can smooth out wrinkles and lines. Peptides also slow the movement of the muscles in the face. It decreases the chance of having wrinkles and lines develop.
The product is also deeply hydrating. The moisture gives the skin volume and can eliminate wrinkles.
This cream contains a lot of antioxidants, which can help repair the skin and improve its immunity. It's rich in anti-inflammatory properties, which can lessen swelling and repair the skin.
A review published in the International Journal of Molecular Science looked at the anti-inflammatory and skin barrier repair effects of certain plant oils.
Stemuderm also contains a growth enzyme therapy complex that assures that the results on your skin are long-term.
Stemuderm Advantages
The product removes wrinkles and expression lines.
It delays the signs of ageing.
Stemuderm makes the skin firmer.
This cream improves elasticity and skin tone.
It can get rid of oily skin.
How Do I Use Stemuderm?
Use Stemuderm first thing in the morning and before you go to sleep. For the first week, use it every other day and then transition to twice each day. Use the pump to take a small amount of the cream onto your fingers. Massage it into your face and neck using a circular motion until the cream is completely absorbed.
This product uses an airless pump, and you have to prime it before you use the product for the first time. Place one finger or two fingers over the product opening, and slowly press the pump down 10 or 15 times to get rid of the air.
Questions & Facts about Stemuderm
Where can I purchase Stemuderm?
You can buy Stemuderm from the official website, and you can also get it from skin professionals all over the world.
Is Stemuderm an effective cream?
Yes, it's the best anti-wrinkle cream available. This product is high in peptides which increase the production of collagen, firming the skin and making it more elastic. Peptides smooth out wrinkles. It also contains antioxidants, which repair skin damage.
The user reviews were very positive for the most part, with customers raving about how much younger and fresher their skin appears after regular usage. One Stemuderm review mentioned that the user now gets mistaken for her daughter's sister!
Can I get a rash from using Stemuderm?
It is possible to get a rash from using this product, although this is not common. It usually occurs when you have an allergy to one of the ingredients in the cream. If you have allergies, check the ingredient list very carefully before using this product.
Can I use Stemuderm if I have sensitive skin?
Yes, you can. Stemuderm uses gentle ingredients and is suitable for all skin types. If you have allergic skin, check the ingredients carefully to make sure the product suits you.
How much does Stemuderm cost?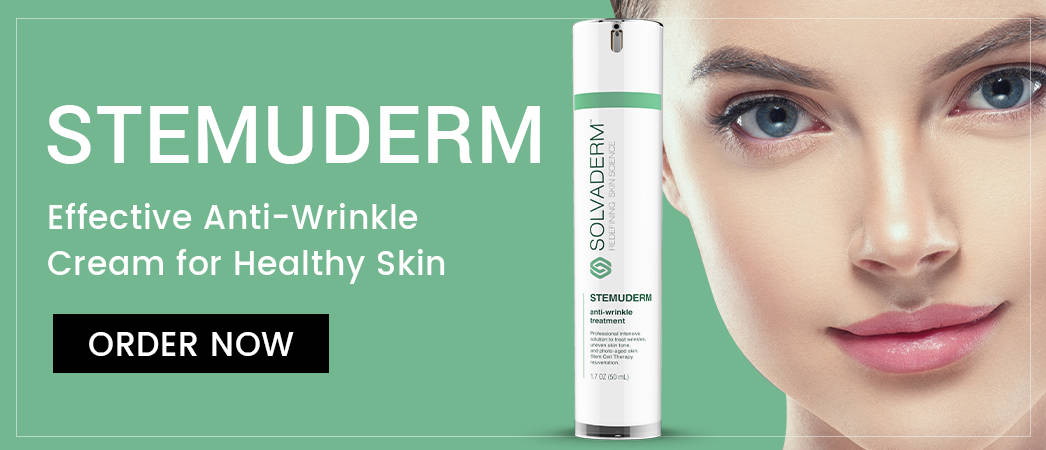 You can purchase this product on the official Solvaderm store for $79.99, and they offer free shipping for any purchase above $60. You will also receive a free hand sanitizer with every order, plus a free sample of one of the institution's products.
The Final Word
Stemuderm is an organic anti-ageing cream with potent natural ingredients. This product can make your skin much firmer and remove the signs of ageing like wrinkles and fine lines. It's a very hydrating formula that deeply moisturizes the skin. It's a safe product that is quite gentle on your skin.
Overall, users were extremely happy with this cream. Customers said that their wrinkles diminished, and they look much younger than previously. One Stemuderm review was from a 40-year old woman who said that since using Stemuderm, she was asked for her ID at a bar!
Along with using Stemuderm, we also recommend that you try mindfulness for healthy skin. This practice can lessen the signs of ageing. Before you use Stemuderm, it's a good idea to go to a dermatologist and get approval.
References