Opening a Laundromat: Tips to Get Started
There are many reasons why people get their laundry done in a laundromat. It makes it easier to get our laundry done when we don't have a washing machine at home; or when we need to wash a bagful of clothes than our machines handle at home. Even on vacation, one of the first places we look for is an accessible laundromat. This basic fact can make a laundromat a lucrative business.
Is it hard to start a laundromat?
There are many more things to consider when starting any business other than simply registering it with the state. When you start a laundromat business, you need to look into owning a laundromat pros and cons. In this case, we have put together some helpful tips for starting your laundromat. We will help you plan out your new business well, so make sure to read until the end of this article.
Tip 1: Carefully plan your business
Having a clear business plan is what makes a successful entrepreneur. This will help you map out the business specifics, and as you do, you will also come across some unknowns. There are important things you need to consider when planning. Of course, there's the cost then your target market, how much you will charge customers, and how much your profit will be.
But before we get to that, you need to decide whether you are opening as a sole proprietorship laundry business or a limited liability company. The latter entity will require you to register with the state. This will also offer you liability protection in case your business gets sued. If you opt for a sole proprietorship, you won't have to register your laundry business with the state, but you won't have the protection from liabilities.
Tip 2: Consider the startup and ongoing costs of opening a laundromat
Understanding the financial aspects is vital when launching a laundromat, just like with any business. Initially, acquiring an existing laundromat could set you back by at least $100,000, and in some cases, it could even reach up to a million dollars, especially in larger cities or more expensive states.
Alternatively, starting a laundromat from scratch might require less capital. An essential part of your initial investment will be in laundry equipment. Opting for second-hand machines in 'like new' condition can be a cost-effective strategy, though it's worth noting that they might not come with reliable service histories. On the flip side, investing in new machines might be pricier at first but comes with the peace of mind of a manufacturer's warranty, potentially saving on future repair costs.
Incorporating high-quality commercial laundry detergents into your business model is another consideration. These detergents can enhance customer satisfaction and may even reduce wear and tear on machines.
Finally, don't overlook the continuous operating costs of a laundromat. Utilities, particularly water and heating for the machines, represent a significant portion of ongoing expenses. Proper budgeting for these, along with regular maintenance, will be crucial for the smooth running of your laundromat business.
Tip 3: Choose a location and understand the area's demographic
Who is your target market? At this point, you probably already have a location in mind. But is the location feasible? The location of a business is one of the most crucial factors for its success. A location can either attract or ward off customers. If you want your laundry business to succeed, find a location with an established need for a laundromat business. Most people, especially those living in apartments, don't own a washing machine. Renters, in most cases, constitute a large portion of laundromat customers because most apartments don't have the infrastructure required for putting washing machines and dryer units.
Thus, you might consider choosing a location near renter-occupied households and college students living off-campus. Safety and security should also be taken into account. It is ideal to choose an area that is highly visible, safe, and accessible area with available parking options. Parking spaces are one of the few things customers look for in an establishment.
Tip 4: Provide different payment options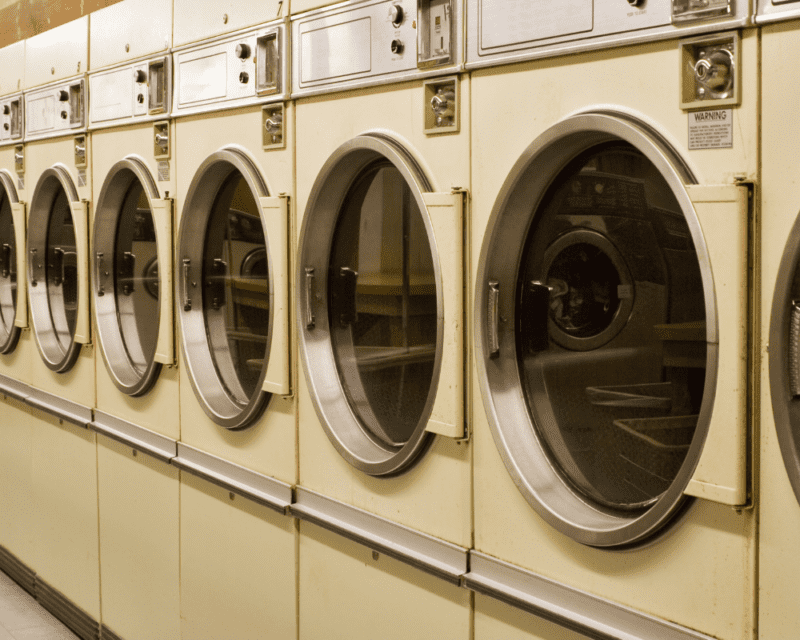 You may choose to operate your laundromat business as a self-service operation—where customers insert coins into the machines to operate the washers and dryers; or you may choose to run it as a full-service business where customers pay for the services rendered—washing, drying, folding and additional services like dry cleaning, stain treatment, and ironing.
Laundromat business usually handles cash-based transactions. However, some laundromats offer the use of credit cards and even checks. Cash-based transactions help minimize the costs for both the customers and the owner because there are no credit card fees. But, credit cards are more convenient, especially for people who often don't carry cash. So, accepting credit cards potentially leads to more customers.
Tip 5: Determine how much you charge customers and how much profit you can make
Costs for laundromat services are determined almost entirely by the business location. You can charge more in bigger cities and smaller towns, less. But even when you charge less in smaller towns, laundromats can still be very profitable. You should be able to make a healthy profit from your laundromat business if you're savvy and efficient. You may be able to keep up a high-profit margin by doing your maintenance and consider working in the business instead of paying staff.
Many people make the mistake of investing in a laundromat business because they think this type of business will give them the flexibility to focus on other jobs or interests. But laundromats also require attention and hard work, like any business.