Wii Sing Pop very badly according to Hubby!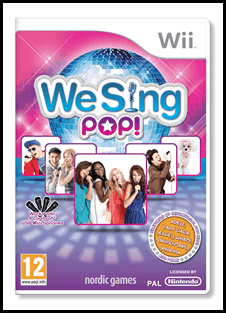 Last weekend we received a new game for the Wii to review called Wii Sing Pop! One thing which Curly and I have in common is that we both LOVE music and we are both pretty good at knowing all of the words to most songs, Curly first showcased his talent to us one evening when he was about 3 or 4 years old and began singing "Galvanize" by The Chemical Brothers as he was about to push the button on the toilet. For those that don't remember Galvanize, the lyrics to the chorus went something like "world, the time has come to . . . push the button". This had Hubby and I in stitches and still makes us smile today.
So anyway, I digress. When the game arrived I presented it to Curly and said "fancy a go?". As with all Wii games it was really quick and easy to set up, I think it needed a quick update on my system but that only took five minutes and then we were off. The game pack came with two microphones which plug directly into the console and then you're ready to rock and roll. No sooner had I turned around to pick up my mic that Beanie Boy had stolen it and immediately began to sing a few very dodgy notes before passing it to Little Bean who sang "London Bridge is falling down". Don't worry, this isn't one of the songs on the game, she just seems to like it at the moment.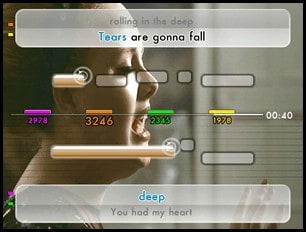 Once the tiddlers had got over their excitement of the mics, *Curly and I got down to business and sang our hearts out to every song on the game. We were quite impressed that there were only one or two that we didn't know the words to but even so, the words come on the screen karaoke style anyway but we chose to stick in a bit of break-dancing instead (we can't really do that very well either!). Hubby thought we sounded like cats being strangled – the cheek! Little Bean decided that since she couldn't read and didn't know the words to the song she was going to dress like a pop star too and appeared in her pink Barbie dress, I think she was aiming for Katherine Jenkins rather than Lady Gaga but she had fun regardless. Beanie Boy had some pretty cool moves and would have a little sing along when the feeling took him but Hubby was extremely dull and refused to sing one note, badly or otherwise. Just you wait until I've got a few beers down him, YouTube here we come!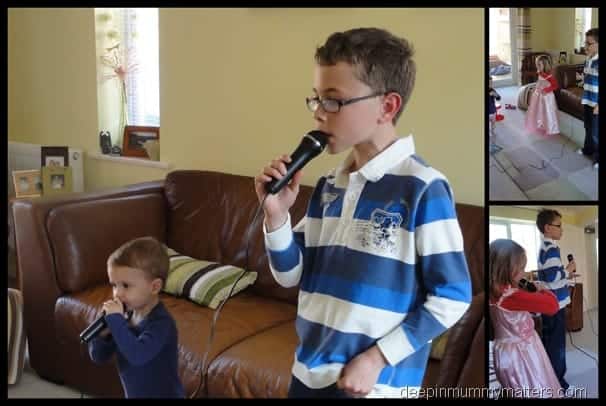 There are various different game play options to choose from, we chose to sing in Duet Mode but you can have singing battles in Party Mode or just sing solo. In singing lessons you can add effects to your voice and if you're feeling really brave you can replay your performance in Real Karaoke mode. There are 30 songs to choose from, selected from six decades with original artists and videos including Adele, Rihanna, Lady Gaga, Wet Wet Wet, Bruno Mars, Florence and Machine and more.
Would we recommend We Sing Pop! Wii most certainly would!!!
RRP £49.99 for the game and two microphones
RRP £24.99 for the game alone
Available from Amazon and other leading retailers.
*If you would like to see Curly and I perform, you can catch us on the next round of the BGT auditions 😉 NOT!!!!!