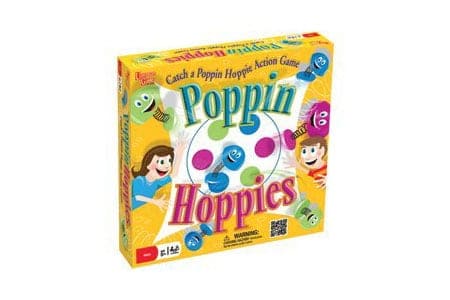 Why I have been banned from playing Poppin Hoppies . . .
We like love board games in our house, it's something which we can generally do together as a family provided we find one to suit all ages and I have to say that despite always saying I'm not a very competitive person, it turns out actually I'm far more competitive than I thought. When I attended the Toy Fair earlier this year, one game stood out for me which I thought would be an instant hit in our house – Poppin Hoppies. I could already hear the fits of giggles it would create and I wasn't wrong.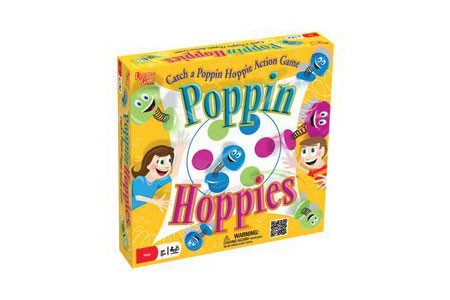 Poppin Hoppies (age 4+ RRP £16.99) has just launched! The simple game of crazy popping madness features spring-loaded characters which players push down and then catch as they randomly pop into the air. Each player has their own Hoppie figure, made up of coloured puzzle parts; they must catch the corresponding Poppin Hoppies to collect the pieces for the puzzle figure. The winner is the first player to catch enough Poppin Hoppies to complete their puzzle figure. The excitement and suspense builds as players never know which Hoppie is going to pop up next. The game comes with a large play mat and can be set up on any flat surface.
Stockists include Amazon and Argos.
It is for age 5+ so I wasn't sure how Little Bean would get on with it, she started off quite good laughing and giggling when the Hoppies popped up off the board making her jump but since her reactions aren't quite there yet she struggled to catch many of the Hoppies and so quickly became upset and a bit of a sore loser.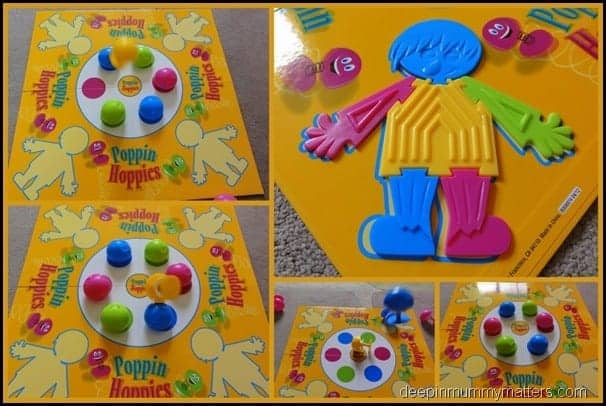 Once Little Bean had gone to bed Curly challenged me to a game and so the battle commenced. Curly found it really hard to keep his hands down on the table whilst waiting for the Hoppies to pop but it didn't matter, my ninja-like reactions still managed to beat him. We had a number of rematches and as he got into it he got better at catching them and this has now become one of his favourite games but he has told me I'm not allowed to play anymore because I'm too good at it! This is a great game for children to improve their hand-eye coordination and it certainly makes them laugh when the Hoppies pop making them jump.