When is a changing mat more than a changing mat?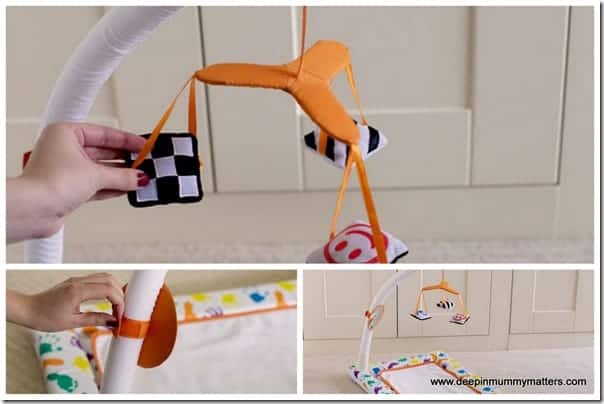 When it's a By Carla Changing Mat with activity arc! One thing I have learnt as a Mummy to three is that changing time can be quite a hard task if you don't have something to keep baby amused whilst you are trying to change them. Some parents will be lucky and have the babies/toddlers who are happy to have their nappies changed without kicking up too much fuss but most parents will know the 'game' that is trying to keep a wriggling, squirming child on the changing mat without getting the contents of the nappy all over baby, the mat and you!
With Little Bean and Beanie Boy we had a piano which could be tilted towards the baby lying on the floor which helped to entertain them whilst I got to work on changing their nappies but we don't have the piano anymore so when I was asked if I would like to review a changing mat from By Carla I immediately knew the Changing Mat with Activity Arc would be perfect.
I love this changing mat, it has been so well thought of it can only have been designed by a parent. Not only does it have a gorgeous brightly coloured design, it has a removable towelling mat which velcros to the mat. Little Bean and Beanie Boy used to scream when I laid them on the cold plastic of the changing mat so I would put down a muslin but this would slide all over the place. The towelling mat on the By Carla stays in place thanks to the velcro and can be removed for washing. I fold the bottom half up so that Jelly Bean's bottom and dirty nappy are over the plastic.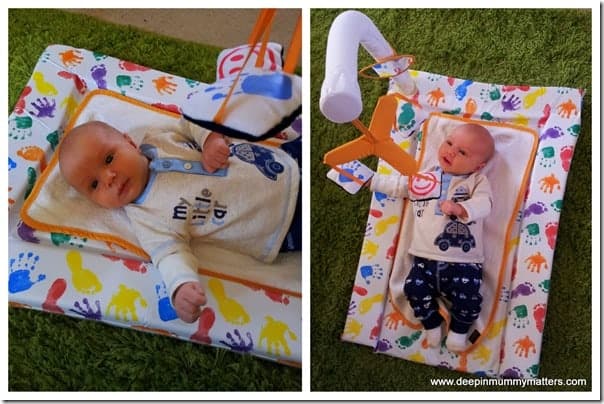 The Activity Arc has three hanging toys which are black and white on one side, perfect for newborns developing vision. Research has shown that newborns can't see in colour for the first 3 months and so are attracted to black and white patterns. The other side has bright coloured hand or foot prints which match the mat itself. There is also a soft mirror on the upright of the arc which Jelly Bean loves, at the moment he can't 'see' himself but he likes to see the light reflected in the mirror and there is no danger of him hurting himself on it since it is not made from glass.
The other great thing about the changing mat and other products from By Carla is the matching items available to complete your nursery look.