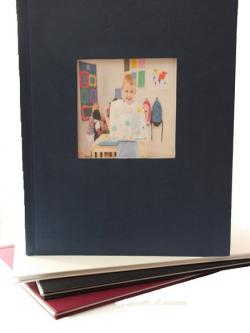 What do you do with your children's artwork?
As the end of the school year approached we were sent a letter home asking us to send in a carrier bag so that it could be filled with the artwork the children had on display at school and Little Bean came home with loads!!! I'm a bit of a sentimental old fool, I can't bring myself to part with any of it, it all tells a story of how they have progressed through childhood, their 'creative' journey if you will. I still have every piece of artwork that Curly has ever done and he turns 12 later this year. At the moment, they all sit in folders, carrier bags and boxes which don't really do their artwork the justice they deserve. Well now there is a solution to the masses of artwork they produce for you and it's called www.littleartyhands.co.uk
Upload your children's artwork and create a hard-backed book made from quality paper to showcase their precious works of art and treasure them forever. They are easy to create and can take as little as 2 hours or you can create one at your leisure over the course of a few days.
Discount Code!
If you would like to create a book of your child's very special artwork then I have a discount code for Mummy Matters readers , just enter discount50 when prompted to receive 30% off the price of a book (normal price £24.95).
I know what I'm going to be doing with all of my tiddlers' works, how about you?
DISCLAIMER: I have been offered the opportunity of producing a Little Arty Hands book for my children, I just need to decide exactly which works of art will make it to print! All words are my own, I have not been instructed what to write.