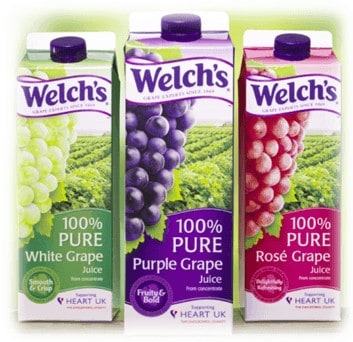 Welch's made me popular with the neighbours!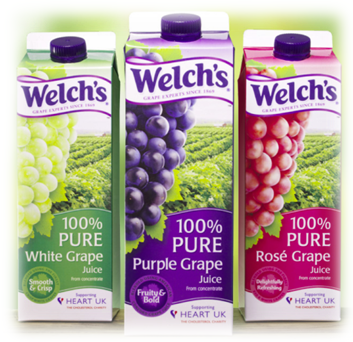 I should start this post by saying, I have been meaning to write this for WEEKS! I really don't know where the time has been going at the minute, each time I blink another week/month has passed.
Waaaaaaaay back before the fabulous Jubilee Weekend I was asked if I would like to review the range of Welch's Grape Juices. When I agreed I expected to receive one carton of each so I was shocked to say the least when I received a box containing approximately 15 cartons!!! Now, we like Grape Juice and we had our Jubilee celebrations planned for that weekend but I knew there was no way that we could manage that many cartons so we paid each of our neighbours a visit and gave them each three cartons, one of each flavour.
My favourite was definitely the Rose Grape Juice (i'm usually a Rose wine drinker so it makes sense) and Hubby preferred the purple (he's a red wine drinker). Now I have to say I'm pretty rubbish at being adventurous when it comes to food or drink, I never really see past what something can become when mixed with other great ingredients, that was until I attended Britmums a few weeks later to find the Welch's stand and a rather clever chap making mocktails with Welch's Grape Juice which tasted so nice I stopped by every time I was passing (which was often!!).
Because Welch's Grape Juices are made from 100% Grape Juice they are perfect for your little ones, as a light refreshment or for those wanting non-alcoholic drinks but still in the party spirit . . .
Anyone fancy a Grapeolitain?
3/4 cup Welch's 100% Grape Juice
1 tablespoon fresh squeezed lime juice
1 tablespoon fresh squeezed orange juice
Or what about a Welcharita?
1 1/2 tablespoons fresh squeezed lime juice
1/2 cup Welch's 100% Grape Juice
1/4 cup water
1 teaspoon fresh squeezed orange juice
And that's not all, how about something tasty to eat?
Maybe some Grape Berry Crunch Muffins?
1/2 cup low fat granola
1 cup whole wheat flour
1 cups all purpose flour
1 1/2 teaspoons baking powder
1/2 teaspoon baking soda
1/2 teaspoon salt
3/4 cup Welch's 100% Grape Juice made with Concord grapes
1 large egg
1/4 cup canola oil
2/3 cup light brown sugar
1 teaspoon grated lemon zest
1 1/2 cups fresh or frozen blueberries
Preparation
Preheat the oven to 400°F. Coat 12 2-1/2 inch muffin pan cups with cooking spray. Place the granola in heavy-duty plastic bag and crush it lightly with a rolling pin or other heavy object to break up any large clumps.
In a large bowl, combine the whole-wheat flour, all purpose flour, baking powder, baking soda, and salt. Stir until blended.
In a medium bowl, whisk the grape juice, egg, oil, sugar, and lemon zest until blended. Add to the flour mixture and stir with a rubber spatula until the dry ingredients are just moistened. Fold in the blueberries.
Fill the prepared muffin cups about two-thirds full with batter. Sprinkle with the granola and pat it in lightly so that it adheres.
Bake until the tops are golden brown and a cake tester inserted in the center comes out clean, 20 to 25 minutes. Let cool in the pan for 5 minutes. Run a small knife around the edges and turn the muffins out onto a wire rack to cool slightly. Serve warm or at room temperature.
Makes 12 large muffins or 36 mini muffins
*To make mini muffins, you will need 3 mini muffin pans (1-1/8-inch by 3/4-inch). Bake mini muffins 12 to 14 minutes.
Nutrition Per Serving (1 regular muffin):
190 calories, 5g fat, 0g saturated fat, 3g protein, 34g carbohydrate, 15mg cholesterol, 230mg sodium, 2g fiber
*These delicious alternatives to blueberry muffins can be made regular sized, or as "mini" muffins for the kids!
For these recipes and more besides just visit www.Welchs.com and look up products and recipes, there are loads to choose from.