Week 18–Check me out!
So this whole food lark is a doddle!  Mummy has given me a few dodgy things to eat but I've shown her, I've just pushed it straight back out again.  Most of the time she gives me nice things, so far my favourite has been carrots – yummmmmy!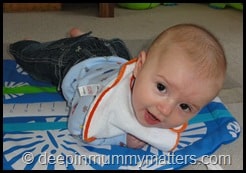 I've been playing with Mummy and Little Bean on the floor loads this week and I've worked out that if I lift my legs right up in the air I can roll onto my side and see the world from a different angle.  Then if I turn my head a bit further and move my legs a big I roll all the way and end up on my tummy – its great because then I just have to push my arms up and its like when Mummy gives me tummy time.  I think Mummy was quite impressed because she started whooping and shouting, then she stuck that camera in my face again – bless her she does love that thing, I gave her a big cheesy smile just to make her feel better.