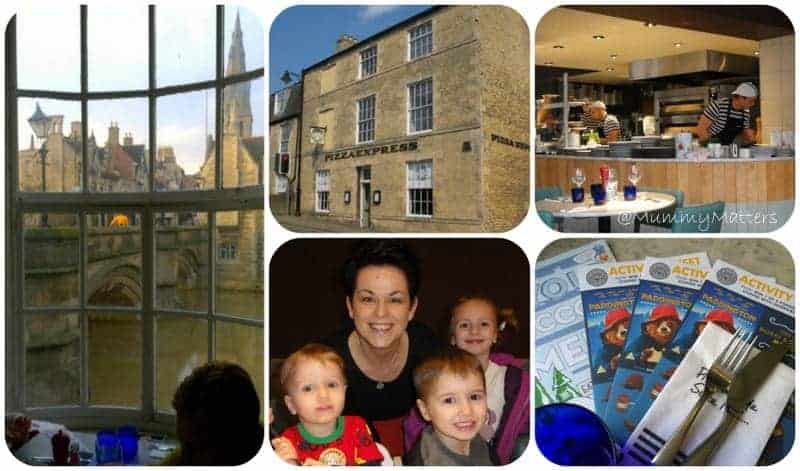 We had a Bear-y grrrr-eat time at Pizza Express
Pizza Express fans who saw my picture post about what we got up to during half-term might have noticed that our half-term break ended with a very welcome treat to Pizza Express in Stamford. We are certainly no newbies to Pizza Express (it is one of our favourite places to eat as a family) but we are new to Pizza Express in Stamford. Despite living so close to it, it's one restaurant that just seems to have bypassed our radar so we figured it was high time we paid them a visit.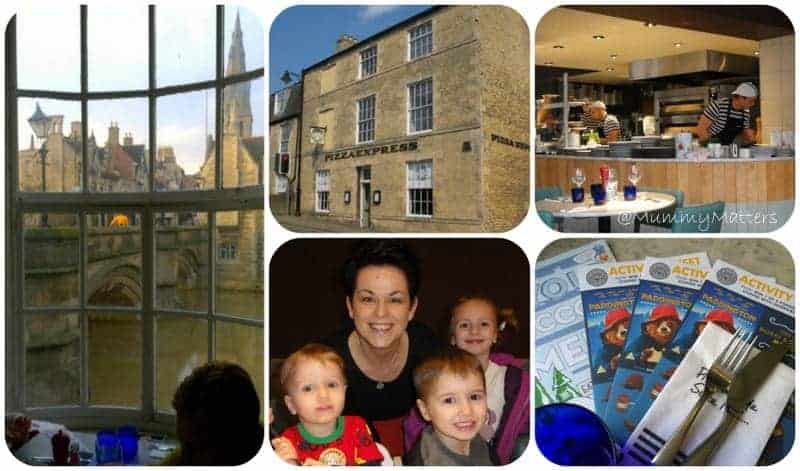 Our half-term had been quite the rollercoaster of a week, despite only planning one activity for the week we had managed to cram quite a lot in, some relaxing time at home and some energetic days out. By Friday the Beans were starting to feel quite jaded so we had a quiet day around the house and made sure that Jelly Bean managed to get his head down in his own bed (rather than the car or the pushchair). In the afternoon I wanted to pop over to Stamford to get some nice photographs of the boys in their new clothes from Me&i and of Little Bean's pretty hair that I had managed to do in the morning. Then a timely email arrived to invite us to Pizza Express in the afternoon to sample their menu and for the Beans to have a spot of Paddington Bear fun to mark the release of the Paddington DVD on 23rd March.
On arrival at the Stamford restaurant we received a very warm welcome from all of the staff (and I was pleased to note that all customers received this welcome not just ourselves who were there for review purposes, it was even nice to see that some customers were greeted by name – clearly regulars). The restaurant in Stamford is set in a beautiful old stone building on the edge of the river overlooking the bridge and St Mary's Hill, very picturesque indeed. Inside, it felt more like a restaurant than some of the other Pizza Express branches we have eaten in, perhaps because of the layout and the setting.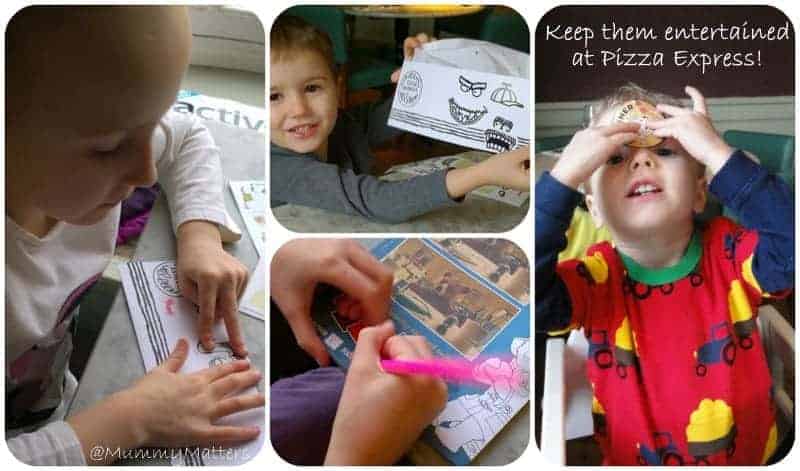 Jelly Bean took an instant penchant for our lovely waitress Yola, waving to her and calling her name every time she was in his line of sight. The Beans could order their meals from the Piccolo menu in their sleep these days so whilst Nanna and I looked over the menu to make our choices, the Beans set to work on their Paddington Bear activity sheets and decorating their Pizza Express hats. Once our orders had been placed, we were able to join in the Paddington fun and help the Beans with the parts of their sheets they were stuck on and it passed the time very quickly until our starters arrived.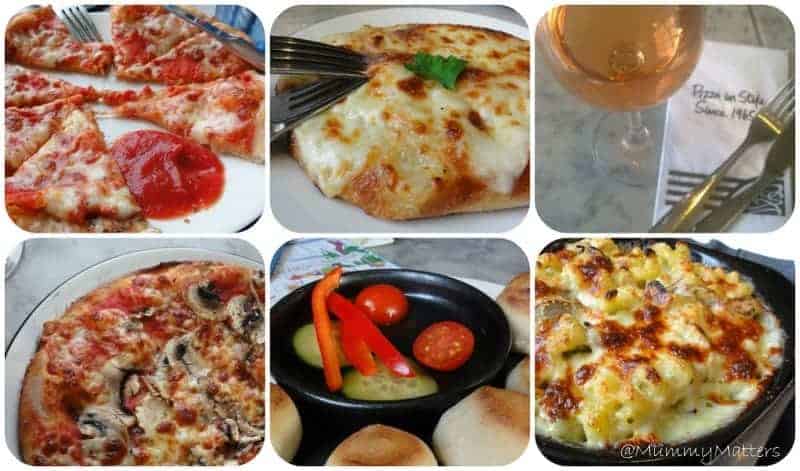 As far as 'eating' was concerned it was a great day for the Beans with both Little Bean and Beanie Boy trying a new food; pepper. Neither of them really liked it, but just trying it is good enough for me. Between the three of them they quickly polished off their dough balls and pizza whilst Nanna and I enjoyed our meals without too much stress from the Beans to spoil it. Nanna didn't fancy any of the pizzas on the menu so she was able to create her own from a selection of the ingredients and this time I decided to try the pasta dish "Pollo Pesto – Chicken, mushrooms, red onion, mozzarella, Gran Moravia cheese and cavatappi spirals in a four cheese & pesto sauce" and I can confirm that it was mouth-wateringly delicious!!! It was however slightly bigger than my tummy so I had the remainder boxed up to take home for Daddy's tea (he enjoyed it just as much as I did).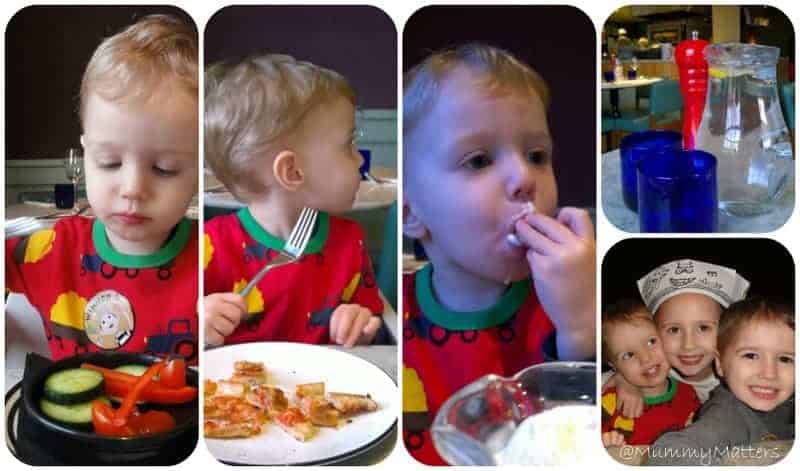 Being a Friday we decided that it was the law that we should order a dessert with our meals so Nanna chose a honeycomb cream slice and I had a rather modest Toffee Fudge Glory, to which Yola added "good choice". The Beans each had a chocolate sundae followed by a Bambinoccino (all included in the price of their Piccolo menu which is great value for money).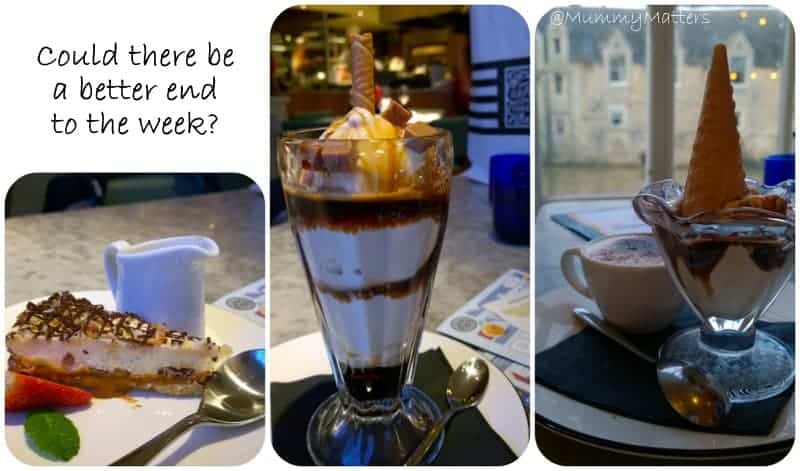 In all I think we spent nearly two hours at Pizza Express enjoying a leisurely meal and the perfect end to our week with Nanna. We certainly couldn't have asked for more, Yola even managed to surprise the Beans with stickers and a balloon each. We will definitely be going back again, I think we have a new favourite place!
DISCLAIMER: Our meal was provided free of charge for the purpose of this post. All words, images and opinions are my own and may not be copied without my permission.