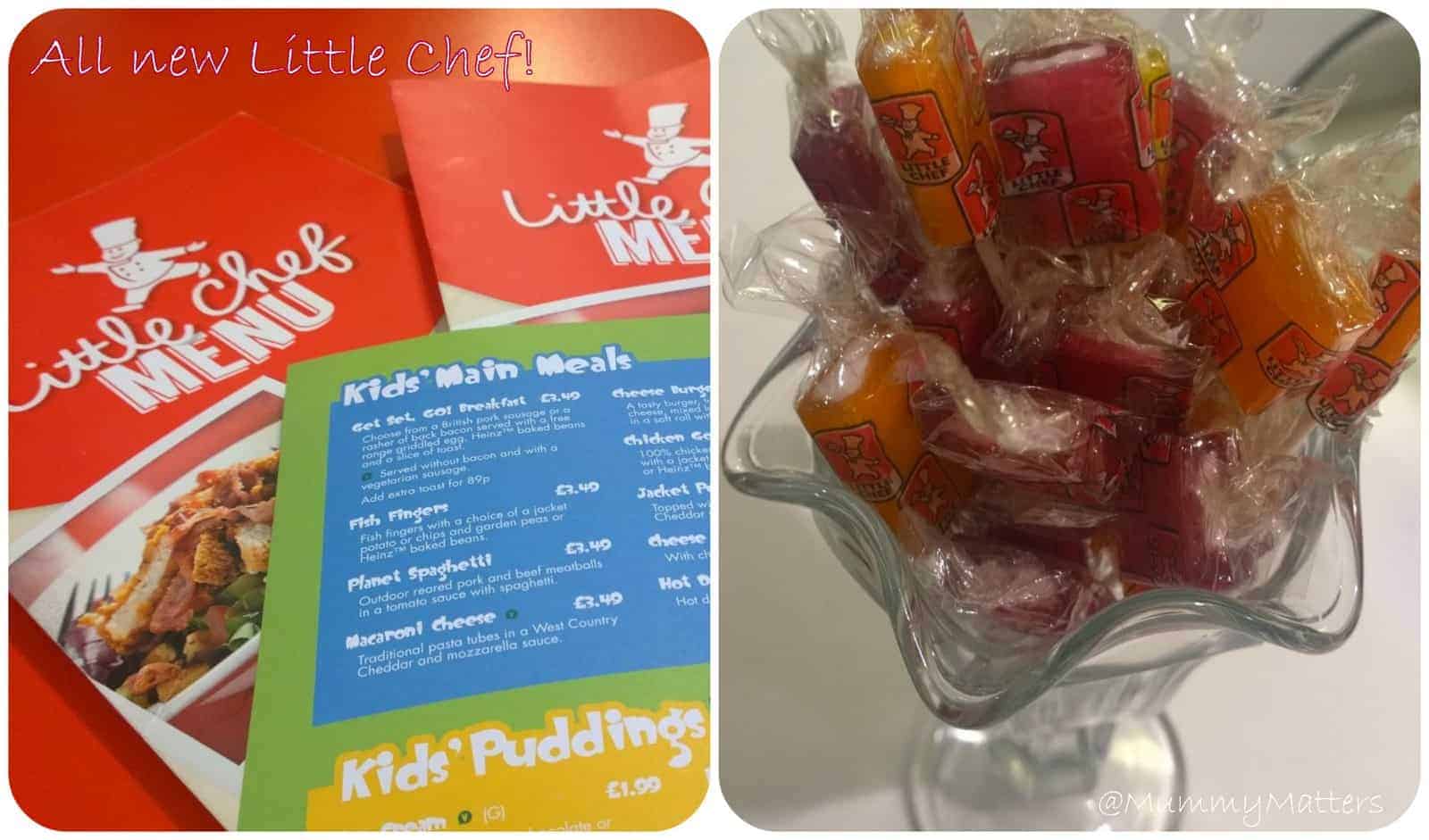 Have you visited the new look Little Chef yet?
Whenever I see the Little Chef sign it takes me back to my childhood, to memories of trips to Wales for family holidays and stopping off at Little Chef with Grandad for lunch before continuing the journey, always with a Little Chef lolly in my hand (a red one every time!). Hubby says he always called it the "Little Chef – pronounced ch-e-f" whereas I called it the "Little Chief".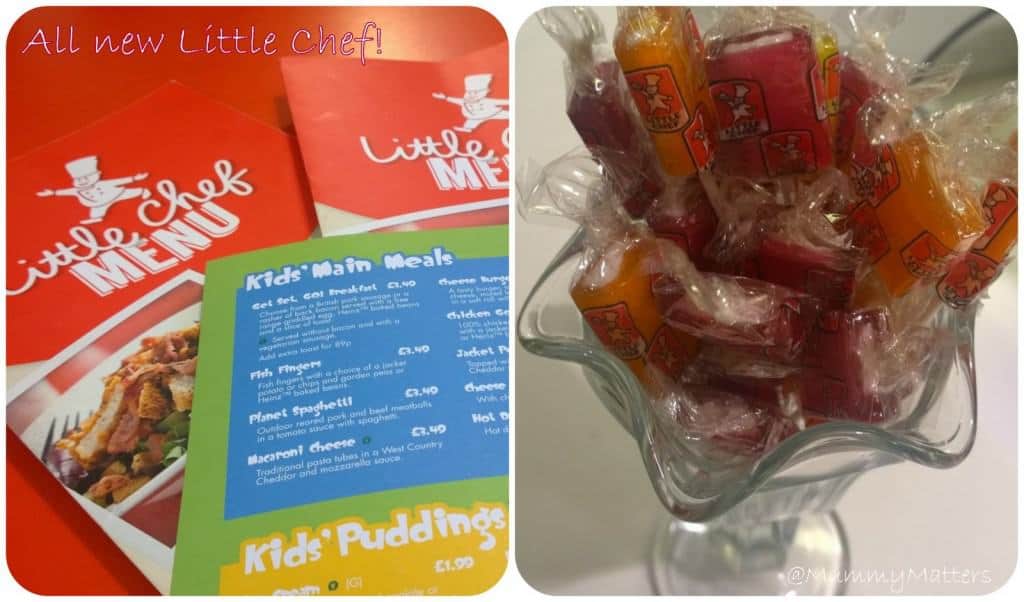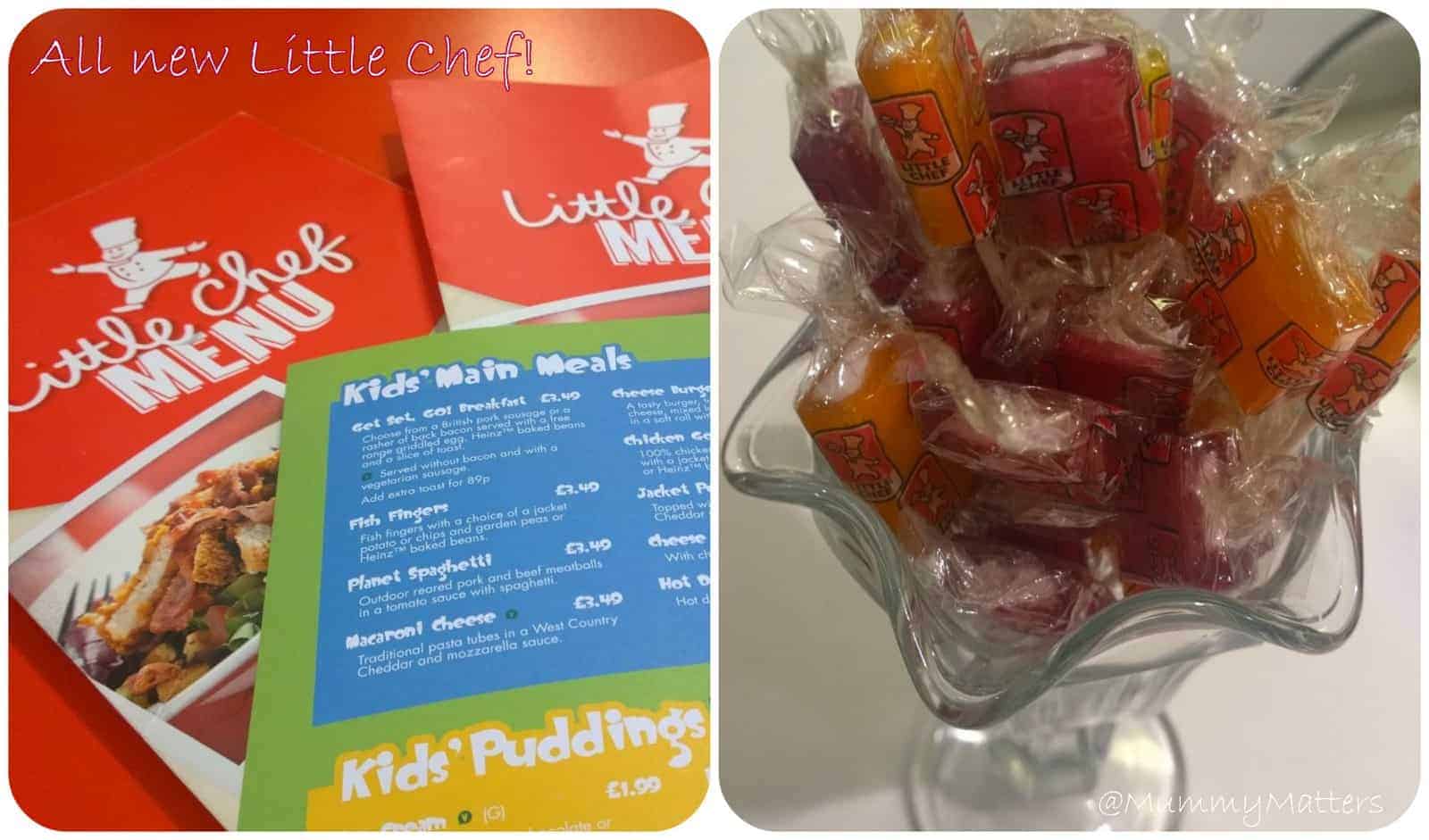 Little Chef has recently had a makeover so we were asked if we would like some vouchers towards a family meal and last Saturday as we returned from our Nintendo event in London we used them and took a trip down memory lane.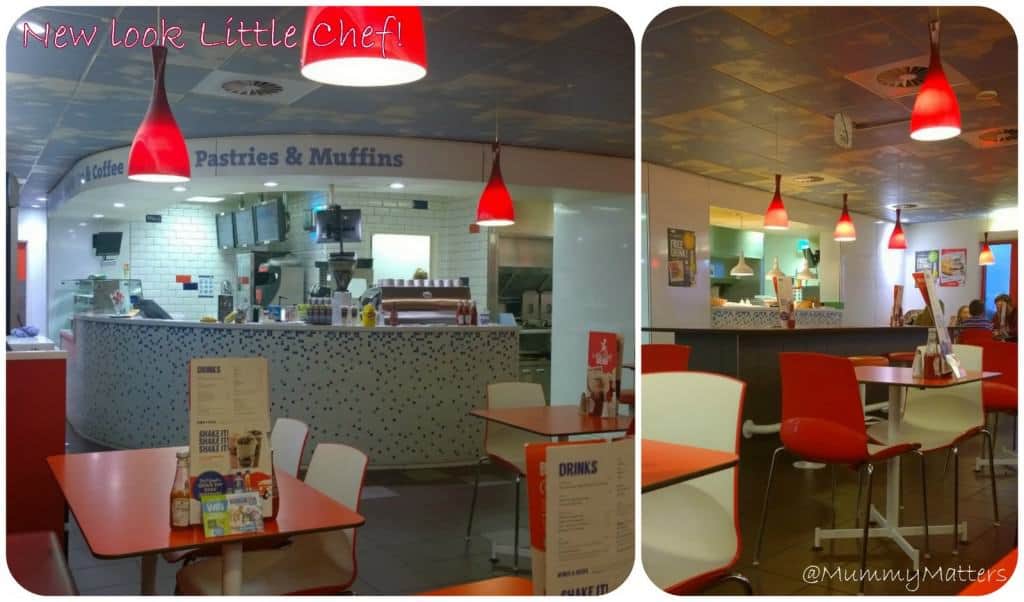 The new look is very retro diner yet still with their signature 'red' at the heart of the design. The Beans loved the 'sky' ceiling, Hubby and I liked the cleanliness and simple lines.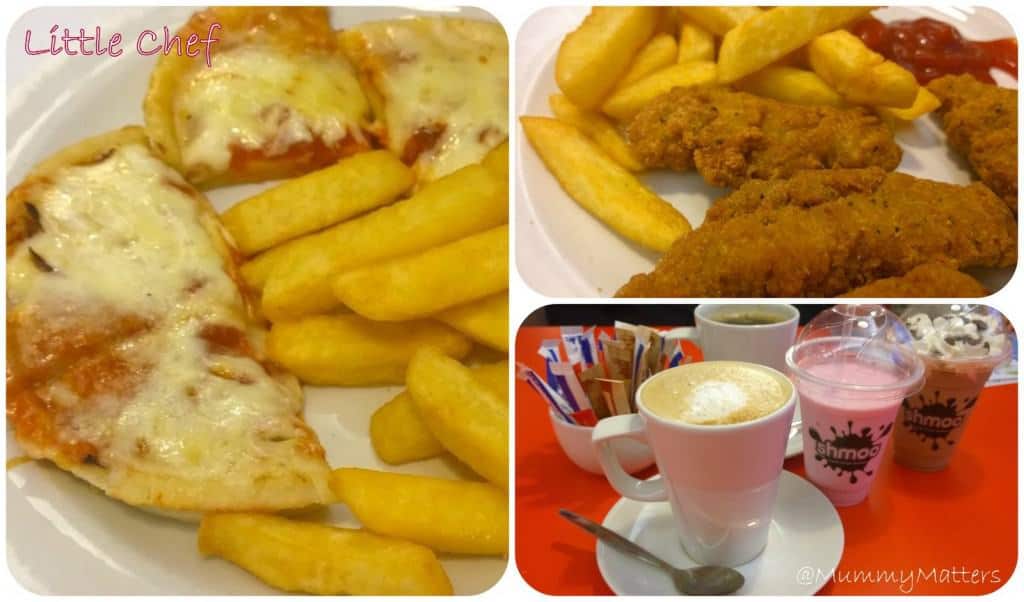 The menu was pretty expansive but there was only one thing on mine and Hubby's minds, an All Day Breakfast!!! I had my old favourite, the Olympic Breakfast and Hubby went for the Royal. The children's menu offered far more options than I expected it too and at just £3.49 per meal I thought it was very good value for money. Their drinks were a little more expensive at £1.99 for a small milkshake but it was a 'treat' so they got what they wanted.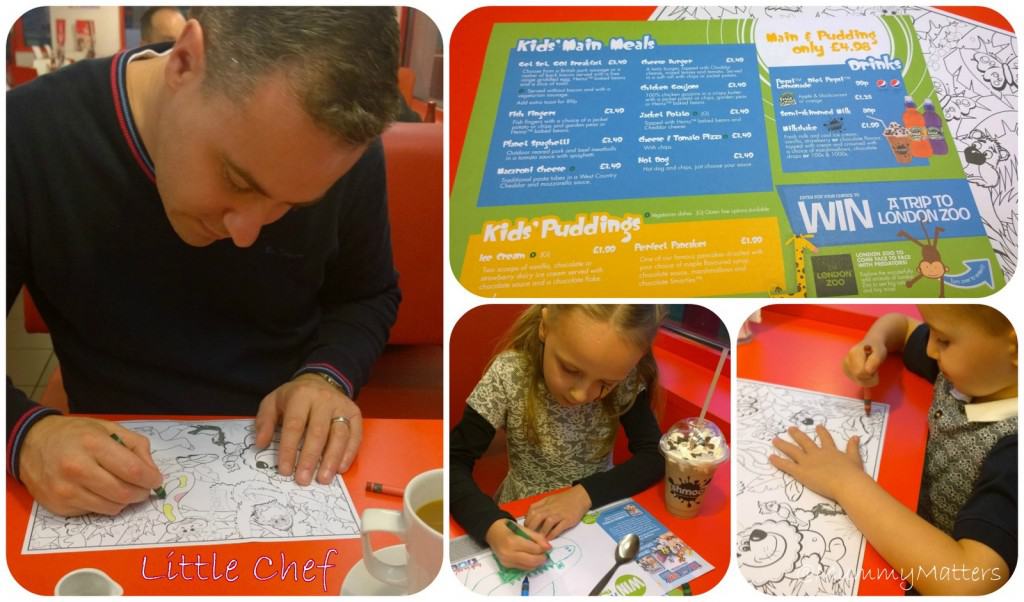 Service came with a smile and was very quick. Despite these pictures the restaurant we visited at the Black Cat roundabout on the A1 was actually very busy so we assumed we would have quite a wait on our hands but our food was delivered piping hot to our table in about 10 minutes. Little Bean had just enough time to draw her entry to the Little Chef competition to win a day trip to London Zoo. Hubby relaxed colouring in the jungle picture for Beanie Boy and I took photographs of anything and everything, such is the life of a blogger!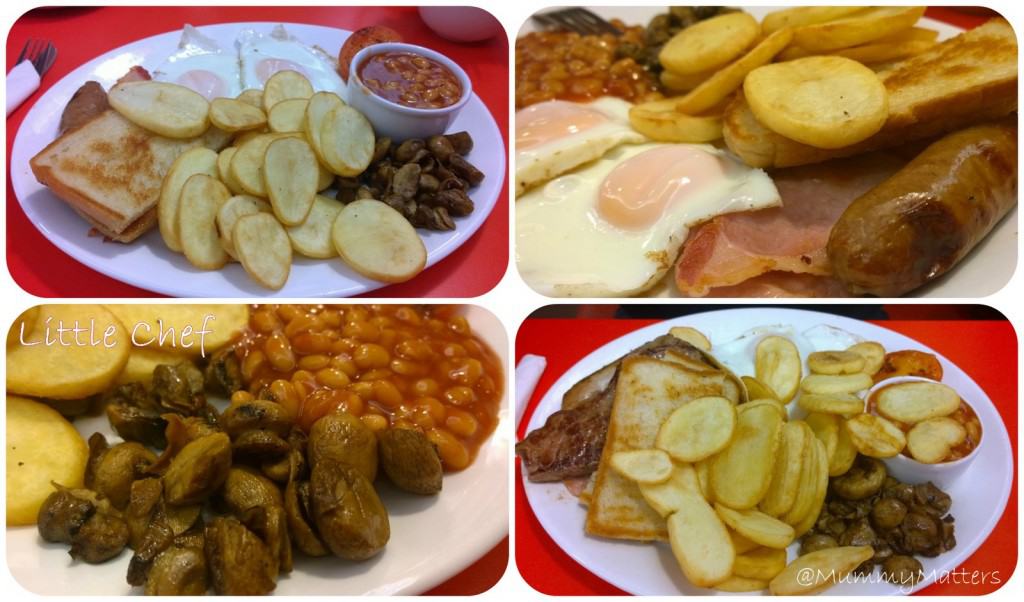 Portion sizes were far more than we could manage which is good because there is nothing like feeling short changed on your meal. We just felt bad that we ended up leaving so much food on the plates. I LOVED my breakfast and was a little naughty ordering fried bread but I don't eat it often so it was my special treat to myself. The mushrooms were delicious, as were the eggs and bacon. I really do love a good cooked breakfast. Hubby was very pleased with his meal but he did say that he felt a Royal should come with black pudding as standard instead of being an optional extra (he loves his black pudding). Little Bean said that her pizza was delicious and surprised us by eating the majority of it but Beanie Boy wasn't over-keen on his Chicken Goujons, I don't think he really liked the coating on them so he ate my sausage with his chips instead.
We bought Little Bean a pack of Chocolate Dips for the road so in total our bill came to £37.65 which was pretty good value for money for a very filling meal for four.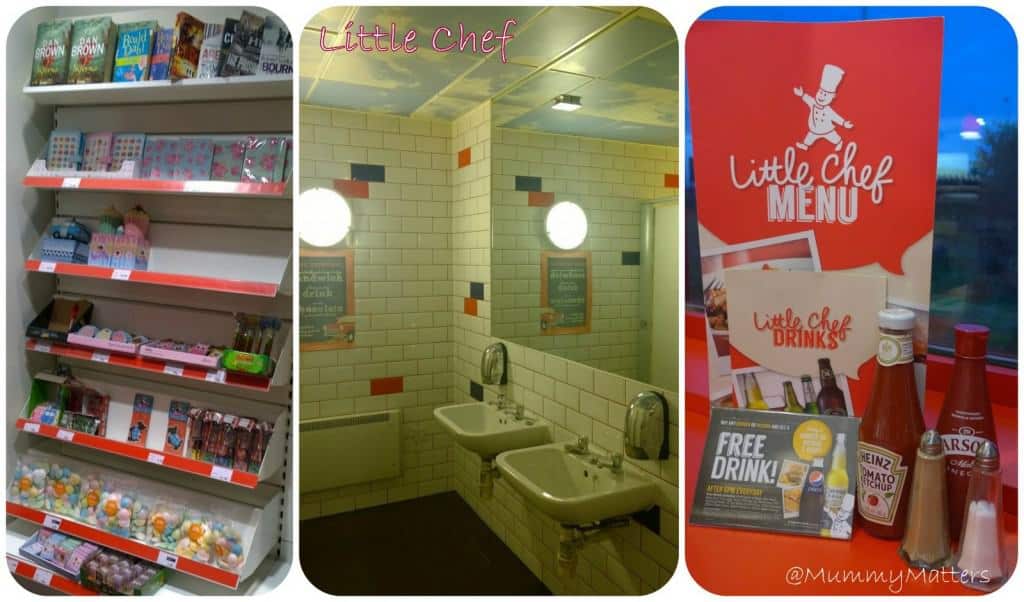 We paid a visit to the toilets before we hit the road and found these to be clean too. Little Bean and Beanie Boy were quite taken with the ambient birdsong being played in the toilets. Bit of an odd feature I thought but they liked it.
Little Chef also do a 'takeaway' service, known as Little Chef Express so you can purchase a meal on the run, with special offers like Bacon or Sausage Sandwich with a regular tea or coffee for just £2.99 or sandwich, drink and crisps for only £3.49, I'm sure it will be a hit.
Little Bean was quite taken with the little gift shop which sold note pads, pens, ebook reader covers and paperback books, all at a reasonable price.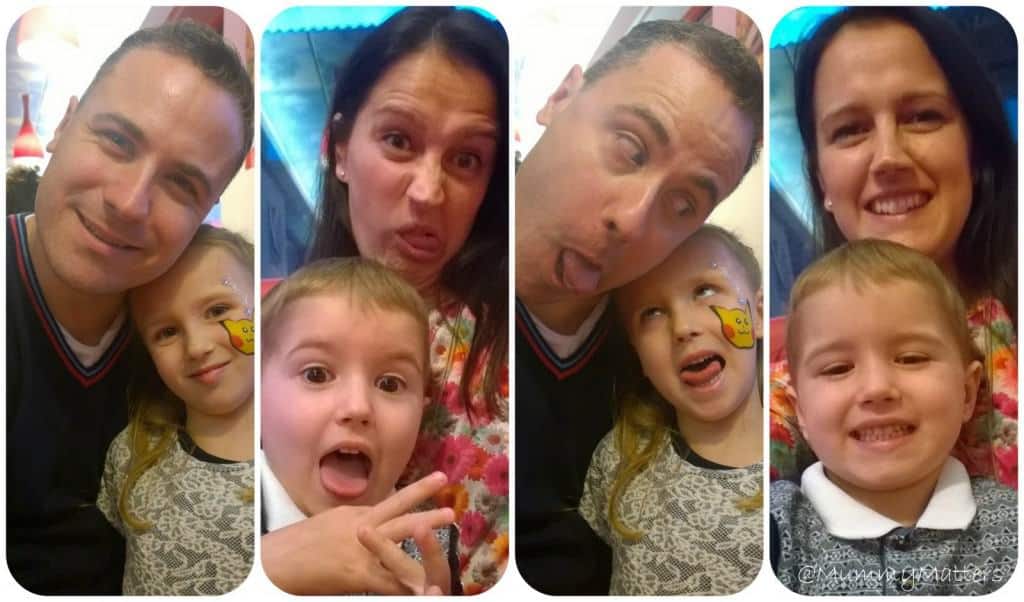 Little Chef was just what we needed to re-fuel ourselves for the remainder of the journey home!
DISCLAIMER: We were given the vouchers towards our family meal. All words, images and opinions are my own and may not be copied without my permission.