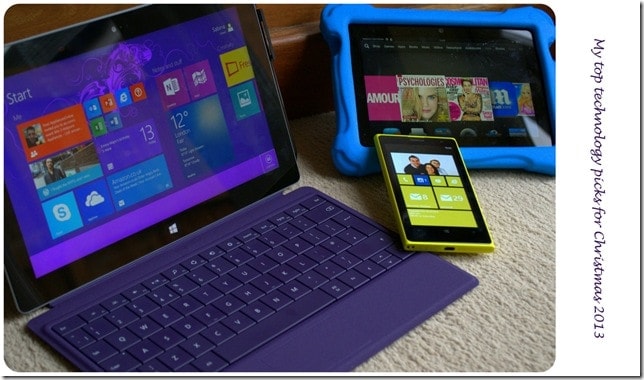 My top technology picks this Christmas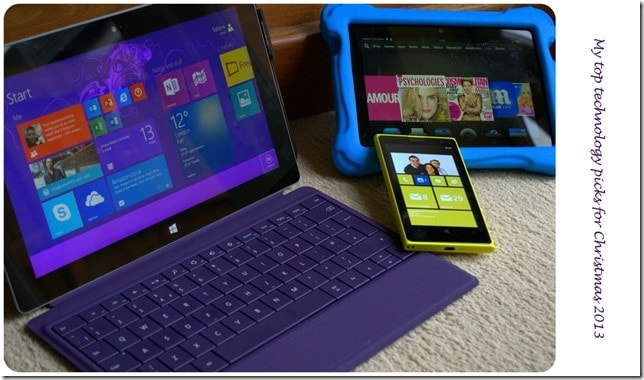 Tablets are so popular these days it can be difficult to know which one to go for. Obviously I can only speak from experience of the tablets I have used but that is no short list. I have been using an iPad since they were first released and as a family we still use the iPad 2. We like it for its ease of use, for the huge variety of Apps available and for the speed at which it works. I remember saying that the iPad would be 'mine' and not for the children but of course, that lasted for all of about 1 month and now the iPad has more children's Apps than anything else!
Beatrix New York iPad Cases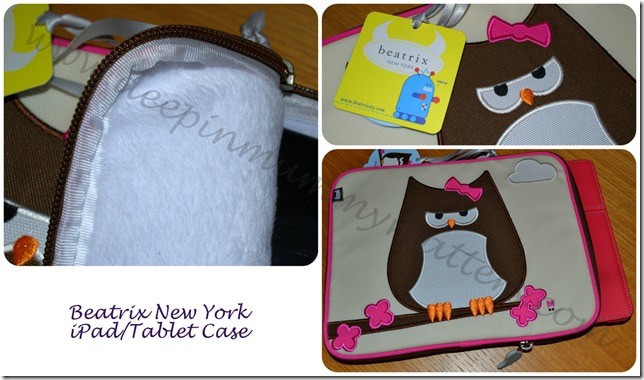 As great as iPads are, their screens are very easy to scratch or break and expensive to replace so you want to make sure that they are well protected. This is also an opportunity to personalise your iPad a little further. When I was contacted by Beatrix New York I was instantly attracted to their colourful child-friendly designs, I would happily have had one of each design myself. What I wasn't expecting when my iPad case arrived was a fur-lined sleeping bag to keep my iPad cosy, it's brilliant and actually big enough to fit my iPad whilst in it's fold-over protective cover which turns into a stand for it so I was even more happy that I didn't have to ditch one to use the other. On the reverse there is a label for you to write your name and phone number should you lose it (not that I recommend trying it).
Beatrix New York iPad cases are currently available in John Lewis.
Microsoft Surface 2 Tablet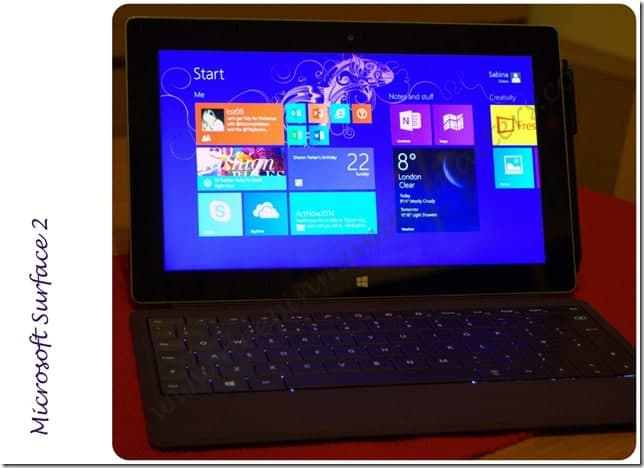 Let me introduce you to one my new favourite toys, the Microsoft Surface 2 tablet which is thin, lightweight and all mine!!! The Surface 2 runs Windows 8.1 RT which I was first introduced to when I received my HTC 8X Windows phone earlier this year. I think Windows 8 is a bit of a marmite system, you either love it or you hate it. For me it was an instant 'love at first sight' kind of relationship. I love the Live Tiles and the ability to personalise it completely made it just 'my thing' but at the time when Windows 8 was released there was one thing missing for me – Instagram. As a blogger and social media fan, I soon discovered life without Instagram was just not cool so my Windows 8 phone sadly went back into it's box to be resurrected at a later date.
Fast forward a few months and I was asked if I would like to road-test my very own Microsoft Surface 2, honestly I do get asked some of the silliest questions. I mean, AS IF I was going to say no! I have been using the Surface 2 for about 2 weeks now and I love Windows 8 even more on the Surface than I did on the mobile phone but did I mention that Instagram is now on Windows 8 too so I am one happy lady.
Just like on a phone you can customize the layout of your screen so that it is a reflection of you, you can change colours, tiles, tile sizes, layout, titles. You can pretty much do whatever you like with it.
One of my favourite features is the search function – let's say for example I wanted to search Olly Murs for Little Bean. From the main screen if I just begin to type 'Olly Murs' a search screen will come up and when I hit enter, I will be faced with a myriad of screens featuring Olly Murs. It will bring up music, wikipedia, news related articles, images and basically anything else it can find in relation to Olly Murs.
Unlike some tablets the Surface 2 has plenty of ports to be able to connect other devices.
It is preinstalled with the Microsoft Office 2013 which includes Outlook, Word, Excel, PowerPoint and OneNote enabling you to work on-the-go.
The dual-position kickstand allows you to work on a table or from your lap for ease of use.
The Surface 2 comes as a tablet on its own but you can buy keyboards as accessories to use the Surface 2 as a laptop. It also acts as a protective cover for the screen. I have the type cover 2 keyboard in purple which is backlit and I love it. To attach the keyboard you just hold it near the tablet and powerful magnets help it to click into place easily. To remove just pull apart – simples!
This won't be the last you hear of my Surface 2 so watch this space!!
Kindle Fire HDX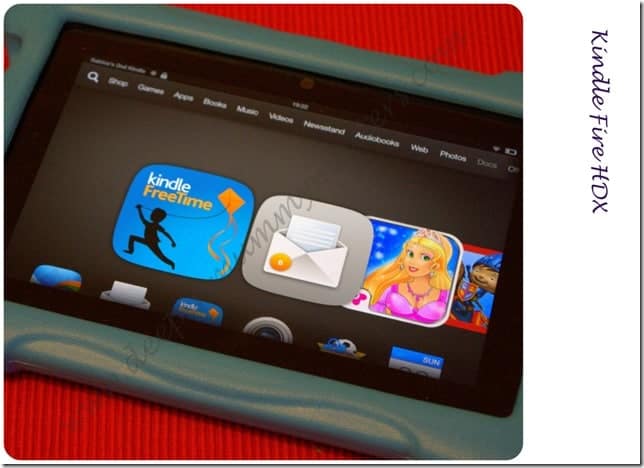 My Mum bought me a Kindle Fire HD last year for Christmas and I love it for it's perfect handbag size convenience, crystal clear display and responsive screen. After working on an iPad for so long I struggled initially with the layout of the screen and getting used to the carousel but that lasted for less than a week because I was whizzing around on it like I had been using it forever.
A few weeks ago I was introduced to the Kindle Fire HDX which was just like a Kindle Fire HD only 10x better!! There are a couple of new features which I really love;
Kindle Freetime – allows you to set up user profiles for your children so that they can use the Kindle without having access to your emails, social media accounts and basically anything else you don't want them touching. Setting up their profile takes just a few minutes and can be personalised with their own icon. As the parent you are able to specify not only which Apps, books and games they can access but also how long they have access to the Kindle for. I have mine set to Unlimited Reading time but only 1 hours access a day to the Apps I have approved for them.
Mayday – yes this is the button you have seen advertised on the TV. If you are struggling with any aspect of your Kindle Fire HDX just press the Mayday button and help will be with you on your screen. The Mayday advisor will be able to take direct you on your screen what you need to do to accomplish the task you require. The great thing about Mayday is that advisors are available 24/7, 365 days a year.
2.2GHz quad-core processor – this is the fastest processor in a 7" tablet, coupled with 2GB RAM the Kindle Fire HDX is perfect for fast, uninterrupted gaming, video streaming and multi-tasking.
Amazon Store – the possibilities are endless with so many books, games and music to download for free. I also like the magazine subscription service. I definitely would have more of a chance to read a magazine in this format than on paper because I carry my Kindle with me.
Between now and 2nd January you can get your hands on a Kindle Fire HDX at the special price of £169 direct from Amazon saving you £30!! Order yours before lunchtime tomorrow (Sunday 22nd December 2013) to be guaranteed to receive it on Monday 23rd December 2013 in time for Christmas.
Janus Android 7" Tablet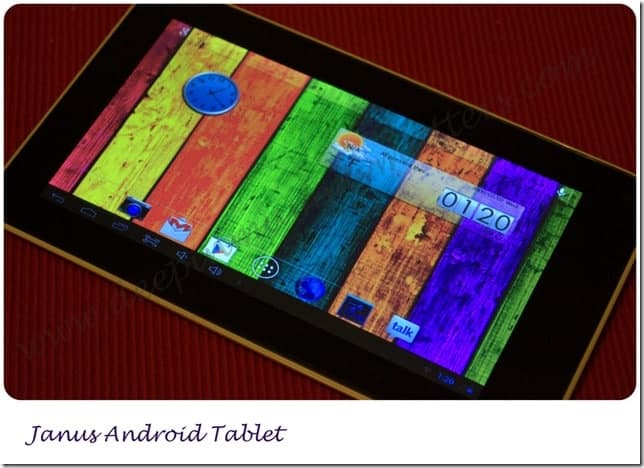 This is a brilliant entry-level Android Tablet. We have the white model which makes it look really cool, although it is also available in matt black. I was very surprised by the sensitivity of the touch screen, on previous tablets I have used of a similar price I have found that you need to press quite hard on the screen to operate but the Janus is easily as responsive as my iPad or Kindle. It runs on an Android OS 4.0 which is super smooth and allows you to effortlessly stream videos, listen to music, browse the web and read to your hearts content. The Janus features a front-facing camera and 3G external modem so you can keep in touch with friends and relatives via video call. It supports MS Office Word, PPT and Excel so you can work on the go. The Janus usually retails at around £179 but I have seen some offers around for £69 which is a MASSIVE saving and I promise you will not be disappointed.
We were provided with our Janus Android Tablet by Bespoke Offers who are well worth a look at as there are some great savings to be had on there for anything from food to electrical items, fashion, travel, entertainment, learning and more. It's free to join and you won't be spammed by a barrage of junk emails which is a blessing!
Nokia Lumia 1020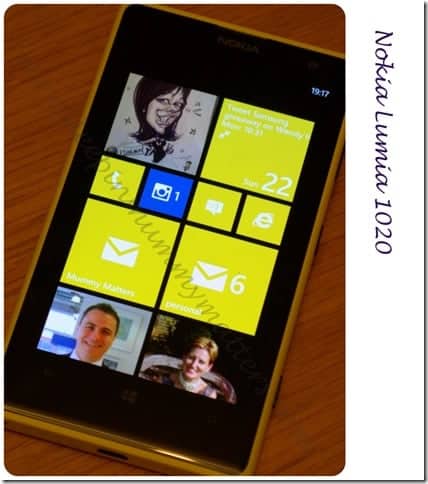 Before mobile phones became 'Smartphones' I was always a Nokia girl through and through but then I discovered Samsung and never thought I would be swayed again. The latest phone I purchased myself was the Samsung Galaxy S4 and up until now I have loved it. That was until the Nokia Lumia 1020 came into my life and now I am in 100% smartphone love! I honestly cannot find one single thing about the Lumia 1020 that I don't like. I have the yellow model which is eye-catching and supersmooth to the touch. It has a gorgeous, vivid, sharp display screen and like the Surface 2 it runs the Windows 8 software so it works perfectly in sync with my Surface 2. Again I am able to customize my screen to have everything exactly where I want it instead of where the manufacturer has set it up to be. I can make my live tiles as big or small as I like and because they are 'live' tiles they are always up to date with the latest updates and information so I don't miss a thing.
The biggest and best thing about the Nokia Lumia 1020 has to be the camera though. I've always had a love/hate relationship with cameras on mobile phones because they are so convenient but yet the quality isn't always great. The Lumia 1020 boasts a 41MP camera with a PureView Zeiss lens, yes you did read that right 41PX it's not a typo! The photographs are excellent quality even when you zoom in. I recently used the video camera at Little Bean's Nativity Play at school and had to zoom in yet still managed to get crystal clear pictures, even better than with my proper handheld Camcorder!
My other favourite feature (for now – there are bound to be more as I discover new things) is the Nokia Mix Radio which enables me to download up to four mixes at a time to my phone whilst I am connected to the Wi-Fi and then I can play the music for free wherever I am. Whenever I get bored of the mixes I just connect to the WiFi again and refresh the tile to update the Mix or select a new one altogether. I LOVE it!
This is just the beginning with the Lumia so I will be back in 2014 to tell you more . . .
DISCLAIMER: I have received the above products for review free of charge. All words and opinions are my own and may not be copied without my permission. I have not been instructed what to write. #ad