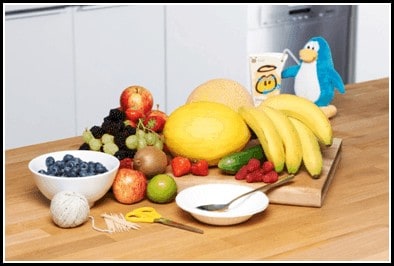 Time to get fruity with Innocent and Club Penguin!
On 22nd August the favourite children's website that is Club Penguin will be transformed into a tropical fruit mecca when the island's summer party – The Adventure Party – Temple of Fruit begins!!!
Curly is an avid fan of Club Penguin, he tells me of his adventures on the island but to be honest, most of it goes right over my head. I'm sure I used to be a child once but oh how things have changed!!
In order to promote healthy eating choices Club Penguin has teamed up with the lovely people at Innocent to celebrate the benefits of fruit and making it more fun for children. We were sent a beautiful basket of fruit lovelies in order to have some fun with fruit ourselves by making either a Tutti Frutti Tiara or a Tutti Frutti Hat. Of course what my brain didn't catch up on was the fact that my children are rubbish with food – not just eating it but even just touching it proved to be a terror inducing task and so we had to abandon without a hat or tiara in sight. Instead, Mummy sulked and ate all the fruit (then had tummy ache because I ate too much!). But if you have fun, adventure seeking, NORMAL children then perhaps you would like to have a go at Tiara or Hat yourself. Just see the instructions at the bottom of this post and enjoy.
To really celebrate this cool partnership you can buy special kids packs of Innocent Smoothies and Juices which contain unique codes to unlock some very special fruity accessories over at Club Penguin; strawberry costumes, an orange MP3 player or even some kiwi armchairs to decorate your igloo!! What are you waiting for?
Tutti Frutti Tiara Instructions
To find out more about the Club Penguin and innocent partnership and upcoming activities click here