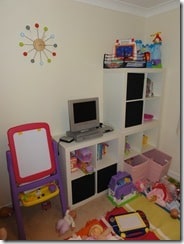 The trouble with Christmas . . .
The trouble with Christmas is it really highlights the lack of storage in your home!  I distinctly remember sitting on Christmas morning staring at the various mountains of presents around the house, thinking where on earth is all this going to go?  We've just moved to a bigger house, so really we should be fine.  Its not so much that we haven't got the space for it, but we just don't have the right storage for it all??
In the children's playroom we have this shelving from Ikea which is fantastic, though I do need to get my hands on a few more of the boxes to keep the toys looking tidier.  Curly and Little Bean really love books, which is a good thing I know, but a love of books comes hand in hand with a library of books and they both got loads more for Christmas but we just don't have the space to store them.  The problem I've found with the shelves they do have is that some of the books are just too tall and so end up in a pile on the floor which doesn't look good.
We also have a problem with DVD's as our shelves aren't the right dimensions, so in order to find one DVD you generally need to take another 20 off the shelf first to see the back row?!?!  Note to self: must buy a decent DVD rack!
Then of course, there's the toys!!!  Curly's room is over-run with toys (he is 9 years old so he's built up quite a collection).  He's not keen on parting with any of his old toys but I think we are going to have to sit down with him soon and have a good clear out, he still has two or three boxes of toys and board games in the garage which haven't seen the light of day since we moved house.  Little Bean's toys are now stored on a "rota" system.  She has the two pink boxes in the playroom and a further three pink boxes on top of her wardrobe in her bedroom.  Every other month I swap the boxes around so that she has a new set of toys to play with.   I have also sent bags of older toys to grandparents houses so that the children have different things to entertain them when they are visiting.
Nanny and Grandad bought Beanie Boy this fab "pop-up" toy chest for Christmas (amongst other things) which I love, its big enough to house his toys in his bedroom but light enough to carry around with us.  And I love the bright colours, when he's in crawling mode in a few months time I'm sure he'll love staring at himself in the detachable mirror on the side.
I still have three large boxes of picture frames with family photos in that I haven't found a home for, we used to have a very large bay window at our old house but here we are short on space so I think I need to find some sort of shelving for the dining room to display our family pictures.
Every year after Christmas I say that I'm going to find a "better way" of storage for each room of the house, but every year something distracts me and I forget about it, just shoving things anywhere I can find a gap.    One of my new year's resolutions for this year, is to STOP HOARDING!!  I need to work my way through each room, sell off the junk I have been carrying around with me for the last 10 years that NEVER gets touched and use the money to buy us some fab new storage solutions.
How do you cope with all yours children's toys, books, DVD's and games?  Can anyone offer me any wise words on the best storage solutions?