The Gallery: A Celebration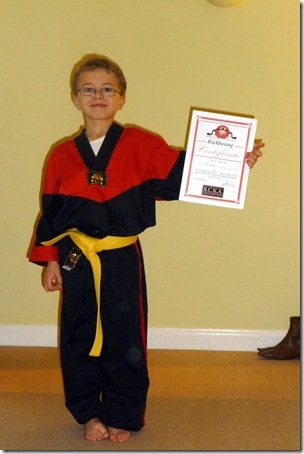 This isn't the best photograph (because of the shadows and its a bit out of focus) but I love what it symbolizes.  This was the night that Curly passed his Yellow Belt at Kickboxing which was his first belt!!  We were really proud of him and he was so proud of himself, he couldn't wait to get back to it and start training for his next belt. 
Hubby, Curly and myself began kickboxing as a family to help Curly to gain a bit of self-confidence.  He was having trouble at school with some over-zealous kids who decided his face didn't fit.  It was fun for the three of us to do something together, unfortunately 6 weeks into it I fell down the stairs at home and badly sprained my ankle – then I fell pregnant with Beanie Boy so I haven't been back since.
Curly has since achieved his orange belt too but due to the house move he and Hubby haven't been back for a while.  They are hoping to start again in the new year!