Summer Holidays – Day 6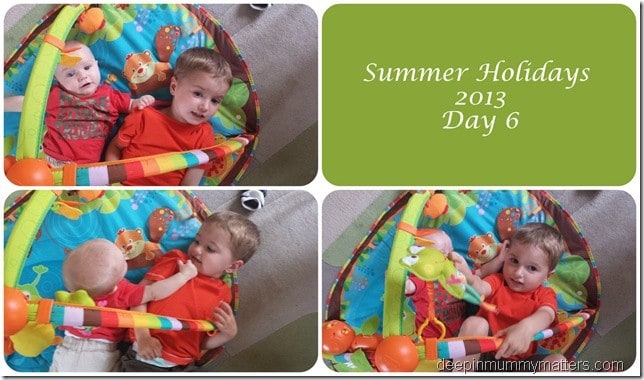 This morning Beanie Boy realised just how much Jelly Bean is growing and got a taste of things to come as Jelly Bean kept grabbing his t-shirt, hair, face or just about anything he could get his hands on when Beanie Boy was trying to lay with him on his activity mat. Watch out Beanie Boy, he's getting bigger every day!!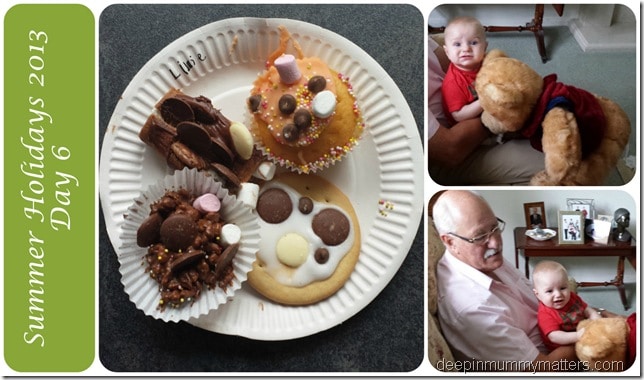 Today at Playscheme the theme was 'baking' so the children had the chance to decorate cakes and biscuits, they could also make cupcake pictures, bracelets etc but Little Bean only had one thing on her mind and that was which ones she could eat afterwards. Mind you she was very thoughtful as the first thing she said to me as we left playscheme was "I have made one for Daddy, one for you, one for me and one for Beanie Boy". However, by the time we arrived home she'd had a chance to think and then said "you know what Mummy, it's a long time until Daddy comes home from work and his cake will be spoilt by then so I had better eat it for him now". I like your style!!!
Once the boys had slept we popped over to Nanny and Grandad's to pick up Curly who had been there for a sleepover and also to see Nanny and Grandad for biscuits and bananas! Jelly Bean had cuddles with Grandad whilst being attacked by a bear that was twice the size of him.