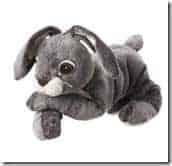 IKEA Soft Toys and a charitable donation!!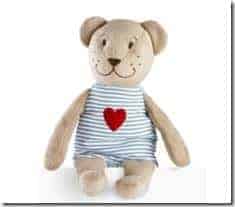 When it comes to soft toys and books as stocking fillers I didn't need telling about the great selection available at IKEA, it's one of my favourite shops, you only need to look around my house at all the storage units to know that! The other thing I like about IKEA is just how affordable the soft toys are for the children. All three of ours LOVE cuddlies, even at 11 years old Curly still sleeps in a bed full of soft toys and Hubby and I often wonder how he manages to shoe-horn his way in amongst them. Little Bean likes to swap hers each night just have 2 or 3 at a time and Beanie Boy is following in his brother's footsteps and filling his bed with as many soft toys as he can find. What I DIDN'T know about IKEA was that for every soft toy or children's book sold between October 21st and December 23rd 2012 the IKEA foundation will donate €1 to Unicef and Save The Children to support worldwide education programs to ensure that more children around the world can attend school and improve their future prospects. This is a campaign which has been run every year since 2003 and to date has raised €47.4 million helping to improve the lives of more than 8 million children.
You can buy IKEA Soft Toys from as little as £1 which is why my children love going to the 'big blue and yellow' store too because they can afford to buy themselves a new cuddly with their own money.
Christmas Wooden Bracelet Kits (Pack of 4)
Being a bit of a jewellery maker myself, it's only natural that I should make fun jewellery pieces with the children too. Little Bean has nearly as much costume jewellery as I do. She was overjoyed to receive this little craft kit to have fun with in the lead up to Christmas and decided to give the bracelets to her best friends at school as a little Christmas Gift. The kits are really simple to make up, it contains beads, elastic and a Christmas character bead to enable you to make 4 cute wooden bracelets. Parental guidance will be needed when it comes to tying the knot when the bracelet is complete but other than that it's completely simple to do.
RRP £2.95 (5% of price is donated to local charity/school of your choice)
Available from Yellow Moon
Finger Fairytale
Got a little one who loves stories? Then how about these cute Finger Fairytale Temporary Finger tattoos to make your stories come to life. Each pack contains 20 designs with full, easy to follow instructions. They are super easy to put on and will fit most fingers (although not suitable for below age 3).
RRP £2.99 (5% of price is donated to local charity/school of your choice)
Available from Yellow Moon
Paint Your Own Money Box
If you're anything like me you will have taken your children to one of those Paint a Pot places where you can paint ceramics and have a coffee at the same time. It's great fun but it can be a little expensive so why not trying to recreate the fun at home with a Paint Your Own monkey box like these ones here. There are lots of designs to choose from. Let their imagination run wild as they get creative with their own masterpiece!!
RRP £2.99
Available from Yellow Moon
Scooter Attach-Its for Micro Scooter
Does your child have a favourite toy that they never leave the home without. I still have my battered old teddy that went everywhere with me. Up until now I've been a pretty mean parent, I dread the thought of them losing their most treasured possession so I only let them take their treasures in the car or have them at home. But the clever people at Micro Scooter have come up with this inexpensive piece of kit called Attach-Its which means that dolls, teddies, Action Man, Barbie, just about anything can be attached to the front of their Micro Scooter so they don't have to miss out on all the fun. Available in 8 colours, each pack contains 2 Attach-Its, one small, one large in your chosen colour.
RRP £2.95
Available from Micro Scooters
Scoot Beamz and Scoot Starz Wheel Lights for Micro Scooter
Better to be seen and safe than sorry! The Scoot Beamz are a really cool way of being seen as the day draws to a close. Available in four bright colours these Scoot Beamz will add a bit of dazzle to your child's Micro Scooter without them evening realising it's a safety feature. Attaches easily to the upright of the Micro Scooter and reflects lights coming towards them.
Scoot Starz simply slot into the spokes of the wheels on the Micro Scooter. They are motion sensitive so they only come on when the scooter is moving, they'll be the envy of all their friends! (5 lights in a pack).
RRP £6.99 each
Available from Micro Scooters
The Gruffalo's Child Dominoes
The Gruffalo and the Gruffalo's Child have captured the hearts of so many children and if they are learning numbers then this is the perfect stocking filler for them. Each domino piece is made from premium card and illustrated with characters from the story. This is a great game for number and colour recognition, hand-eye coordination and matching/organisational skills. Since Little Bean started at school she is obsessed with learning games, anything to do with letters or numbers and has really got stuck into dominoes.
RRP £6.99 (5% of price is donated to local charity/school of your choice)
Available from Yellow Moon