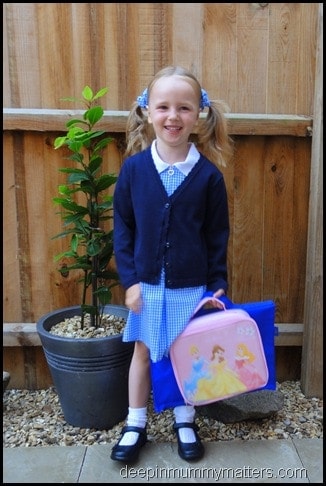 Starting School: Words with the teacher already?
Oh dear, things had started so well for Little Bean, she is so excited to be at school and can't get there quick enough in the mornings. She is LOVING being there but for all the good 'at' school, she is being a horror at home. Everywhere I have looked I have seen messages and status updates from other parents who are saying how well their children are settling in and that after only four days, their behaviour has calmed down immensely. Little Bean on the other hand is being a total nightmare at home. All three of our children get 'naughty' when they are tired and Little Bean is coming home from school very tired indeed. My worry is that at the moment she is only there until 12.15pm so what on earth is she going to be like when she is there until 3.15pm?
I have tried different ways of managing her tiredness; if I put her to bed for a nap she doesn't go to sleep at bedtime, I have tried putting a DVD on and letting her just veg out for the afternoon to regain some energy and I have tried taking her out and letting her run wild at the park.
Yesterday I spent a lovely (rare) child-free day in London whilst leaving Little Bean and Beanie Boy to the care of Nanny and Grandad G but was really sad to hear that Little Bean had indeed been a monkey again. She started the day by screaming at Daddy because she didn't want to put her cardigan on for school, then she was told off at school because she decided she would play with toys when she had been told to sit quietly and read a book. In the afternoon Nanny and Grandad took the tiddlers to a small soft play area where Little Bean got out of hand again and ended up giving Beanie Boy a right-hook and knocking him sparko on the floor! When they came home she then threw the DVD case when Nanny G asked her to help tidy the playroom and narrowly missed the TV on the wall so Nanny took her to her bedroom for some quiet time but Little Bean went into full meltdown, screaming, kicking and shouting that she didn't like Nanny anymore and would be telling Mummy about her.
This morning when I dropped her at school, she behaved like the model student, she did all the jobs that she needs to do upon arrival (hanging up her coat, putting snacks in the snack area and finding her name on the wall) then she picked herself a book and sat down quietly with me to listen to it. When the teachers began clapping their hands she quickly placed the book back in the basket and ran to sit in the circle with the other children. I grabbed the opportunity to speak to her teacher who said that her behaviour was completely normal and that I am to remember she is still one of the youngest for starting to school and so she will be very tired even though she has been used to full days at pre-school as a school day is very different. At school she is being a good girl although she doesn't believe that tidy-up time applies to her!! I worry that she will be classed as the 'naughty one' because she is a very strong-willed little girl, she knows her own mind and she is hard to budge once her mind is made up (much like her Mummy) but Beanie Boy is always classed as the 'cute one' and Curly is a different kettle of fish because he is older. I'm really hoping that the next few weeks will see my princess settle down because she is a very caring and loving little girl, with a heart of gold we just need her to settle down and find herself again.
Have you got a new school starter? How have you found they are settling in?