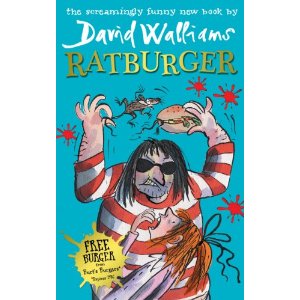 David Walliams has become a bit of a household name really hasn't he! I don't think there are many people that he doesn't appeal to, he is the man of many guises. Comedy fans love him for his many faces of Little Britain and Come Fly with Me (to name just two), he found his way into the hearts of millions when he swam the Channel and the River Thames for charity, he had the nation in stitches when he was a judge on Britain's Got Talent where he made Mr Cowell physically squirm at times, women love him, men love him and now our children love him too with his range of hilarious children's books. Curly has read ALL of his books and on a recent open evening at his preferred Grammar School when asked to write his favourite author's name on the Book Wall wrote "David Walliams".
Talking about his new book from Harper Collins, David said "I can't wait for my young fans to get their hands on 'Ratburger'. It is my scariest and funniest book yet."
Well, our children needn't wait any longer for the next David Walliams instalment because his new book Ratburger is due out this week and I have the opportunity to offer one of my lucky readers a pair of tickets to attend the David Walliams Ratburger Book Premiere which takes place next Thursday at Cadogan Hall in London from 6pm.
For your chance to win tickets to this very special event all you have to do is complete the Rafflecopter entry form below, this is a short competition so don't wait to take part! For those of you who aren't feeling lucky and want to buy your own tickets then click here. Tickets are £8 for Adults and £6 for children.