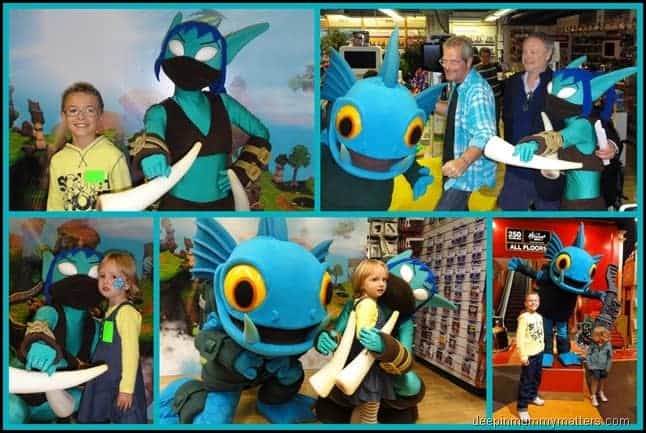 Skylanders launches TODAY!!!!
If you spotted my post a little while ago you would already know a little about Skylanders the new multi-platform game to take the gaming world by a storm. From the makers of Toy Story and Garfield comes the new adventures of the Skylanders.
Skylanders Starter Pack
The starter pack comes with a portal and three characters, which when placed on the portal magically appear in the game. For centuries the Skylanders protected their magical world using their special powers but then the evil tyrant Chaos banished them to earth. Children are able to collect the Skylanders characters and transport them back to Skylands through the portal to face challenges, puzzles, secret areas and mini-games in the Skylands.
Skylanders Preview Event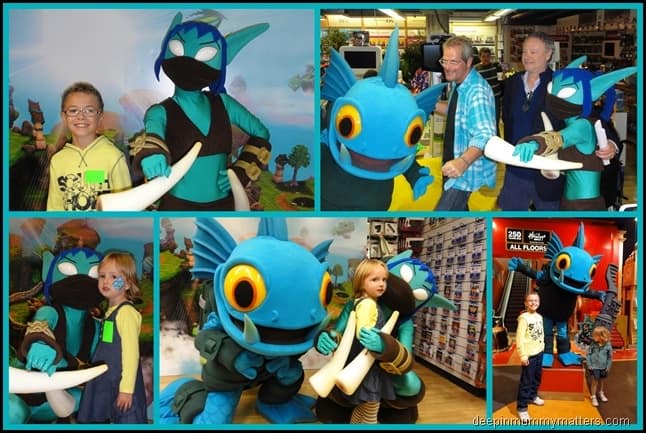 Last weekend the Mummy Matters family were one of a select few families invited to attend a special preview at Hamleys Toy Store in London and boy did I gain a few precious brownie points from Will and Lillie. Lillie must have thanked me 10 times by 9.30 am and then promptly reminded Will; "Bro, did you say thank you?" – bless her!
Skylanders activities
The event was really well planned out, we were sorted into different teams and then spent time on a range of activities. We began with Face Painting although Curly said he was too old for that! Next, we were taken upstairs to the Pick 'n' Mix department where the children were each given 30 seconds to do a Sweet Raid and pick as many sweets as they could. To say that the children were excited would be a huge understatement!
Meeting Joel Cohen and Alec Sokolow
The highlight for me was meeting Joel Cohen and Alec Sokolow who famously wrote Toy Story, Garfield and a host of other amazing films. They were approached by Activision and asked if they would like to write the game for Skylanders which was something they had never done before.
New Challenges
This was a totally new experience for them because they had to consider so many different aspects. With a film, they write a story, simples! But with a game, they had to consider all the possibilities (which could go on forever!) but they loved it and they loved creating all the characters.
Skylanders sees the welcome return of a much-loved gaming character Spyro who Activision was keen to include. Joel and Alec also mentioned that a 60-minute film will be released in the next 6-9 months following the release of the game so watch this space!
Playing Skylanders
Finally, our group were let loose on the game itself. It was great to watch Will and Lillie playing the game together, although occasionally Lillie needed assistance with moving her character around. Will LOVED Skylanders and by the end of the event was begging us to buy it for him for his birthday this week!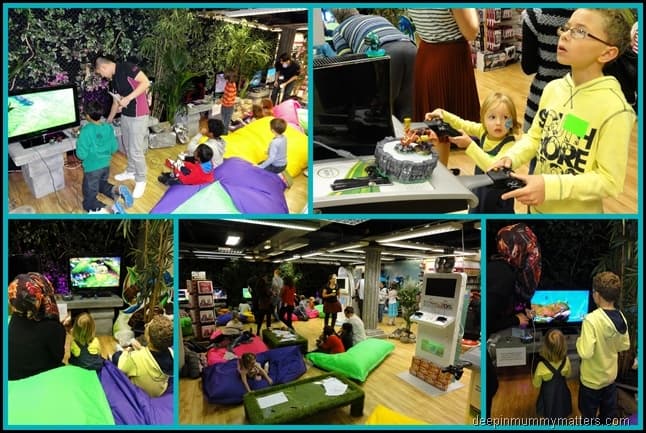 Name: Skylanders Spyro's Adventure™
Starter pack RRP:£59.99
Starter pack contents:  Skylanders Spyro's Adventure™ game, Portal Jumper,3 x characters: Spyro, Gill Grunt and Trigger Happy
Available from: Retailers including Amazon, Argos, Toys R Us, Game and Sainsbury's Entertainment (more TBC)
Age range:6+
For more information, be sure to visit the official Skylanders Spyro's Adventure game website located at www.skylandersgame.com.