Seraphine & Me!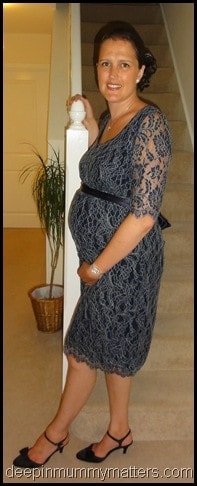 I first heard about Seraphine just after I had given birth to Beanie Boy, so unfortunately I was a few months too late to be able to adorn my growing bump with their gorgeous maternity fashions. I do distinctly remember complaining in both of my previous pregnancies that I had found it hard to find maternity clothes which made me feel more like a yummy mummy and less like ten ton Tessa!! So you can imagine how ridiculously excited I was to be contacted by Seraphine asking if I would be interested in reviewing a dress from their Luxe Collection especially as I knew that I had both a wedding reception and a Christmas party coming up.
For those of you not in the know, Seraphine are the preferred maternity fashion brand of celebrities such as Dannii Minogue, Jessica Alba, Jennifer Garner, Halle Berry, Alyson Hannigan and Sienna Miller to name but a few. Knowing that it would be easy to assume that Seraphine items carry a Celebrity price tag too but they are surprisingly affordable and such beautiful quality.
I chose this Dark Navy Luxe Lace Dress because I have been fancying a little lace shift dress for a while now. I have always tended to sway towards maxi dresses during pregnancy because I felt they kept everything covered but the more I looked around at other expectant Mummies the more I realised how nice you can look in shorter dresses.
A few days after placing my order a parcel arrived which when opened contained this gorgeous white box with my dress luxuriously wrapped, I hadn't even removed the dress from the box and already it felt so much more special. Removing the dress from the wrapping, I was impressed by just how soft the dress felt. It is made from a stretchy fabric and has been tailored to fit over a growing bump so I know that the dress will still look as gorgeous at 36 weeks as it did last night at 19 weeks pregnant.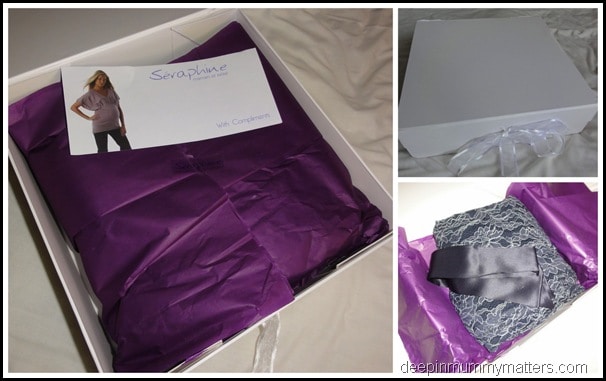 I wore the dress last night to a Wedding Reception and dare I say it, I actually felt sexy which is the first time I have felt that way since announcing my pregnancy. The sleeves covered my arms, the hem line was perfect to show off enough leg without looking wrong and the colour was very flattering. You can wear the dress with or without the sash but I like it with as it really accentuates the bump which is something I am proud of. To top it all off, Hubby told me I looked gorgeous, Little Bean said I was a beautiful princess and this morning I received a text from my Mum who was babysitting the tiddlers last night to say "you looked beautiful in your dress last night" which is great for a confidence boost!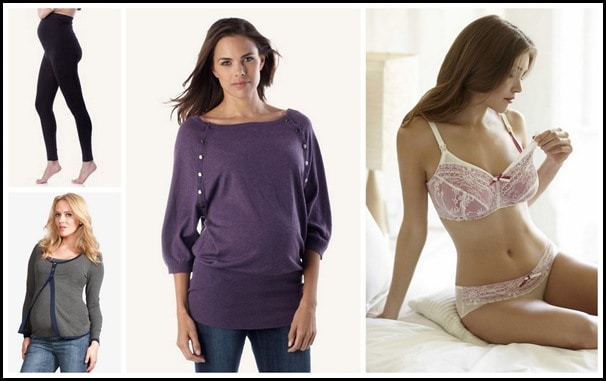 I already have my eye on a number of other items from the Seraphine range because they are perfect for pregnancy and through to nursing and they are intended to make you look and feel good – and let's face it, us Mummies need that! Seraphine have shops in Kensington and Hampstead in London but they ship worldwide from their website with free UK returns.
Seraphine Maternity also available from John Lewis, Wood Street, Kingston upon Thames, London, KT1 1TE and
Peter Jones, Sloane Square, London, SW1 8EL.