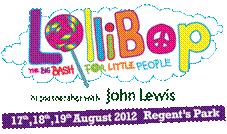 See you at Lollibop?!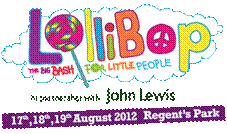 I can't believe that a year has passed already since last year's Lollibop, even with the rubbish weather we still had lots of fun and it certainly hasn't put us off going back for more again this year. Tomorrow we will again be winding our way down to London for a day geared up for Little People and hopefully arriving early around 10am. Yet again there is an action packed day ahead of us so hopefully the children will sleep well in the evening!
We are VIP Guests for the day and looking forward to seeing the Skylanders Spyro's Adventure Tour for 2012. Curly is a HUGE fan of Skylanders and has already started providing us with lists of the new characters that he is hoping to add to his growing army. We were first introduced to Skylanders at Lollibop last year and for us the biggest draw was the fact that it was a multi-platform game and so Curly could play it on the Wii at our house, take his figures to his Mums and continue play on his Xbox 360 and it would remember exactly where he had got to. New to Skylanders this year are the Skylanders Giants which will give some of the great original game play plus more besides.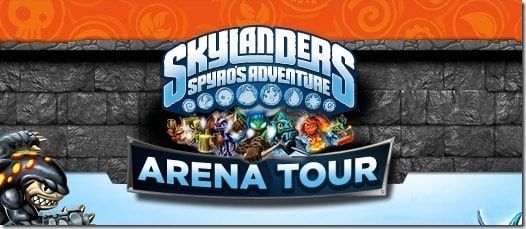 The fun-filled Skylanders Spyro's Adventure Arena Tour will provide visitors with a wealth of interactive and entertaining activities including:
· Meet the Giants: The highlight of the tour, kids will be amongst the first in the world to have a look and play of Skylanders Giants. There will be two Giants statues showcasing brand new characters – a huge photo opportunity!
· Trial Turrets: Game trials of both Skylanders Spyro's Adventure and the new Skylanders Giants game will take place all day on eight trial turrets, each featuring screens – so everyone gets a chance to experience new virtual adventures
· Portal of PowerTM Stage and Play Podium: Hosted on a giant Portal of PowerTM, visitors will be encouraged to climb the podium throughout the day for epic Skylanders play-offs and the chance to win a special prize
· The Green Screens: All kids will be able to take a little piece of the Skylands world home, with a souvenir photograph taken with their favourite Skylander within the magical Skylands world
· Activity Zone: Featuring face-painting, fake tattoos and games like 'Match the Pairs', this zone is packed full of fun ways for fans to immerse themselves in the Skylanders world
· Welcome to the Arena Rewards: Everyone who visits and experiences the magic of the Skylanders Arena will be given a wristband and a goody bag filled with treats
So now Skylanders Giants is bigger and better than ever before and now it's time for them to truly come to life. For more information visit: www.skylanderstour.com