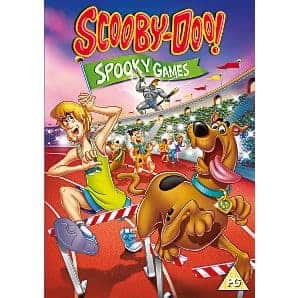 Scooby Doo Spooky Games and The Tiddlers Sports Day
As the Paralympics are entering their final few days we are keen to keep dragging the sporting spirit out as long as possible. The Olympics and the Paralympics have been such an inspiring event over the summer it's been great to see our children getting into the sporting spirit and thanks to the lovely weather they have been spending lots of time outside in the garden being sporty themselves.
Of course, being England we have still had our fair share of the rain so on those days we have been (mainly) relegated to the house to find alternative forms of entertainment. For Little Bean this entertainment has come in the form of one of her favourite cartoon characters Scooby Doo. Scooby Doo is a favourite which Little Bean inherited from her big 'Bro' Curly. It is still a bit too scary for Beanie Boy so as a treat for Little Bean she is allowed to watch it when Beanie Boy is sleeping.
In the first episode we see Scooby and the gang at the World Invitation Games set in London where they are asked to solve the mystery of the thousand year old statue which comes to life. As well as the new episode the dvd also features classic Hannah-Barbera Scooby's All Star Laff-a-lympics which consists of four episodes where three sporting teams; The Scooby Doobies, Yogi Yahooeys and Really Rottens compete against each other.
As well as the DVD Warner Bros sent us a little sports pack so that we could have some sporting fun of our own and so I would like to share with you the Mummy Matters Tiddlers Sports Day . . .