Sanamama Sling
I love babywearing! I was a baby-wearing Mum with Little Bean and again with Beanie Boy, I love the closeness that it gives you and your baby, I love the convenience of it but there are so many different slings out there to choose from it can be difficult to know which one to go for.
I was recently sent the Sanamama Sling to put to the test with Beanie Boy. Unfortunately, not long after it arrived I had suffered with back pain (before trying the sling) and so I had to put off giving it a try until my back was feeling better. For the past week I have been using the Sanamama Sling most days, it has been a great help on the school run when I am running late (which is most days) as I don't have to mess around sorting the buggy out I just pop Beanie Boy in the sling and fasten him to my back rather like a backpack. Beanie Boy seems very happy in it and I certainly felt comfortable. It is really easily adjustable to fit both the wearer and baby, the shoulder straps are padded for comfort and there is even a little pocket on the side which is great to put my car keys in.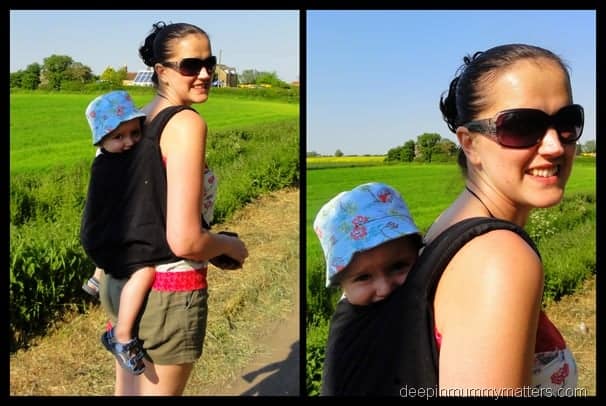 The Sanamama baby carrier was designed by Mum of two, Sasha, who was inspired by her own childhood on a farm in Africa being carried the traditional way. Sasha wanted a baby carrier that was back friendly and allowed the carrier's hand and front to be free whilst still keeping baby close and secure. The Sanamama has passed all EU Health and Safety Tests for infants aged 4months until they reach 16kg.
Sasha is keen to give something back for her African inspiration and so proceeds from the sale of each unit sold go to Starfish, an international charity which was set up to help children and babies suffering from HIV and AIDS in Africa.
DISCLAIMER: I was sent a Sanamama Sling for the purpose of this post. All words, opinions and photographs are my own and may not be copied without my permission.