Review: Until We HUG Again – recordable stuffed bear
Sometimes we can't be near those we love when we want to be, when we want to put our arms around them and give them a great big squeeze. So what's the next best thing? Flowers? Yep, they're ok but after a week they are gone. So how about a teddy bear? Something for them to cuddle and think of you? Great, but what could be better than that? A teddy bear that sounds just like you!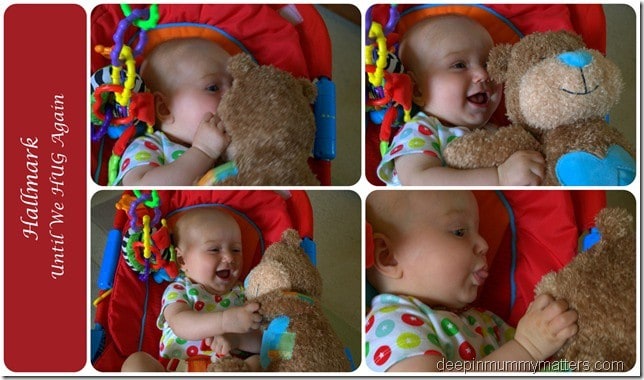 Hallmark have "Until we hug again" bear who is no ordinary bear, not only is he super cute and cuddly but in just a few easy steps you can personalise your bear with a recording or your choice. A greeting, a question, a sentiment or whatever your heart desires. When I was sent the bear to review I sang "Twinkle, Twinkle, Little Star" for Jelly Bean. Each night I sing Twinkle, Twinkle to him and so anytime that I can't be here for him, he can have his bear to cuddle and it will be like I am right there with him.
I think you can tell from the photographs that Jelly Bean loves his bear already!!
Making the recording was really easy to, just pull out the tab, hold his foot whilst I recorded the message and listen to the playback. Once I was happy with my recording I just had to open the battery compartment and flick the switch to the LOCK position and my recording is preserved. Any time I want to re-record it I just need to take it off the LOCK position and record a new message.
DISCLAIMER: We were sent "Until We HUG Again" Bear for the purpose of this post as part of the Hallmark Blogger Panel. All words, opinions and images are my own and may not be copied without my permission. I have not been instructed what to write.