We need to turn the magic on

We need to save the day, come on!

Just follow me and you will see

The magic comes from you and me

~

To make Tree Fu spells do what you see

Slide to the side . . .

and jump right back

Hold your hands up high

Spin around, reach up for the skyyyyy

~

Touch your nose

Now make a pose

Clap your hands

Touch your knees and run with me

~

When you move, you make the magic

Do what I do to make the magic

Turn that, turn that, turn that, turn that Tree Fu Magic on!
This is something I hear on a nearly daily basis in our house, Little Bean and Beanie Boy are both BIG fans of Tree Fu Tom and I LOVE to watch them when Tom does his Tree Fu rap because they get up out of their seats and join in with him, they know all the words.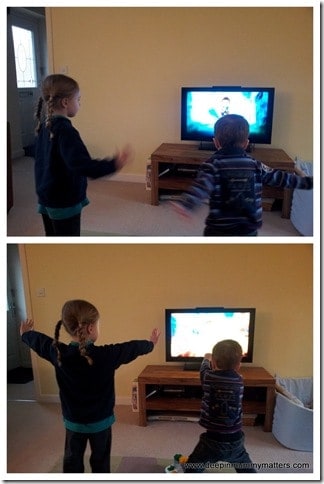 I previously reviewed Tree Fu Tom: Tree Fu Go and unsurprisingly that was a huge hit with the tiddlers and gave me extra brownie points for being a super Mummy.  Well Tree Fu Magic did not disappoint either, for them or for me as it gave Jelly Bean and I some quiet time to relax without the usual chaos of the Mummy Matters household going on around us.
In Tree Fu Magic we join Tom, Twigs and friends on six exciting adventures with the Mushas up to their old tricks.  Ariela's ranch is having problems with a colony of hungry bees and there is an action-packed aerial rescue which becomes an epic underground rolling race.  Tom and Twigs have a challenge on their hands to save the magic of Treetopolis when they need to find a replacement for Treetogs Casting Crystal and you'll not want to miss Ariela's Rip-Roaring Rodeo.
The DVD was released on 18th February 2013 but we have been so busy with settling Jelly Bean we have only just recently got around to watching it but for those of you who haven't bought it yet, don't waste any more time, Easter is coming and this would make a great gift for Easter.
Release Date: 18th February 2013
Format: DVD
Certificate: U
RRP: £9.99
DISCLAIMER: We were sent a check disc for the purposes of this review.  All words and opinions are my own, I was not instructed what to write.  You may not copy any or all of my work without my permission.