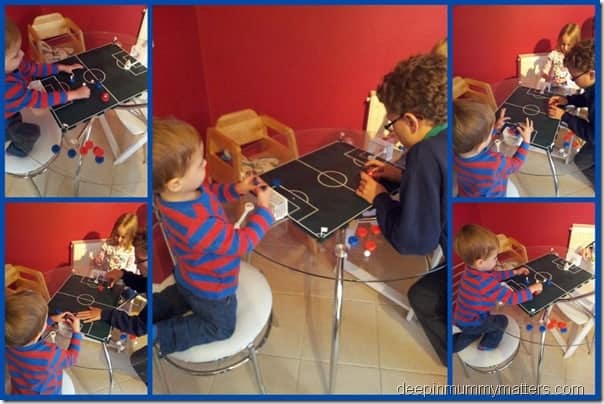 Review: Sports Stars Football from Character
The majority of the time the products that I receive to review are largely aimed at my tiddlers Little Bean and Beanie Boy but every now and then a little gem arrives to put a smile on Curly's face and nothing could be more true than when I presented Curly with the Sports Stars Play Set, although as a staunch Liverpool Supporter he was a little miffed to see a Manchester Utd badge on one of the boxes. Hey you can't have everything can you!!
He quickly set to work on building it which was super easy as it clicks together like Lego and even with Beanie Boy helping he still had it built in no time ready for game play to begin. He only had four players initially so he had to be a little more creative with his game but after a quick hunt around his bedroom he managed to find a few Lego Zombie mini-figures who were able to stand in as substitutes for Team Players and a couple of days later he paid a visit to Toys R Us with his birthday pennies and bought himself a couple more sets to get a few extra players. He has now managed to get three John Terry's though so he thinks he only needs two more and he can have a John Terry five-a-side team.
This has been a great game for a spot of father/son bonding/competition as the minute the tiddlers are in bed the pitch comes out and game play begins. I do have to remind them on occasion to keep their voices down as their game play becomes a little heated, super-competitive those two!!
Being a huge Football Fan this has gone down a storm with Curly, you can buy top-up sets from most major retailers and the sets include some of the biggest names from footballs top teams including Manchester United, Tottenham Hotspur, Liverpool, Chelsea and Arsenal. Each player's head is 3D and has been digitally sculptured to ensure the mini-figures look just like their real-life counterparts. The mini-figures are made up of 5 pieces and it's within the rules of game play that you can swap the best headers with the legs of the best tacklers for the ultimate football winning machine.
We certainly know what Santa will be putting in within Curly's stocking fillers this Christmas!!