I love the smell of baby products so much I have been known to use them on myself in the past, there is something so fresh and scrumptious about them, you can just imagine snuggling with a cute little bundle in your arms when the aroma hits you.
Now I'm sorry to say it but Jelly Bean, so far, is not a fan of bathtimes AT ALL!! This is the usual state of affairs if I dare to put him anywhere near water . . .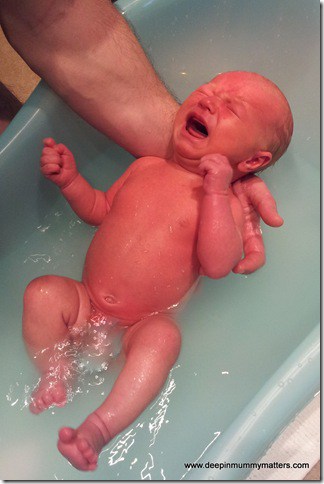 . . . yes, not so cute now is he?!
We tried talking to him soothingly, singing to him but nope this was 60 seconds of pure hell for him!! I even tried giving him a calming massage afterwards using the gorgeous Oriflame Baby Moisturising Cream but he was having none of it, in fact it was only as I popped the last popper on his babygro that he finally began to calm down. I seriously needed a soothing chamomile tea after that little episode (disclaimer: I would have loved something MUCH stronger but since I am breastfeeding I couldn't!).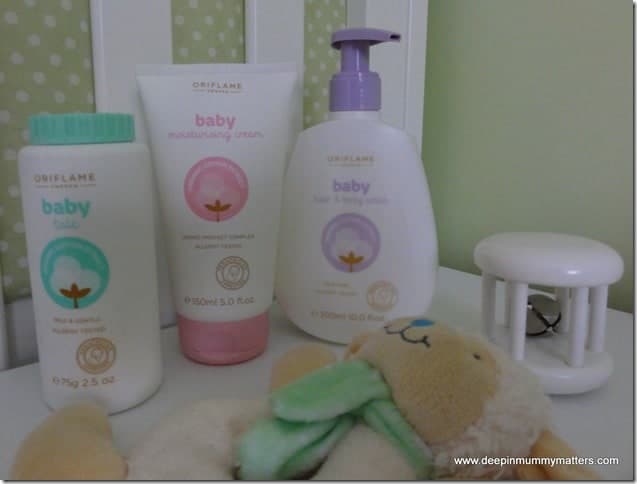 So if we asked Jelly Bean his thoughts on the Oriflame Baby products I don't think we would get a favourable response. From my point of view though, I loved the packaging, it looked very pure and simple yet would be nice enough to give as a gift if it were packaged up in a basket with a teddy or a cute towel or babygro maybe? I used the hair and body wash in the bath and really liked the dispenser bottle, it made it much easier for bathing Jelly Bean, without having to mess around with bottle tops. I didn't use the talc as I prefer not too but I have tried it on myself and liked it. The scent is very delicate which is what you want from a baby product as some babies can be affected by strong scents, Little Bean used to cry if someone with a strong perfume or aftershave tried to hold her. The products have been kind to Jelly Bean's skin, he hasn't broken out in spots or dry patches as a result of them, I'm afraid it's just not Jelly Bean's 'thing' just yet!
DISCLAIMER: We were sent the above three baby products for the purpose of this review. All images and opinions are my own, I have not been instructed what to write.
Latest posts by Sabina Green (see all)