Who can resist a cute cuddly teddy? Not me, that's for sure!! Hubby is always complaining that our tiddlers have too many teddies but they love them. Even Curly at 11 years old still sleeps with a bed full of teddies, so many in fact that you would think it would be uncomfortable. Little Bean and Beanie Boy are no different although Beanie Boy tends to sleep on top of all his teddies so that really can't be comfortable at all. Each of their teddies has a meaning though, a particular day out or a special celebration and I can name each and every one of them so I defy Hubby when he suggests they have a clear-out.
When I was asked if we would like to review the four new characters to join the 'My Blue Nose Friends' range I couldn't say no and I'm so pleased that I didn't as they are seriously cute!
The My Blue Nose Friends plush characters each have their own individual personalities and are sure to capture fans imagination. Smoo the Highland Cow will clamber up the steepest slope to make sure she stays by her owners' side, while Comedy the Hyena will have fans in tears of laughter as she just loves to make everyone smile! Spirit the Lemur is bursting with energy but will always have time for a quiet moment with his owner and Twist the enchanting Snake has a spellbinding personality and will conjure the perfect solution should there be a problem!
All four animals are really cute and cuddly, made from seriously soft and plush fabric. They are small enough for little fingers and will be sure to put a smile on your little (or big) one's face.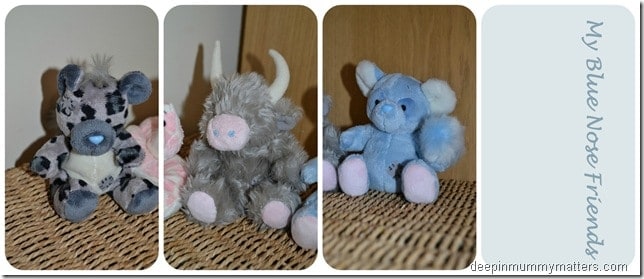 Visit the 'Official My Blue Nose Friends' Facebook page to join in with the buzz and discuss the first new character launches of 2013.
This summer, My Blue Nose Friends celebrates its fifth anniversary with the launch of four further Friends, as well as a host of fun events for fans.
The super cute collectable characters are available from bycarteblanche.com, Amazon, Clintons, WH Smiths and Independent Retailers nationwide, RRP £5
DISCLAIMER: We were sent the four characters for the purpose of this post. All words, images and opinions are my own, I have not been instructed what to write. You may not copy my work without my permission.
Latest posts by Sabina Green (see all)