When I received an email asking if I would like to review an item from the Cybex Baby Range I assumed that it was a new brand launching in the UK as I had never heard of Cybex before. I asked the question and was really surprised to learn that actually Cybex has been around for approximately 5 years. I was shocked to say the least. Looking at their product lines I could see similarities to other German brands which I absolutely love so I decided that I wanted to see a bit of Cybex for myself. I chose a Cybex Baby Bag in a really dark blue (you can never have too many bags!!).
When it arrived my first impressions were that it was a reasonable sized baby bag which would actually be handy for my trips to London (when I try to travel lighter) or for when Hubby is in charge and doesn't want to carry around my super flowery Pink Lining bag. Looking at the bag it looks like a simple shoulder bag which is made from easy clean, sturdy fabric. It has a wide strap perfect for hanging on the stroller or comfortably on the shoulder or across the body with an easy-to-use buckle for quickly lengthening/shortening the strap.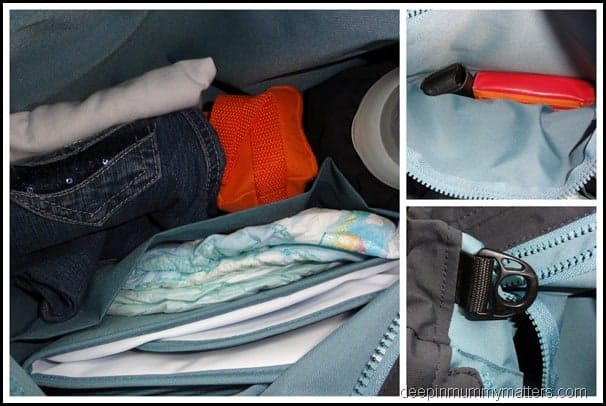 There is a hand-sized pocket on the front of the bag, although I'm not sure what you would use this for as it doesn't fasten at all so isn't very secure. OK for sweets or tissues I suppose, nothing of value. Inside the bag is a gorgeous teal colour with a removable matching changing mat which is well padded and has a wipe clean surface on one side. There is one large pocket big enough to house the changing mat, nappies, wipes etc, a bottle pouch and a zip-closure pocket which is perfect for storing keys, mobile phone, money etc and then the main compartment which would be large enough to hold a change of clothing, purse, snacks and anything else you choose to carry around with you. On the whole, the bag isn't the biggest but like I said, it's great for when you want to travel lighter. My Hubby loves this bag as it is just big enough for his needs and he doesn't feel like he is carrying a handbag. There are two hooks on the inside which would indicate bag clips can be used to secure the bag to a stroller however these were not supplied with the bag.
My only complaint about Cybex is that they don't appear to have a big presence online and even looking on their current website I could find links to the Baby Bags at all. From what I have seen of their products so far, they are good quality and appear to have safety in mind but I would like to see more of them online to find out more information.
Do you have a Cybex product, I would love to know your thoughts?
Follow Cybex on Facebook
Latest posts by Sabina Green (see all)