The Quinny Zapp Xtra came into my life in September this year, shortly after the birth of my second baby and this was the first Quinny that I had ever had the pleasure of owning so I was on a complete blank canvas with my thoughts of it.
Assembly
This was so easy to assemble that we didn't even need to take the instructions out of the box, it was that self-explanatory and to challenge ourselves that little bit further, I asked my 9 year old stepson to assemble it for me.  He did it very quickly and you can view how he got on here.
Manoeuvrability
The Quinny Zapp Xtra is a three wheeler which is very light on the steering and has a great turning curve thanks to the lockable, front double wheel spinning through 360 degrees, perfect for getting in and out of cramped lifts.  In shopping centres and on smooth surfaces the pushchair is a super smooth ride but on cobbles and paving stones the wheels can sound a little rattily.  The brake is operated by pressing the button on the right wheel and released by pressing the button on the left wheel with your foot.  Suspension on all wheels ensures a comfortable ride.
Safety
A 5 point safety harness gives you peace of mind that your little one is securely seated in the pushchair and the padded shoulder straps add to the comfort for the occupant.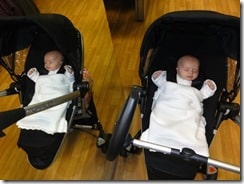 Versatility
This is suitable from birth and I think you will agree my baby boy looks very comfortable in it.  It has three forward facing recline positions and 2 rearward facing recline positions, you can change position with just one hand which is something I really like.  The foot rest has two positions also.  If you have the seat in the reclined position for a baby then you just push the footrest upwards to make a flat "platform" on which to rest their legs.  If you have your child in the upright seated position then you push the footrest inwards to make space for their feet.
Features
My favourite feature is the hood, it pulls forward far enough to shade baby from bright lights and rain but should you be out on a super sunny day then there is a further flap which can be pulled down to extend the hood further.  I also like the window around the edge of the hood which enables you to peek at your little one without having to peer around the side of the hood.
It is front and rear facing which I love.  Its so nice to be able to have the choice as this isn't a common feature on many pushchairs.
Adaptors are included to enable you to attach a Maxi-Cosi infant Car seat.
Shopping basket underneath – though you won't get lots in it.
Chassis folds into a small rectangular shape which can be carried with one hand and will fit into any boot with great ease.  The one piece seat will store easily alongside or on top.
Specifications
Zapp Xtra unfolded: 89x42x25cm
Zapp Xtra folded: 81x59x102cm
Zapp Xtra's weight: 8.7kg
Downside
I keep hitting my shins on the seat frame when in parent facing reclined position.  I only do it a couple of times when I start walking before I correct my walk and then I'm fine but it hurts when you first do it!
You can't hang your changing bag on the handles and because of the design of the chassis there isn't much room to store it underneath either.
Latest posts by Sabina Green (see all)