Q-Link® Acrylic SRT-3 Pendant
I want to tell you about something which you may (or may not) recognise from a previous post of mine where I gave you ideas for gifts for Mother's Day.
The Q-Link Acrylic SRT-3 Pendant is an anti-stress pendant which increases energy and improves sleep. It has been designed to balance and strengthen the body's energy system to give us better performance every day. The Q-Link pendants have been a huge hit with US celebrities including Madonna, Simon Le Bon and Jerry Hall. They are new to the UK from specialist SMG Europe and use "sympathetic resonance technology" or SRT-3 to optimise a person's biofield which helps them to regain control of their life. The Q-Links are especially ideal for busy Mums who have to juggle work, household chores and children – we all know how difficult that can be whether you go out to work OR stay at home.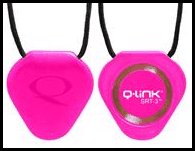 I was sent a Q-Link Pendant and have been wearing it for 7 weeks now and I have definitely noticed a difference, especially so with regards to my sleep quality. Being a very busy Mummy I have always found it difficult to switch my brain off at night when I get to bed and can still be writing my 'to-do' lists in my mind at 2 or 3am! Perhaps it's just a conscious thing because I've been wearing the pendant, I really don't know but I have definitely been more relaxed at bedtime and am finding it much easier to fall asleep and unless any of the children have shouted out in the night I have been sleeping soundly until morning. Waking up I feel more refreshed and ready to tackle the day ahead.
It's hard to say whether or not I have been less stressed as I have a toddler who is practising for his terrible twos and a pre-schooler who is as stubborn as her mother! The pendants are available in a range of colours and can be worn over or under clothing yet still have the same effect. Also available are bracelets and attachments for mobile phone electronics which are perfect for people who use personal electronic devices. Electromagnet fields (EMF) are generated by electronic and electric devices such as computers and mobile phones which can cause stress and drain your energy. A Q-Link will combat this, making you feel energised and ready to take on the world!
Available in six stylish colours, the Q-Link® Acrylic SRT-3 Pendant (SRP £79.99) is a bevelled-edge triangle with a dual-tone design. The Q-Link® Silver Pebble SRT-3 Pendant (SRP £274.99) is a polished hand tooled pendant crafted from solid .925 sterling silver and features a vibrant mirror grade finish.
To see more testimonials, videos and US press coverage visit http://www.qlinkproducts.com/Scripts/media.asp?extra=118 or to see the full Q-Link® collection visit www.qlinkeurope.eu
Q-Link® retailers in the UK include: www.amazon.co.uk & www.peak-nutrition.co.uk