It happens every year doesn't it, Christmas seems a million miles away until suddenly, well, it isn't! We have only 3 more weekends before Christmas is upon us and I'm nowhere near ready. Being pregnant has definitely messed with my brain (more than usual) and although I have done lots of my Christmas shopping, I haven't actually done all that I need to for Hubby and Mum. I am also tearing my hair out trying to prepare for our impending arrival in January, although I have a sneaky suspicion that Jelly Bean could be an eager beaver and try to make his escape sooner rather than later.
Now I don't know about you but I like my house to be sparkly and clean at Christmas time. I would like it to be sparkly and clean ALL the time but life sometimes gets in the way so it's not always perfect!!
Rug Doctor
I'll pretend that you have never heard of Rug Doctor before although I'm sure many of you have. I am sure that you have seen it advertised on vans, in local supermarkets and online. We have used Rug Doctor many times over the years that Hubby and I have lived together. I like nothing more than to have fresh smelling, clean looking carpets – especially since we have a thing for light-coloured carpets which with small children is actually a bit daft but there you go!! We have been sent a Rug Doctor to get our carpets freshened up for Christmas and in preparation for that cute little bundle who will be rolling about all over the carpets before we know it.
The Rug Doctor is a carpet cleaning machine which is really easy to use and works wonders on your carpets. For a little over £30 you can rent a Rug Doctor for 24 hours and get your cleaning detergent. The general detergent will get rid of most standard spills and stains but you can also buy specialist detergents for particularly tough stains or if you have pets. To find the detergent that's right for you click here and to find your nearest Rug Doctor supplier click here.
At the moment we have cleaned the most high traffic areas, the hall, stairs, landing, lounge and bathroom. We managed to do all of that in just one afternoon/evening. We still need to do the bedrooms, dining room and playroom but we need to decorate the bedrooms first and with Hubby and a roller spillages are guaranteed so the carpets are best left until he has finished making his 'mark'!!
Zoflora Warm Cinnamon Concentrated Disinfectant
Regular readers of my blog will not have failed to notice that our house has had more than it's fair share of germs these past few months. We are really keen to see the back of those germs but as Little Bean is at home today full of cold, it would appear that the germs are still doing their rounds. In preparation for Christmas and our new arrival I have been busy cleaning anything and everything in sight, doors, windows, door handles, work surfaces, floors, sit still long enough in our house, you get cleaned too (is this what they call 'nesting'?). Christmas isn't just the decorations that we put up though, or the Christmas cards we send and the gifts we give and receive, it's about spoiling all your senses, sight, taste (all those yummy treats), hearing (Michael Buble's Christmas songs are currently on my stereo), touch (my children seem to want to touch the Christmas tree every half an hour or so!!) and smell!!!! When you think of Christmas, what smells do you think of? Mulled wine, cinnamon, roast chestnuts, oranges, pine trees . . . with the new Christmas scented Zoflora you can make sure that your house is clean and germ-free whilst creating the aroma of Christmas. Zoflora is an antibacterial disinfectant so it 99.9% of bacteria and viruses, just what we need right now and it also contains powerful odour eliminating properties too so your house will smell fresh and Christmassy. For tips on how best to use Zoflora click here.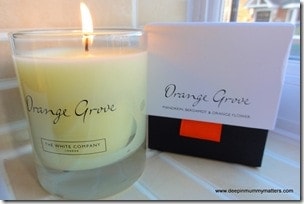 The White Company – Orange Grove Candle
Last week whilst in London I visited some offices and was struck by the most gorgeous scent, I felt like I had been transported to a different country, surrounded by orange trees. I asked the receptionist what the fragrance was and she showed me her Orange Grove Candle from The White Company. Well imagine my joy when less than a week later the very same candle arrives on my doorstep courtesy of The White Company!! I'm quite fussy when it comes to candles, there are only certain fragrances that I like to have around my home without them giving me a headache. I am a big fan of Orange and other citrus scents, they always smell so fresh and inviting. Orange in particular is a scent which we correlate with Christmas so what better fragrance to have floating around my home at the moment. The Orange Grove Candle would make a gorgeous gift for the lucky recipient, it comes beautifully boxed and is encased in a high quality glass, sadly I like mine too much so I won't be giving it away but if I could make this a scratch and sniff screen for you, believe me I would!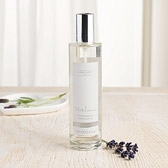 We also use The White Company White Lavender Room spray in the children's bedrooms as we have found this helps them to settle well at bedtime.
RRP £20
Available from The White Company