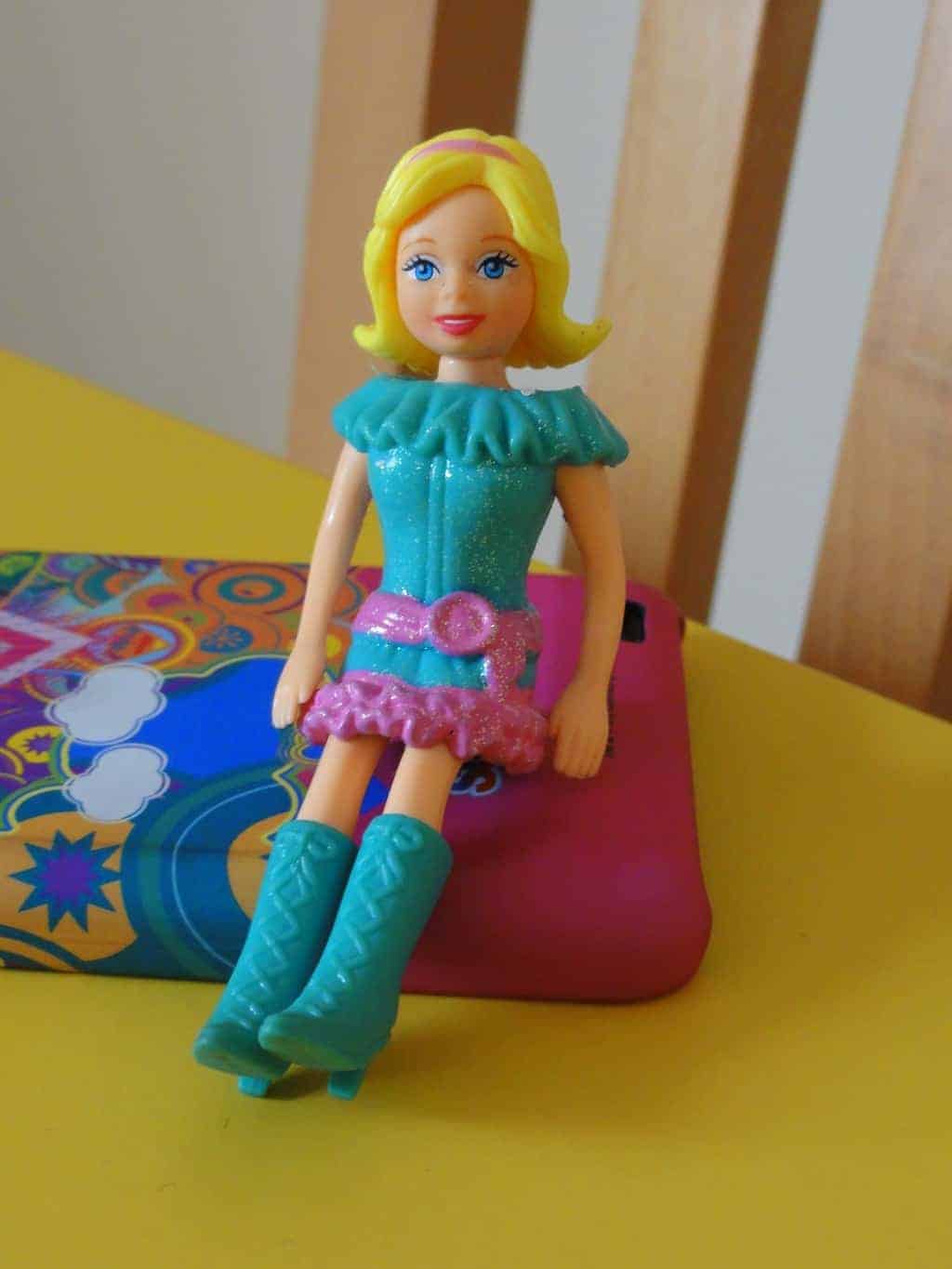 Polly Pocket the perfect partner for your little adventurer!!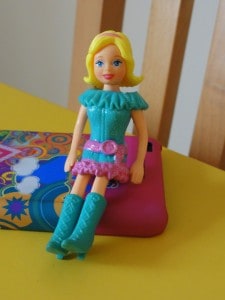 I feel like I should begin this post with a little confession, when we were invited recently to a Polly Pocket Blog event I just knew that I had to say yes because even though Little Bean doesn't actually have any Polly Pocket toys (yet!), I do! Yes, hello my name is Sabina, I am (nearly) 36 years old and I have my very own Polly Pocket doll!!!! I have occasionally entertained the idea of giving her to Little Bean but I can't, she's mine and she is special to me.
Let me take you back a few years to the early days of living with my now Hubby (then boyfriend). One evening he presented me with a small present, it was a little box containing a Polly Pocket doll complete with handbag, boots and a change of clothes. I looked him like he had lost his marbles, did he know how old I was? Then he explained, for the past few nights in my dreams I had been upset and calling out that I couldn't find my Polly Pocket doll and so he thought it would be amusing to buy me my very own and I still have her today.
Polly Pocket, as you would expect is a pocket-sized doll with a life-size personality. With Polly Pocket your little girls can live a life of adventure and be bound only by the limits of their imagination. Our children have great imagination, I love listening to them playing together in the garden in the playhouse, to me and Hubby it's just a playhouse with a little wooden kitchen in it, but to Curly, Little Bean and Beanie Boy its a Pirate Ship and together they sail the most dangerous of seas in search of treasure. When bouncing on our bed they are jumping through the clouds to the land in the skies where the fairies live and sliding down on a rainbow to the pot of gold. It's all about letting their imagination go wherever the feeling takes them and that is exactly the ethos of Polly Pocket, life should be an adventure for living.
Polly Pocket now has some amazing new additions to their already cool toy range which the children were able to play with when we visited Chessington World of Adventure Holiday Inn recently for a Polly Pocket blog event. There were all sorts of activities arranged to keep the children entertained but Little Bean and Beanie Boy were happiest when just playing with Polly Pocket and her friends with the funky cars and trendy playhouse.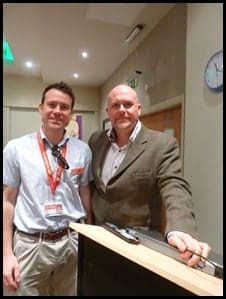 On the day we were introduced to Gary Pope (right) from Kids Industries and Jon Fish from Chessington World of Adventures. They both talked about the importance of imaginative play and having fun. They felt that Polly Pocket and Chessington World of Adventures were perfect for each other because Polly Pocket is all about adventure and that is what Chessington is all about too.
Polly Pocket Stick N Play House
A new house packed with fun, twists and turns – literally! With the turn of a wall you can instantly change the look of a room in Polly's house. All of the furniture has Stick n Play suction cups so that the furniture (and Polly) can be cleverly arranged, even upside down to add to the fun of the house. Take the lift to the 3rd floor and Polly can have a dip in her very own pool or just relax in her bedroom.
RRP £19.99
Polly Pocket Flip N Swim Pool Party
The summer is coming so how about a pool party for Polly and her friends. There's a diving platform, super slide, rope swing, snack shop and lounge chair, all that Polly and her friends need for some wild water fun.
RRP £16.99
Polly Pocket Carpool Cruiser
When is a car not a car? When it's a Carpool Cruiser with its very own hot tub in the backseat of course! Polly is so lucky to have this car, she will be the envy of all her friends. Carpool Cruiser comes with Polly Pocket doll with colour change hair, sunglasses, flip flops, beach hat, beach bag and towel.
RRP £9.99
Polly Pocket Slumber Party Safari Vehicle
We love the look of this cool "campervan" as Little Bean is calling it. Polly and her friends can go on a roadtrip and sleep under the stars or in the hideaway tent bed. Once they have finished cooking dinner they can chill in the rooftop lounge and have fun with their pets. This set comes with everything Polly and her friends need for a successful Slumber Party Safari and more.
RRP £19.99
Polly Pocket Travel Backpack
Going on holiday and your little adventurer doesn't wanted to be parted from her pocket-sized pal? Never fear, just take the travel backpack with you and Polly can have just as much fun on holiday with everything that she needs, all stored in a handy backpack. Holiday themes include Hawaii, Paris, Tokyo and Australia.
RRP £9.99
Have you checked out Polly's Portal?
Visit Polly's Portal which is packed full of super fun activities for girls as well as an interactive map which gives Mum great advice on cool family days out in the UK. Just click on the area of the map that you will be visiting and instantly you will be shown reviews of all the adventures available to you.
There will also be some cool competitions running throughout the year as well as cool quizzes, fun for girls and free stuff like printable postcards and trading cards. Ever the bargain hunter I even spotted a special offer of 25% off Polly Pocket toys here.
From now until 20th August 2012 there is a fabulous competition on the site where you can win your Best Day Ever with Polly Pocket and Chessington World of Adventures as well as loads of cool Polly Pocket toys.
What are you waiting for, click here now!